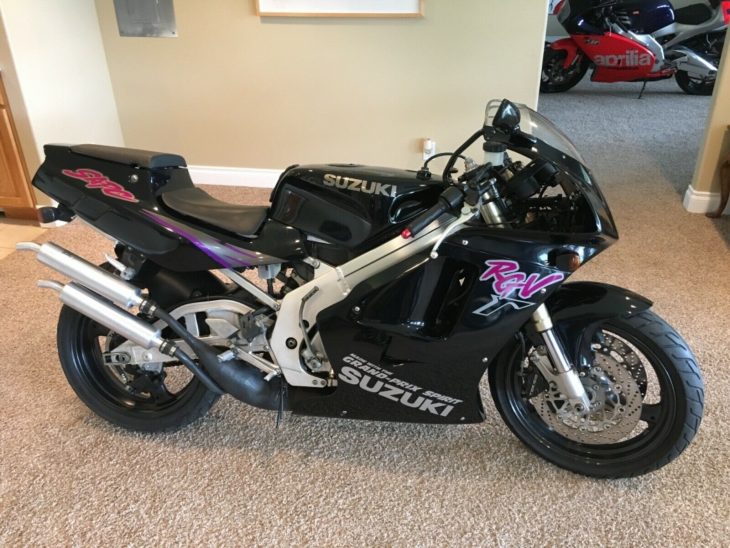 Two-stroke sportbikes of the late 1980s and early 1990s followed a very similar format: aluminum beam frame, full fairing, racy ergonomics, and a small two-stroke powerplants packing cutting-edge technology and serious power per cubic inch. But the formula wasn't really the result of a lack of imagination, it was convergent evolution: the class was ruthlessly competitive, and every component of bikes like the Suzuki RGV250Γ was maximized for performance and minimal weight.
Early on, the quarter-liter two-stroke class saw a variety of configurations: longitudinal and transverse parallel-twins, v-twins… But as time went on, Honda, Yamaha, and Suzuki all moved to a v-twin. The original RG250 used a parallel-twin, but by the time of the RGV, the engine was a liquid-cooled, 90° two-stroke v-twin that displaced 249cc, along with a six-speed gearbox, a package that was also used to motivate Aprilia's RS250.
Naturally, all of the bikes in the class used some form of power valve to help increase the peaky little two-stroke's flexibility. In the case of the Suzuki, it was their SAPC or "Suzuki Advanced Power Control," an electronically-controlled power valve and ignition-timing system. An asymmetrical swingarm with a pronounced curve on the right side allowed for the bulging expansion chambers on that side, and the second generation VJ22 version of the RGV250 used 17″ wheels at both ends, meaning you should be able to find good, modern rubber to shoe your whippy little sportbike.
The SAPC graphics and bodywork are very 90s, but upper fairing on this example isn't stock: normally, the VJ22 has a large, trapezoidal unit in the center of the bike, as opposed to the more cat-eyed style, asymmetrical design seen here. It's probably meant to evoke an endurance-racing machine of the era, since they often swapped the stock twin-lamp setups for single lights.
From the original eBay listing: 1993 Suzuki RGV250 VJ22 for Sale
1993 Suzuki RGV250 custom with only 10,816 kilometers (6,720 miles). This RGV is gorgeous! Bike is in excellent condition with just a few scratches and blemishes you would expect to find on a used bike. There is a small rub mark on the left side frame down by the foot shift lever and scratches on the right side lower fairing towards the bottom. However there are no cracks in the fairings and no dents in the tank. Bike is really clean and has great curb appeal. All fairings are 100% genuine Suzuki factory OEM except for the custom upper cowling. I don't normally buy custom bikes but this one is special. The custom single headlight look with the wide front fairing looks awesome! The previous owner changed the rear sprocket 4 teeth down for a higher top speed and added a Sugaya full exhaust system for a few more ponies and awesome racing sound. Original OEM sprocket and OEM exhaust chambers and silencers come with the bike so you can go back to stock if you like. The color looks black indoors but the true color comes out when you take the bike out into the sunlight. It is actually blue metallic and the paint really comes alive outside in the sun. Pictures don't do it justice. Bike runs excellent and will arrive with new fluids. Bike comes with a Utah state title and is titled as a street bike for road use. $200 deposit due immediately after sale ends thru PayPal. Remaining balance due within 5 business days by bank wire, cash or check. Please text 801-358-6537 for more pictures or questions. 
We've featured bikes from this seller's collection in the past and, as a group, they've been very nicely preserved examples of various rare Japanese sportbikes, and there's no reason to expect this would be an exception. Purists might give the aftermarket headlight setup and exhaust the side-eye, but they're pretty cool updates to what is, in most markets, a pretty commonly available machine. And the bike is priced well, with a $6,750 Buy It Now price!
-tad