Warning!
This post is in our archives. Links in this post have been updated to point to similar bikes available to bid on eBay.

Gary in Utah has several bikes Featured on RSBFS right now. Check them out too:

Good luck to buyers and seller! -dc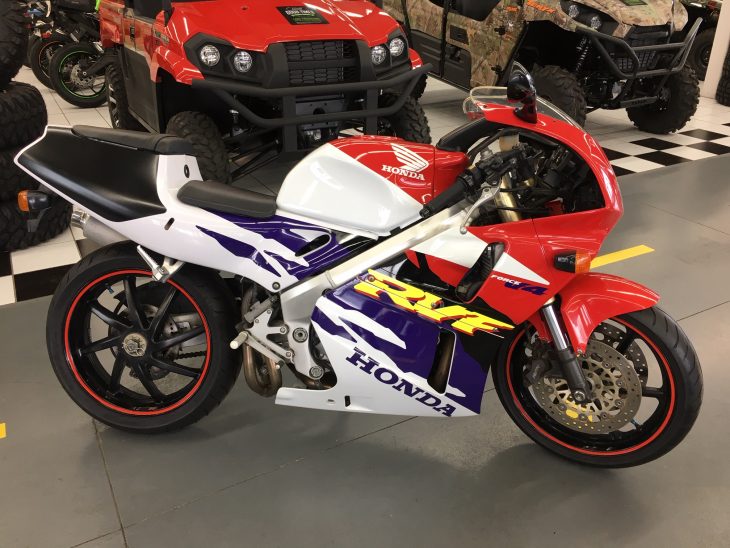 Update 5.15.2019: Now on eBay!
As prices of Honda's V4 homologation bikes climbing ever higher with every 0-mile example that crosses the auction block, the only way for ordinary folks to get a taste of these classic Japanese superbikes is by picking up one of their smaller siblings. Sure, with just 399cc to play with, the VFR400R NC30 and the RVF400R NC35 aren't as powerful, but they could easily be mistaken for their larger, more expensive stablemates and use the same engine configuration.
I still think it's a shame that bikes like this no longer exist. While electronic safety aids and engine management systems have continued to evolve, most bikes under 600cc have just one or two cylinders these days and are tuned for midrange power and reliability, not screaming revs. But there were no compromises with the NC35 and, while the claimed 59hp is obviously not going to scare anyone weaned on a modern 600, you have to work to access it: most of the power lives up around 13,000rpm, accompanied by the characterful drone of the "big-bang" firing order created by the 360° crank.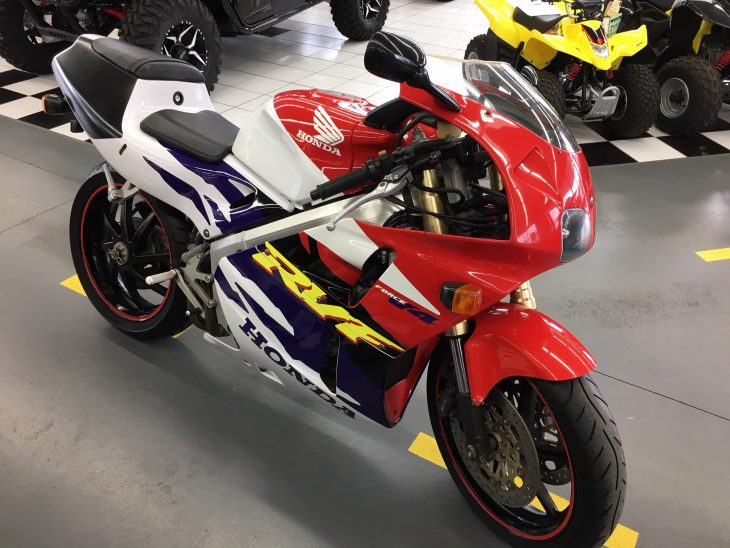 The very nature of the powerplant is uncompromising: a V4 is great for aerodynamics, power, and weight distribution, which is why the format is used by a number of modern superbikes and is common in MotoGP. But they tend to be a bit heavier than an equivalent inline-four and are a pain to work on because everything is so densely packaged. Contrary to appearances, the NC35 does not have ram-air, although the prominent intake snorkels do feed fresh air to the airbox. Gear-driven cams also speak to the engine's racing intent, and the bike is still popular among track-day junkies as an entry-level superbike because of its sublime handling.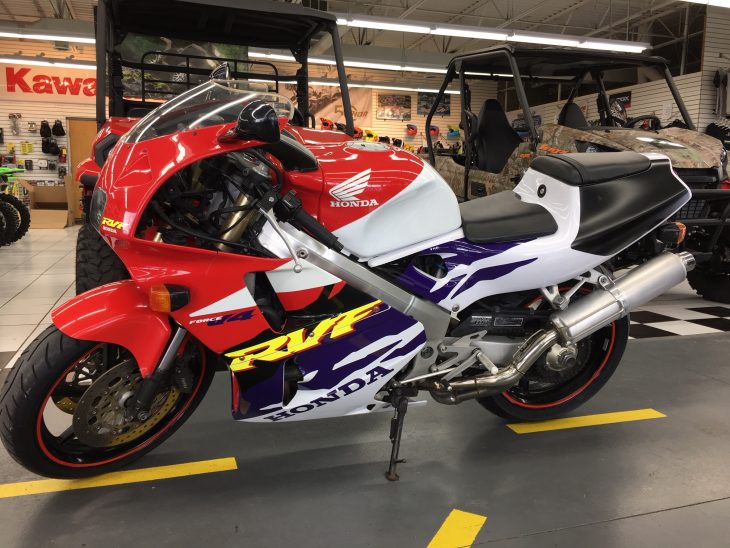 And while it might look like a reskin of the earlier NC30, the bike was heavily updated in other areas and they share very few major components. Styling continues the "baby superbike" theme, with a pair of smaller, cat's-eye lamps in place of the RC45's larger, round units, and the rear tire is skinnier. The NC35 used upside-down forks and switched to a 17″ rear wheel, which should save modern riders the headache of sourcing 18″ rubber. Thankfully, the NC35 used a conventional 17″ front wheel, instead of the RC45's oddball 16″ hoop.
From the Seller: 1998 Honda RVF400R NC35 for Sale
Second up is this 1998 NC35. It is a very honest solid bike. I concentrated on trying to find low mileage, unmolested original bikes. They are getting very hard to come by. This NC35 has 8,667 miles (13,947 kilometers). I bought it from a dealer in Tokyo. They did a full service for me on the bike before taking delivery. The fairings and components are all Genuine Honda OEM except for the rear sets and the custom red tape on the wheels. The fairings are mint and the fuel tank is as well. The only flaw is the rub mark on the left rear cowling. The wheels and front brake rotors have mild corrosion on them and could use a good cleaning and powder coating. The bike is in original unrestored condition with no body or paintwork. Looks very nice as is sits but would make an excellent candidate for restoration since there are no cracks in the fairings or dents or scrapes in the gas tank. Bike runs just like new and is ready to ride. Bike will come with Utah state title and is titled as a streetbike for road use. Comes with one key.

I'd like to see $10,900 or best offer for this example.

Feel free to contact me at 801-358-6537 or by email: rmurangemasters@aol.com

The Honda RVF400R was only available in the US via grey-market imports from overseas or Canada, and the usual registration headaches can apply if you're in a state with stricter laws, so be sure to do your homework. This example is being sold by the very knowledgeable Gary in Utah with a Utah title, looks very sharp, with low miles and a tempting price. Yes, these are much more expensive than they were just a few years ago, but $10,900 gets you a very cool bit of Honda history in a practical, reliable package. Honestly, I'm a huge fan of the NC30/35 and it's one of the few Japanese sportbikes I would love one in my garage… Assuming I could get a CA registration for it.
-tad