Long before "mass centralization" became a popular marketing buzzword for sportbikes, Honda was investing its bubble economy-inflated budget in a bike that took advantage of that very concept, the exquisitely-engineered VFR750R, otherwise known as the legendary RC30. Honda was so invested in sportbikes at the time that it actually sold an I4 and a V4 range of bikes concurrently, with their CBR and VFR filling slightly different niches. But when it came to their homologation bikes, Honda took their hard-won knowledge from the street-oriented V4 bikes and used it to develop the bike seen here, the VFR750R.
If you're passingly familiar with Honda's roadbikes, "VFR" probably evokes images of practical and engaging sport-touring bikes that lean on the sport end of the spectrum. This is not one of those bikes. The RC30 was developed to win production-based racing classes, specifically the then-new World Superbike Championship, although the ELF-designed single-sided swingarm hints at the bike's endurance racing capabilities as well.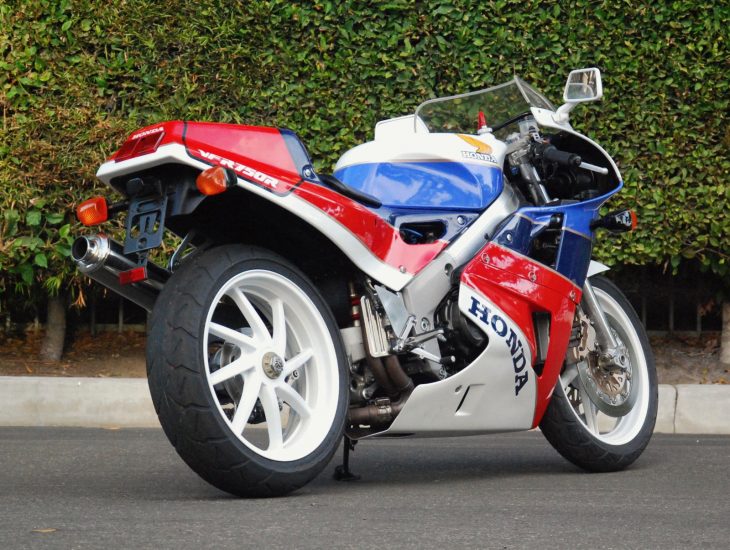 At the heart of the bike is obviously a compact V4 engine with a relatively narrow frontal area for good aerodynamics and very centralized mass, gear-driven cams for extremely precise valve control, and a 360°crankshaft that improved traction at the rear wheel, compared to a more traditional 180° unit. The concept of the 360° crank is that the combustion events are clustered close together, instead of spaced evenly throughout each engine revolution to allow the rear tire to "recover," increasing traction and improving tire life. It also gives the bike a flatter powerband and a distinctive soundtrack that can be appreciated, even if your skills don't extend to tire-spinning corner exits. The downside of a V4 is generally increased weight compared to an inline-four and tight packaging, especially with a 90° v-angle, as used here. Stripped of its fairing, the RC30 looks very dense and packed with mechanical bits, and V4s can be a bit of a bear to work on.
Reviews then and now describe it as an easy bike to take full advantage of, a bike that rewarded finesse, a bike that just did as it was told and allowed the rider to get on with winning. Power was unremarkable, weight was average, and nothing about the bike screamed "race winner." But win it did, even against stiff opposition from Ducati, Bimota, Suzuki, Yamaha, and Kawasaki, and Honda only abandoned the V4 formula when it decided that rules in WSBK favoring v-twins were onerous and biased. So they built a v-twin and showed everyone they could win with those as well, but it was clear their hearts would always belong to the V4...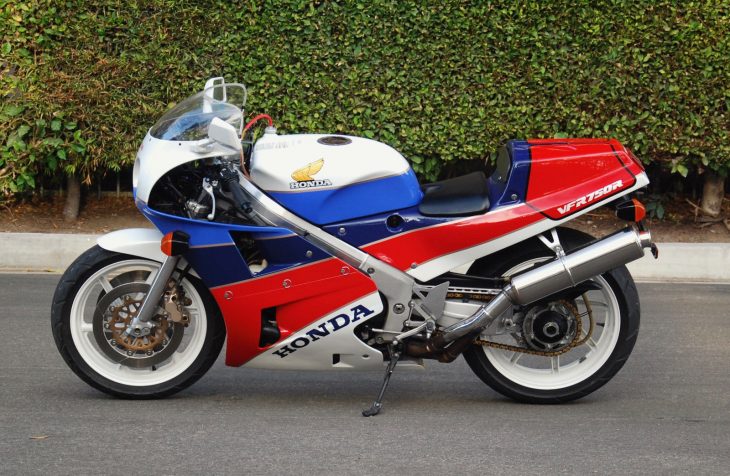 The RC30 is a handsome bike, with nearly perfect proportions and a wealth of amazing details, although it doesn't have the easy wow-factor of something from Italy. It's not often you can accuse Ducati of cribbing styling elements, but the 916's taillights and distinctive single-sided swingarm look awfully similar to what you can see here. And unlike those Italian machines, every single component is carefully thought out to work as part of a complete package, and engineered to near-perfection.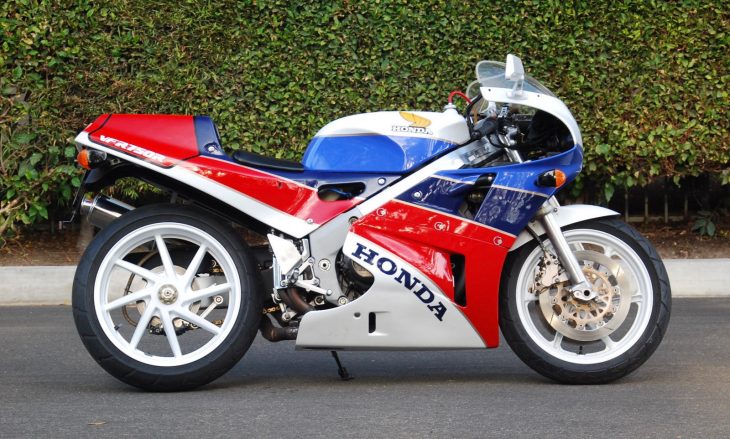 From the original eBay listing: 1989 Honda VFR750R RC30 for Sale
Long term ownership and fewer than 5,000 miles
1989 Honda VFR750R RC30
Frame Number: 2100129
Engine Number: 2100162
Legendary 16-valve gear-driven DOHC 90 degree V4 engine
Reportedly fewer than 3000 produced
Single owner since 1990
Fewer than 5,000 miles from new.

One of the modern era's few immediately collectible classics, the Honda VFR750R - better known as the 'RC30' - was created for just one reason: to win the World Superbike Championship, a feat it achieved in the nascent series' first two seasons of 1988 and 1989. And while American Fred Merkel was bringing Honda its first two WSB crowns, Britain's Carl Fogarty used an RC30 to win the TT F1 World Championship in 1988 and 1989, and the equivalent FIM Cup in 1990. No mere short circuit scratcher, the RC30 and its derivatives proved durable enough to win a hat-full of Endurance Classics too. That this latter requirement was also part of the design brief may be determined from the fact that a quick-release front fork and single-sided swinging arm - essential for speedy wheel changes - were part of an unrivaled specification that included a twin-spar alloy beam frame, 16-valve V4 engine with gear-driven cams, close-ratio six-speed gearbox and four-pot front brake calipers.

All of which did not come cheap: at the time of its launch in 1988 an RC30 cost near double that of other super-sports 750s. Despite the passage of time and progress of motorcycle technology, the RC30 remains a match for the latest generation of sports bikes but possesses an exclusivity that none of them can approach. 'No other bike from the late-Eighties is lusted after like the RC30', reckoned Bike, and few would disagree. And then there's the exhaust note – loud, of course, but soulful enough to bring a pit crew to tears.

This RC30 was only very recently liberated from its second and very long-term owner. Purchased in the UK in 1990, fewer than 5,000 miles have been put on the bike since it was new. Not long after acquisition, the superbike was taken to the Isle of Man where it was driven around the race track, but not actually raced. In 1991 the machine was brought stateside. Regularly maintained since new, the previous owner reports that the RC30 was taken to the local Honda dealer for a pre-sale service within the last couple of months.

Fresh from nearly three decades of single owner care, this legendary machine is offered in excellent condition throughout. The engine starts readily, idles smoothly and has an abundance of power. The clutch is silky-smooth and brakes and suspension are near perfect. I would opt for a new pair of tires before serious road use and am happy to negotiate your tire choice in to the price.

This is a rare opportunity to acquire a motorcycling icon of performance and provenance and a must-have for a discerning collection.

For additional information and photos go to ClassicAvenue.com
V4s are all the rage these days, but Honda really pioneered them for modern motorcycle applications. Because who the hell else would want to design around such a packaging headache? Obviously, Honda has a history of doing things just because they can, practicality be damned: their oval-pistoned racebikes grew out of a staunch refusal to adapt to the changing technology of the Grand Prix scene and simply build a competitive two-stroke. And although that particular experiment was a failure, it shows the lengths to which Honda will go when they believe in an engineering concept. Luckily, the V4 wasn't quite so complex and was ultimately vindicated by both in-period success and by the legacy it left behind. This example has very low miles and appears to be in very nice, original condition with an asking price of $44,900 and just one more day on the listing, so if you didn't get what you wanted for Christmas this year and happen to have a bit of your holiday bonus left lying around...
-tad