The Honda NC35 is one of those sweetheart machines that should be in every garage. Reasonably rare in the US thanks to the lack of official importation, great looks thanks to the DNA shared with the RC45, great sound thanks to that marvelous V-4 with gear-driven cams, and fantastic handling thanks to the smaller size and lower weight when compared to the bigger bikes. Collect it. Ride it. Show it off. This is a bike that is capable of checking off many, many boxes. And with typical Honda build quality, this is a bike that will last for the ages.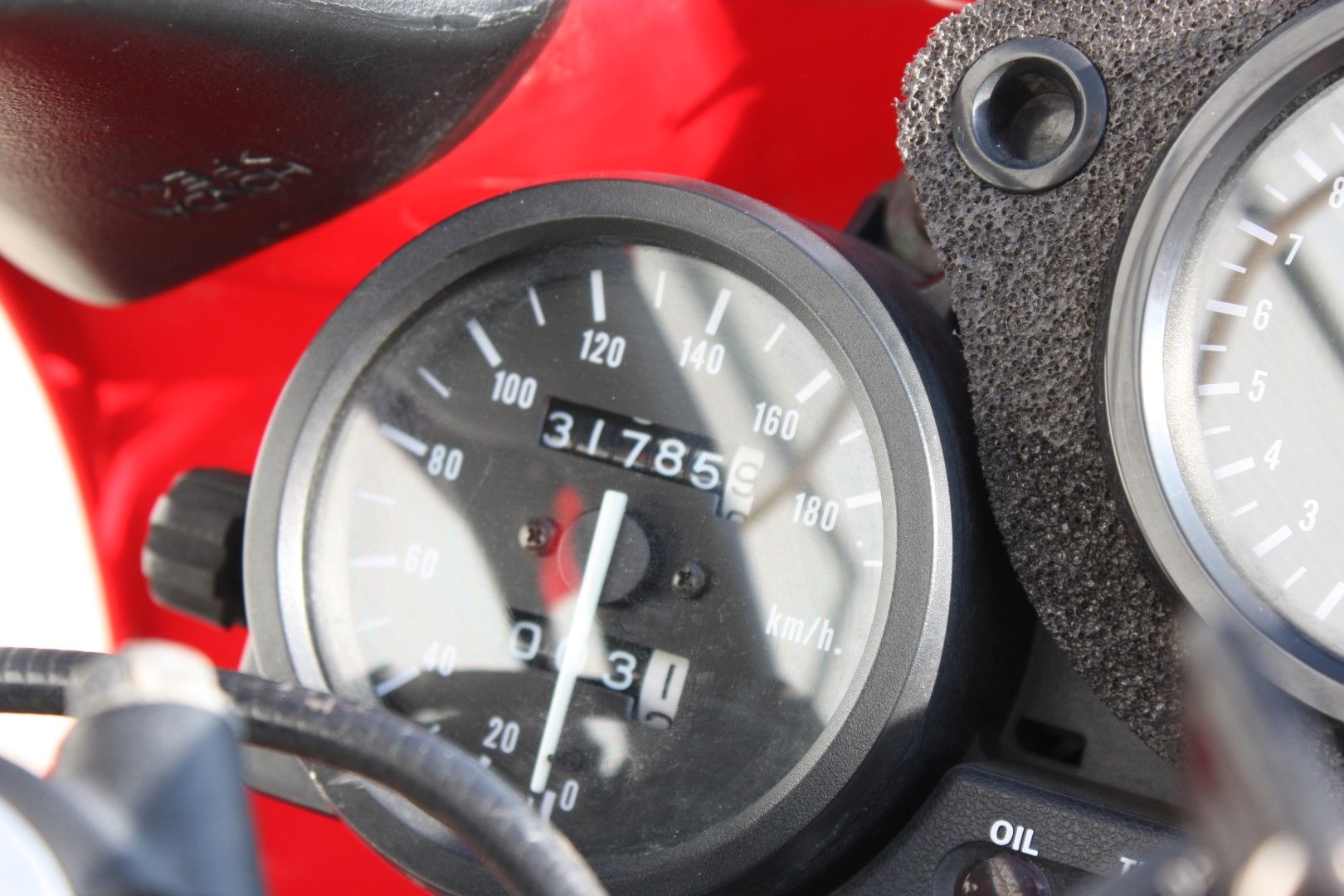 The light middleweight classes have always been grounds for serious competition outside of the US. It is true that we yanks have started to see a small bike resurgence of sorts, but even the evolution of the 400cc baby Ninja and the newer Yamaha R3 the current crop of small bikes feel entry-level when compared to the hardware in a NC35. Where are the multi cylinders (i.e. more than one or two)? Where is the single-sided swing arm? Where is the identity that makes one more attractive than the other? Stray away from the "me too" sameness of the current crop and you KNOW what this NC35 is when you see it. Well, you might. You would be forgiven for mistaking it for the bigger RC45, on which it is clearly based. Paint a R3 lime green and it instantly transforms into a Ninja. Dare to paint this NC35 lime green and it instantly transforms into a NC35 with a funny paint job (and lost valuation).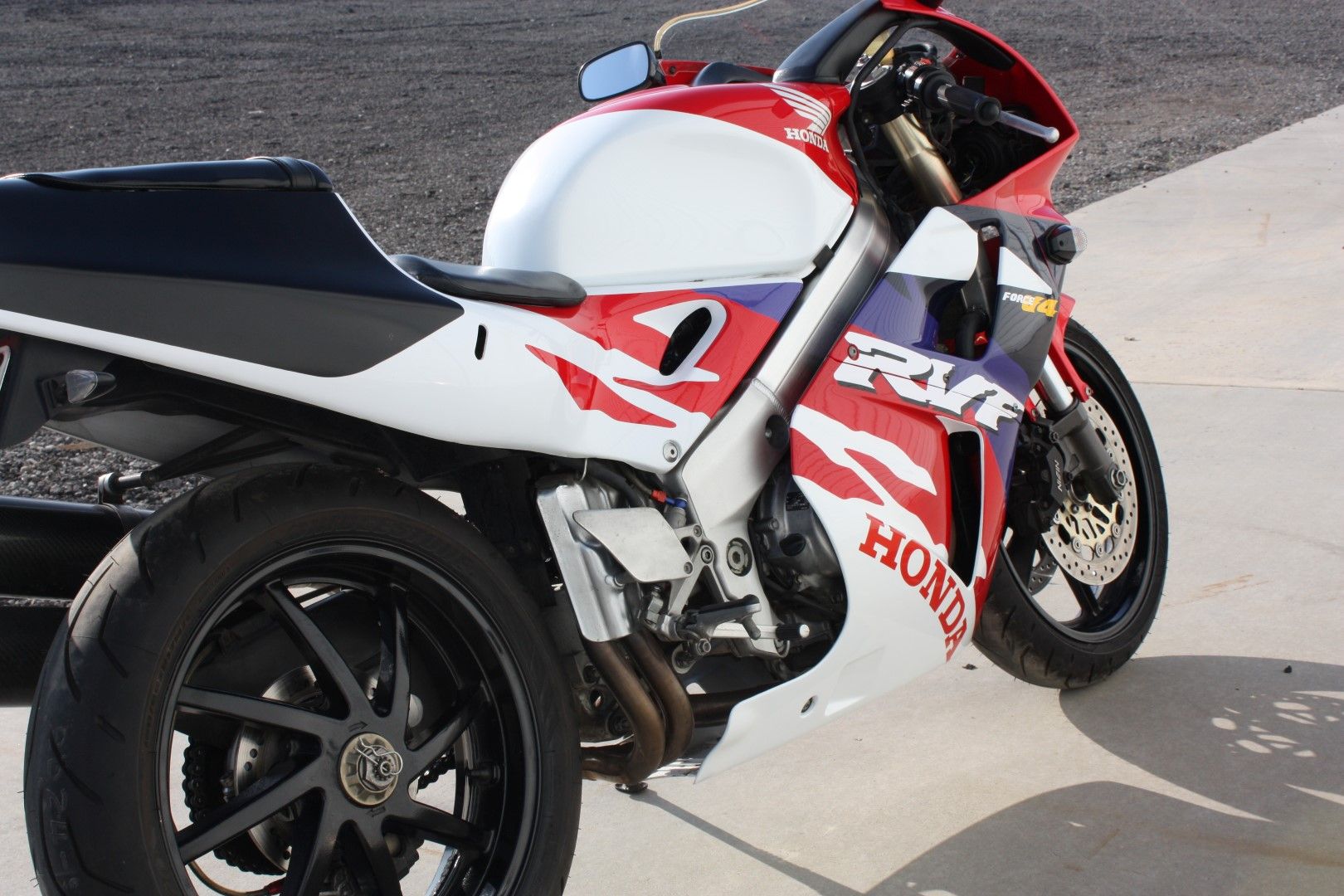 From the seller:
This bike has been registered in CA nearly 20 years, I have a clean and clear CA title in my name and it is currently non-op with DMV right now and NO back fee's. Bike has original 11 digit VIN. 19,750 miles. If you take this out of state, good luck getting it reg'd in CA again.

Since this RVF has been in the states since the 90's it does not suffer from the usual Japanese corrosion. I have owned this bike about 5 years but am clearing out most of bikes as I am planning a move at the end of this year.

This is a very nice original RVF that has not been tracked or raced, not beat up and former owner before I got it for over 10 years was a female! Bike has some small bodywork flaws and everything is pointed out in the photos. Please email me if you have ANY QUESTIONS or need MORE PICTURES!!!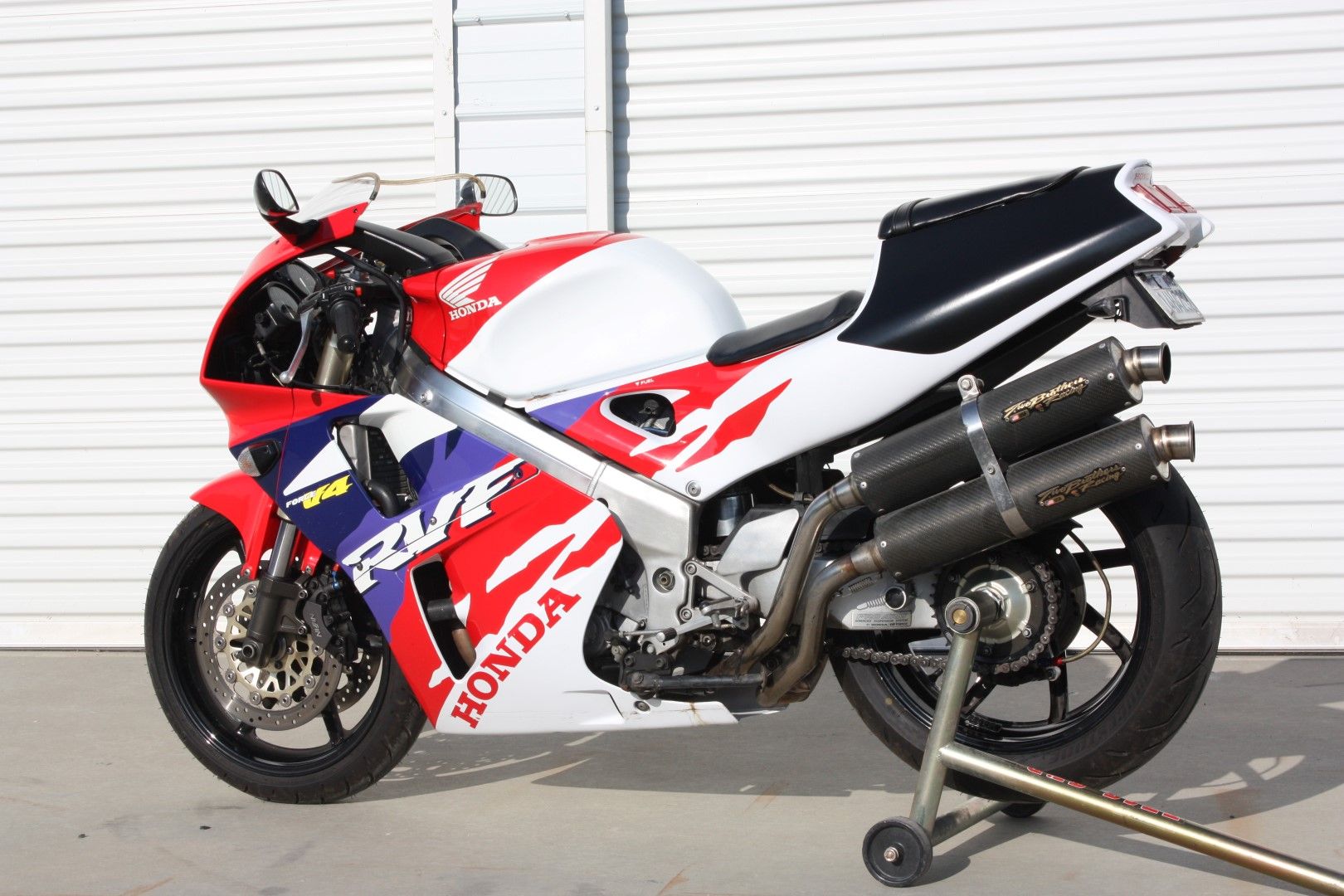 More from the seller:
I have recently done a complete full service on the bike front to back.
Brand new Bridgestone tires.
Forks just rebuilt with oem Honda Seals and fluid
Fresh oil and filter
Fresh coolant and brake fluid
Brand new battery
Carbs cleaned

Bike starts, runs and rides as it should. I cleaned the carbs but did not rebuild them, starts and runs and idles well but the bike sat for sometime before I did this work. It is fine now, but from past experience the carbs might need new seals in the not too distant future…same with the petcock…not leaking now, but my experience with them is that they all seem to fail pretty regularly. Or I am just really unlucky with 30/35 carbs and petcocks!!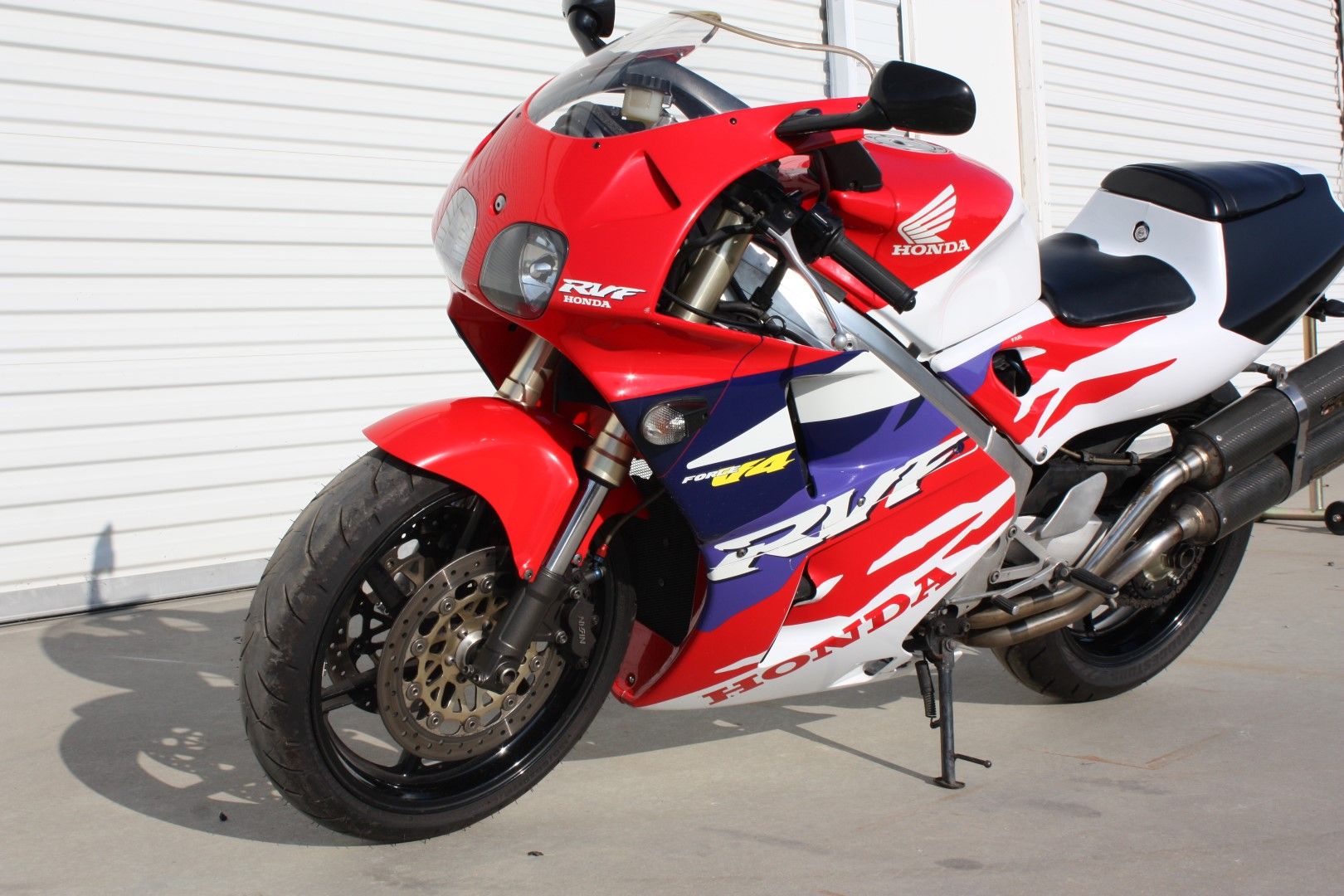 More from the seller:
I had the right side lower cowls repainted because of some scuffs and marks on them from previous owner. All other bodywork is original and OEM. The small rubber o-ring around the trunk lock is missing. There is a small chunk missing from the tail T piece, some discoloration on the left lower and some fogging in the headlight. Minor ding/depression on left front of tank. All other bodywork and cosmetics are really pretty nice considering the age and mileage.

Bike has a nice Two Brothers Slip on exhaust, braided brake lines front and rear, mechanically otherwise stock. The front blinkers are aftermarket and should be replaced as one has a short I believe and they obviously dont' look correct on the bike…I will leave that up to the new owner.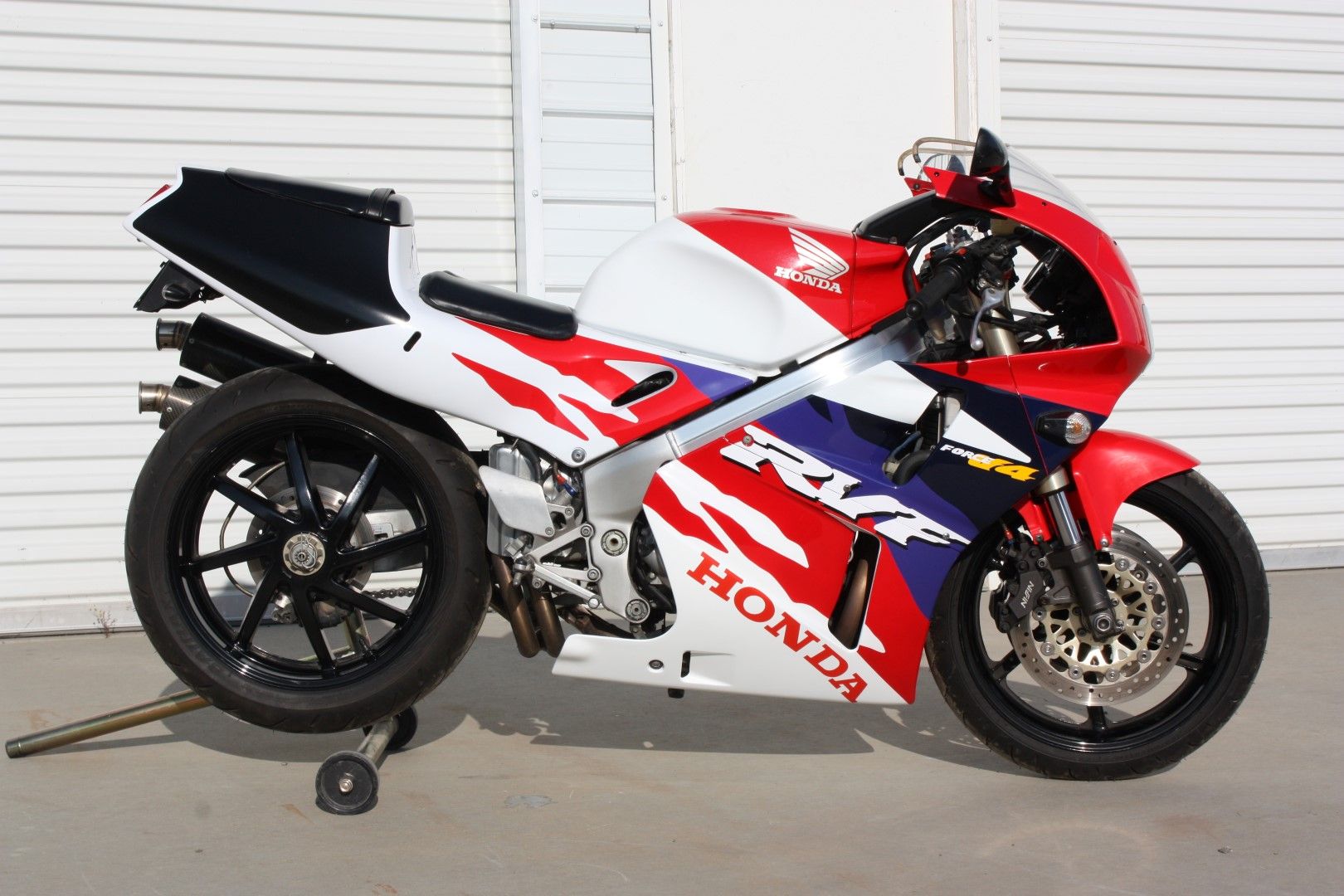 With over 19,000 miles on the all-metric clocks, this particular NC35 is not new. But for many, a rider is the ultimate expression of bike collecting, and this one is definitely used to that. Condition is not perfect, but appears to be original for the most part. If the mishaps noted by the seller are it – and there are no mechanical demons lurking – this no reserve auction might be a good way to pick up a 400cc slice of nirvana. This auction is going on right now with several bids but the price has not yet crossed over $2k. I would expect that to climb very rapidly as the auction end nears, so perhaps you should add yourself to the list of watchers (there are a lot of them). We don't see NC35s in the US all that often, and this one goes over and above by offering the vaunted California title, registration and license plate. That addition is usually worth about a grand for smokers – or anything with a less than 17-digit VIN or a lack of Federalization papers. Time will tell what this will run up to, but it offers some unique attributes that make it worth checking out. Good Luck!!
MI