Warning!
This post is in our archives. Links in this post have been updated to point to similar bikes available to bid on eBay.

Gary in Utah has several bikes Featured on RSBFS right now. Check them out too:

Good luck to buyers and seller! -dc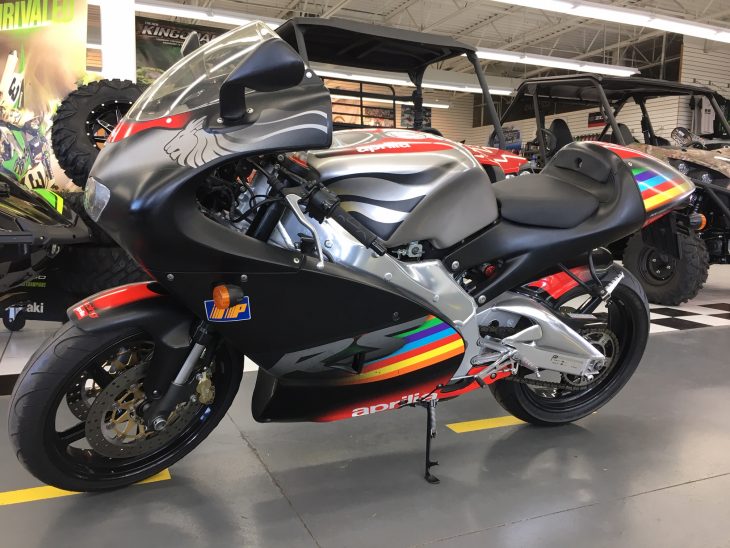 It's no secret that motorcycles are more powerful, and packed with more technology than ever. But weight is inevitably the enemy of performance, and the enemy of fun. And while modern machines pile on the horses with glorious abandon, they aren't the lightest sportbikes that have ever existed. There is another way. Lotus founder Colin Chapman's philosophy for going faster was "simplify, then add lightness," and the 250cc two-stroke class took this approach to motorcycle performance, as embodied by today's Featured Listing Aprilia RS250.
With just 250cc to play with, there really was no other choice, even given the relatively high relative output of a two-stroke. If you wanted to go fast, you needed to be light, and bikes in the class generally weighed in at around 300lbs. Quoted power is often just 45hp which, given the low weight, means these bikes aren't exactly slow, but that's hardly an inspiring power-to-weight ratio. However, many of the famous two-stroke sportbikes in the class were limited by Japanese regulations to, you guessed it: 45hp. Obviously, bikes originally sold in other markets could be shipped in a higher state of tune, or "de-restricted" by new owners in other countries. The RS250 wasn't a Japanese market bike, so the claimed 72hp might make it sound wildly more high performance than something like a Suzuki RGV250.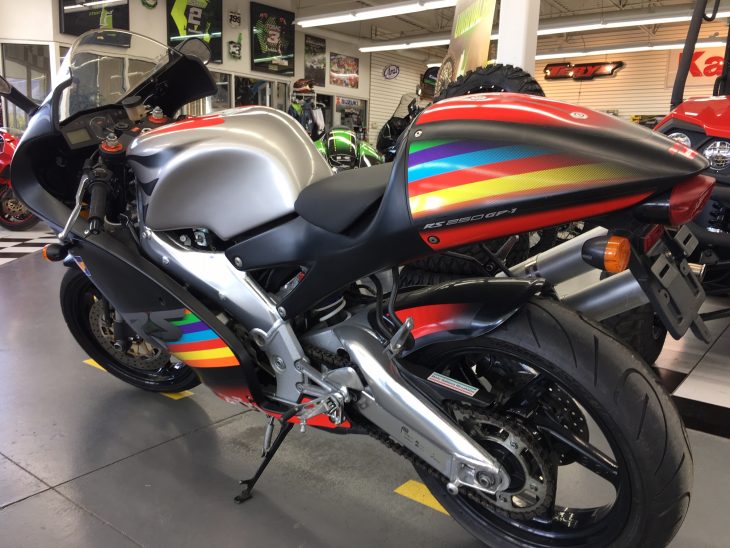 But of course it wasn't. In fact, the RS250 used the Suzuki RGV250's engine and transmission to motivate the little two-stroke ripper. Supposedly, it was modified for the application by Aprilia but, aside from slightly different tuning, those modifications mostly seem to extend to the Aprilia logos cast into the engine cases. That really is a bonus though, since maintenance and tuning parts for the RGV250 are pretty easy to track down, compared to other low-volume, high-performance Italian motorcycles.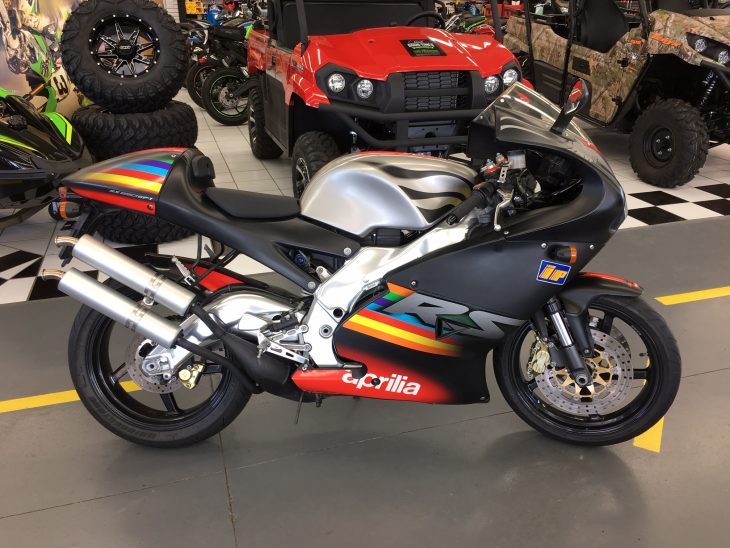 The rest of the bike was where Aprilia really made their mark, and the aluminum/magnesium alloy beam frame used in the RS250 remains one of the most beautiful examples of industrial art I can think of. The swingarm is sculpted to match, and the bodywork, while not having any specific stylistic gimmick or theme to speak of, manages to somehow incorporate the very best shapes of the era's sportbikes, while still looking distinctive. I prefer the first generation bikes, but there's no arguing that the second generation restyle seen here is a stunner as well.
The last completely legal two-stroke sportbike available in the US was the Yamaha RZ350 from the 1980s, although these Aprilias have trickled in via various routes long after that, and ridden on the road where legal. Plenty have found their way through the DMV, as they did have titles and complete VINs.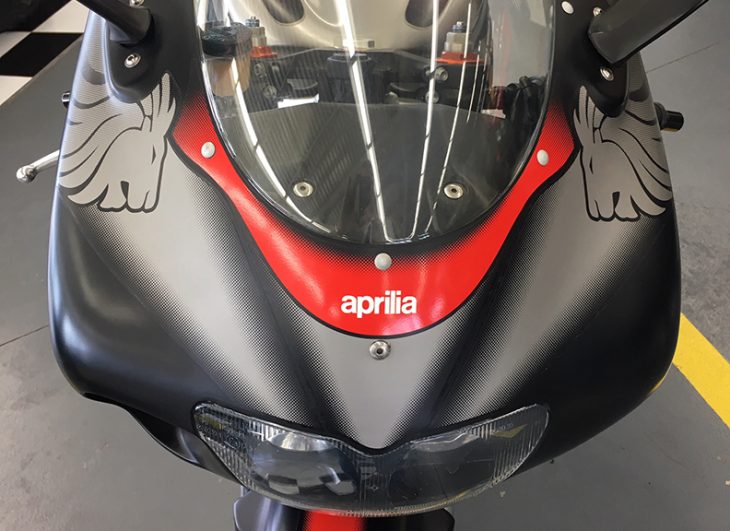 From the Seller: 2003 Aprilia RS250 for Sale
2003 Aprilia RS250 with only 14,961 kilometers (9,296 miles). Bike is in mint condition with just a few minor flaws. Bike is gorgeous and appears to have never been down. There is a light/shallow one inch long scratch on the gas tank. There are rub marks on the lower left cowling in the rainbow decal and there is a very tiny rub mark that has been touched up with touch up paint on the upper right side. Looks like the garage was a very scary place for this little RS, lol. All the fairing are 100% genuine OEM Aprilia. The bike is completely stock except for the HD headlight system. Bike runs excellent and will come with new fluids. Comes with a Utah title and is titled as a street bike for road use. 17 digit vin. $11,500 will take this Aprilia home.

Feel free to contact me at 801-358-6537 or by email: rmurangemasters@aol.com
Some might find the HID headlights abominable, but they can be useful, not to improve visibility for the rider, but to improve the bike's visibility. Yes, aftermarket HID setups that use the original reflector and lens can be annoying to other drivers, but that attention-grabbing brightness can be a plus when you're on a bike. Miles aren't museum-piece low, but still pretty low. Great news if you'd like to add a few of your own and don't want to harm the bike's collectible value too much. Keep in mind that parts to rebuild the Suzuki powerplant shouldn't be too hard to track down
-tad