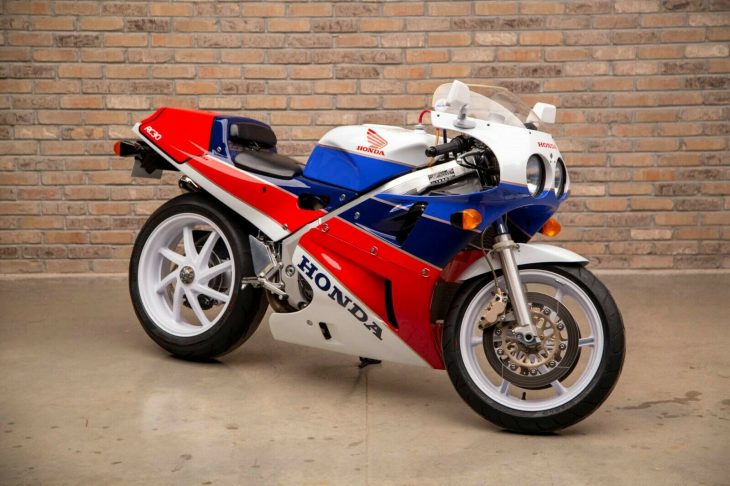 Speaking of the RC30… After the little-brother VFR400R we posted this week, we've now got the legendary Honda VFR750R here on RSBFS. The RC30 wasn't especially light, or powerful, but it was beautifully made and was incredibly easy to ride, with intuitive handling. A true sportbike icon, it represents an unusual way to approach production racing.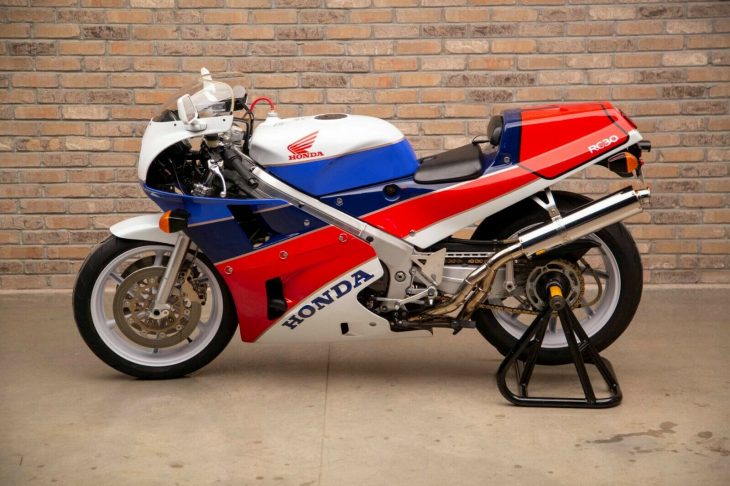 Most of the time, homologation bikes are tweaked and upgraded versions of regular production machines. You take your basic sportbike platform, then add an adjustable steering head, or flat-slide carburetors, or titanium engine parts, or a different bore and stroke, then build enough examples incorporating those changes to qualify the resulting machine for whichever classes you intend to enter. Instead, Honda built a low-production superbike that was sold alongside its more conventional inline-four sportbikes like the CBR.
Honda's belief in the the V4 has obviously been validated: the format is popular in MotoGP, and several modern hyperbikes use the format for all of the same reasons Honda felt it was a winning formula. A V4 is heavier and more complex than an inline four, since it has two cylinder heads and an additional set of camshafts. But the format contributes to mass-centralization and is much narrower than an inline four, which allows for better aerodynamics.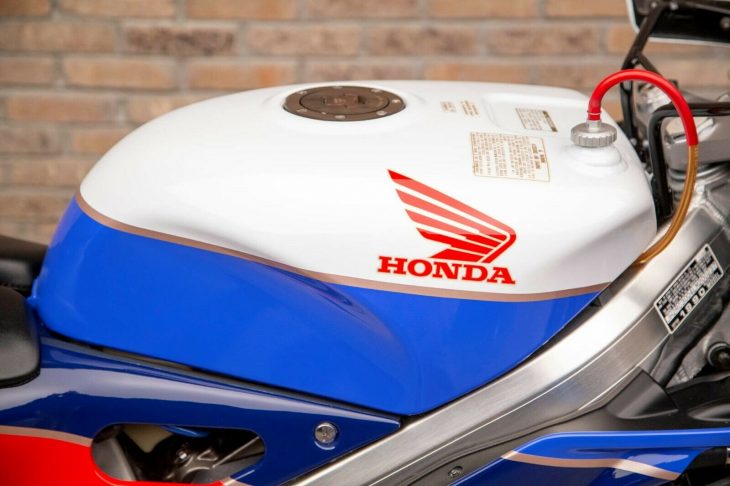 Honda's V4 used a set of gears to drive the overhead cams, and a 360° crankshaft to improve rear-wheel traction. Build quality was incredibly high and, with the fairing removed, the RC30's components are densely packed in between the thick aluminum frame spars. The V4 configuration is great for handling, but it also makes a bike generally complex and hard to work on. Perfect for a bike that was designed for homologation purposes.
I'm curious about the wheels on this bike: the seller mentions that it currently wears wheels from an RC45, which is an odd choice. The original RC30 wheels would be a 17″ front and an 18″ rear, which makes the fitment of modern sportbike tires problematic. The RC45 would have a 17″ rear, but went to a 16″ front. Again, making the fitment of modern sport tires difficult. An RC45 rear and an RC30 front would make the most sense to me, but the photos don't clearly show what's been done here.
From the original eBay listing: 1990 Honda VFR750R RC30 for Sale
If you are viewing this bike, you know exactly how influential the VFR750R/RC30 was to the motorcycle world.

With only 3,000 being produced, RC30's with this mileage are extremely hard to find
748cc V4 powerplant is pure bliss
Often referred to as a Homologation Special for HRC's World Superbike Campaign
This bike is believed to have 4,754 unrestored original miles
The bike currently has RC45 wheels and a aftermarket exhaust
Factory Wheels, Exhaust, and Jetting goes along with the sale
Rear Stand is also included with the sale
This RC30 has spent the last 2 years in the Throttlestop Motorcycle Museum on Display
The bike runs and rides beautifully
Paint work is very nice, no dings or issues with the gas tank
Lower belly pan has normal wear, see pictures
All the hard to find pieces are on this bike and untouched

This was the pinnacle for Honda in the late 80's/early 90's and is extremely timeless. Here is your chance to own one of the most desirable Sport Bikes of this era!
Bidding is active, and up to $25,100 with several days left on the auction. This example isn't perfect, but is low-mileage, unrestored, and looks very clean in the photos. And if the RC45 wheels aren't to your liking, the original wheels and exhaust are included, so you can put it back to stock before you lock it up in your hermetically-sealed storage vault.
-tad