Warning!
This post is in our archives. Links in this post have been updated to point to similar bikes available to bid on eBay.
While an Italian cafe racer from the mid-1970s is somewhat outside of the usual focus of RSBFS, one look at this surviving hot rod told us that it belongs here. And after diving in a bit deeper, we are sure our readers will too. This is an awesome timepiece of a rare model that is often overshadowed by the competition-focused SFC offering. But the apple does not fall far from the tree as the saying goes, and the DNA that went into the SF and the SF2 largely made the SFC possible. Laverda was a powerhouse in the late 1960s and early 1970s, and continued to push the envelope of performance and displacement. These were endurance race bikes, with robust reserves to ensure longevity.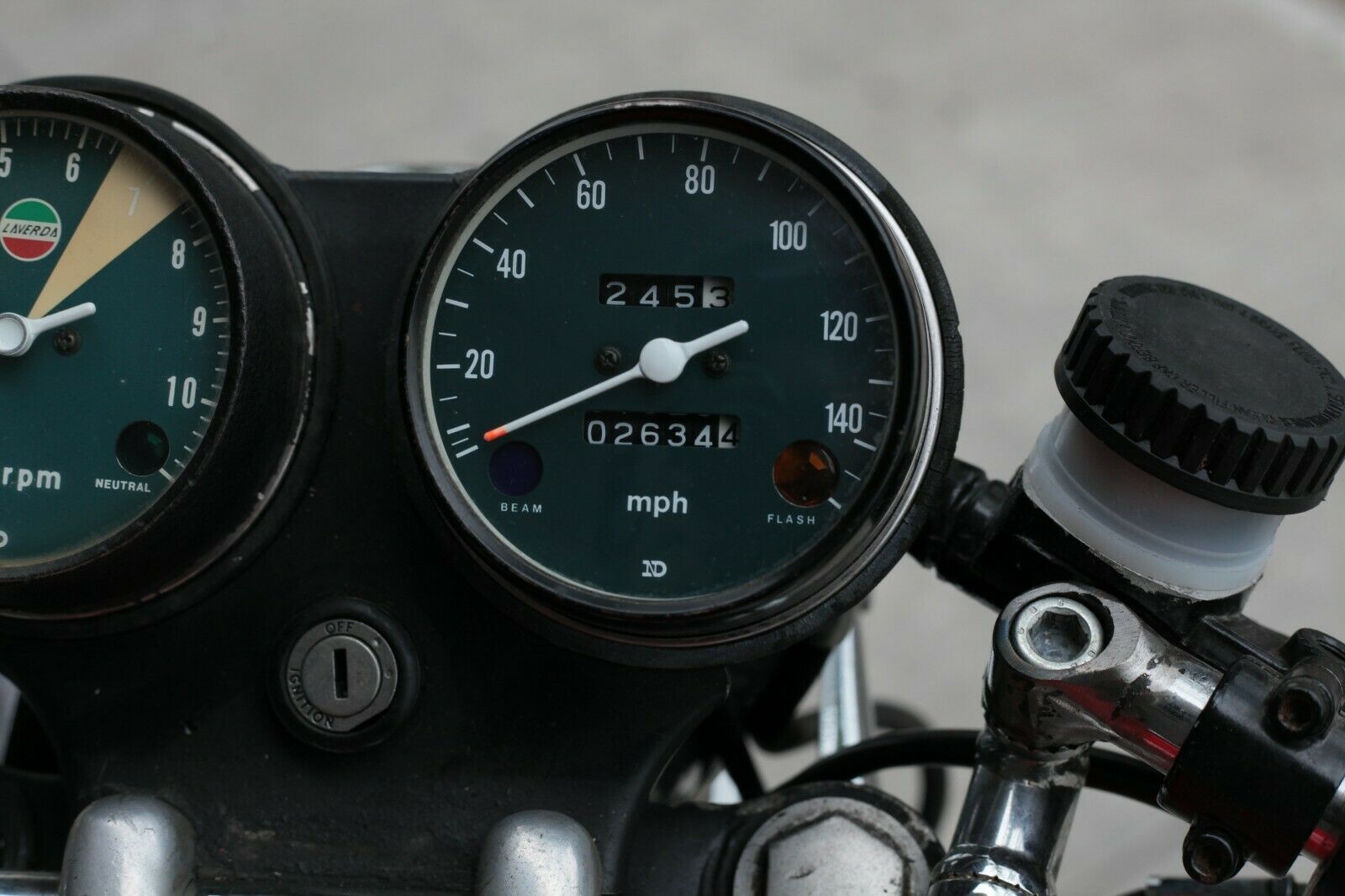 The "SF" models from Laverda refer to Super Freni, which translates (roughly) into Super Brakes. On the original SF models, braking was via a technological double leading-shoe drum brake. While today drum brakes conjure up images of Fred Flintstone, the SF brakes were a definite step forward when it came to performance. As technology evolved, the implementation of disk brakes became the next big thing. Still leading the pack in terms of performance, Laverda created the SF2 and highlighted the world's first production dual disk production street bike. No longer developed in house, braking duties were farmed out to famed braking icon Brembo. The rest of the bike was an SF evolution, the big 750cc parallel twin utilizing lightweight air cooling and a single overhead cam nestled in the 2-valve heads. In an interesting twist, electrics were a combination of Bosch and Japanese components, making Laverda one of the more reliable steeds when compared to either Italian or UK machinery of similar vintage.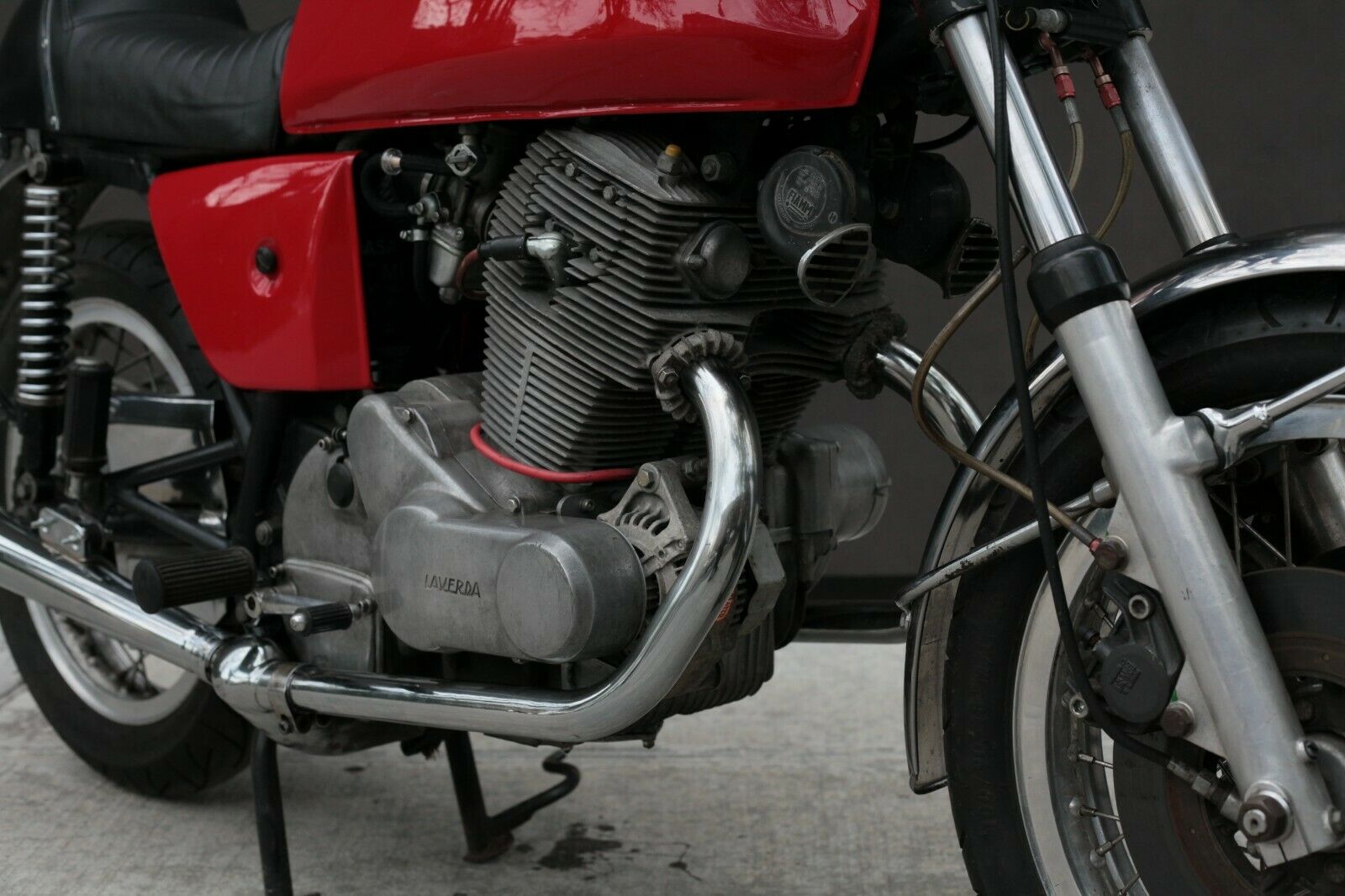 From the seller:
974 Laverda SF2 cafe racer. Stylishly upgraded with Jota adjustable bars, Laverda solo seat

This bike has been in the previous owners hands for approx 7 years, when he first bought it from the previous owner (a collector of Laverda's and other Italian bikes) he bought it to my shop (Moto Borgotaro Inc) for a going over. At this point the front suspension was re-freshed the clutch was upgraded to softer springs and a "easy clutch extended arm" the next round of repairs and upgrades were all functional, the wiring harness was completely remade with new fuse panel and micro relays, the original switches were kept in tact to keep the correct look. The generator was causing problems as most of the riding was happening in the New York, so we adapted a high output generator on to the existing sprag gear and pulley, it is very simple to put the stock generator back on, although the upgraded one puts out way more at lower RPMS…The mileage is low, but I don't believe the OD is correct, the bike runs and rides great, but it is NOT restored, and to my knowledge the top end has NOT been rebuilt! —

Over the years it was ridden in and around the NY city area, proving the reliability of the Laverda. The paint was recently done, it has an almost new seat, almost new exhaust (small scrapes here and there) even has nice Conti clamps.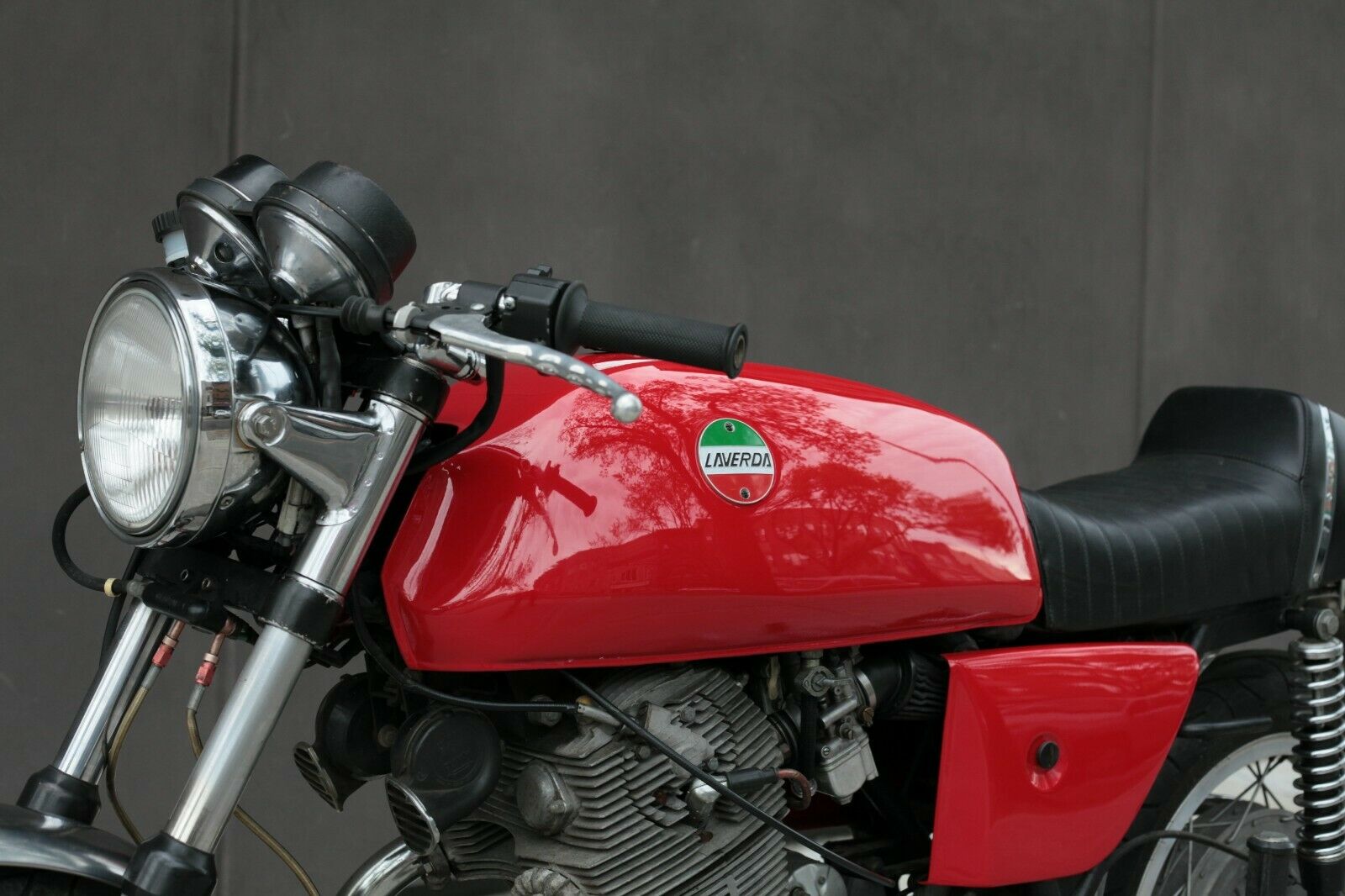 More from the seller:
This is not a show pony, she has been around the block and is still alive and kicking, waiting for a new owner ! A new set of Avon Roadrider tires are included in the sale*** not pictured

* New seat w/ key
* Newer complete exhaust
* Completely refreshed wiring
* newer paint job
* Upgraded charging
* Original shocks
* Original switches
* Complete recent service – oil, valves
* Jota Brevetto adjustable bars
* New Avon Roadriders
* Extended clutch arm, for softer clutch feel
* Airbox removed – set up with K&N filters
* Stainless brake lines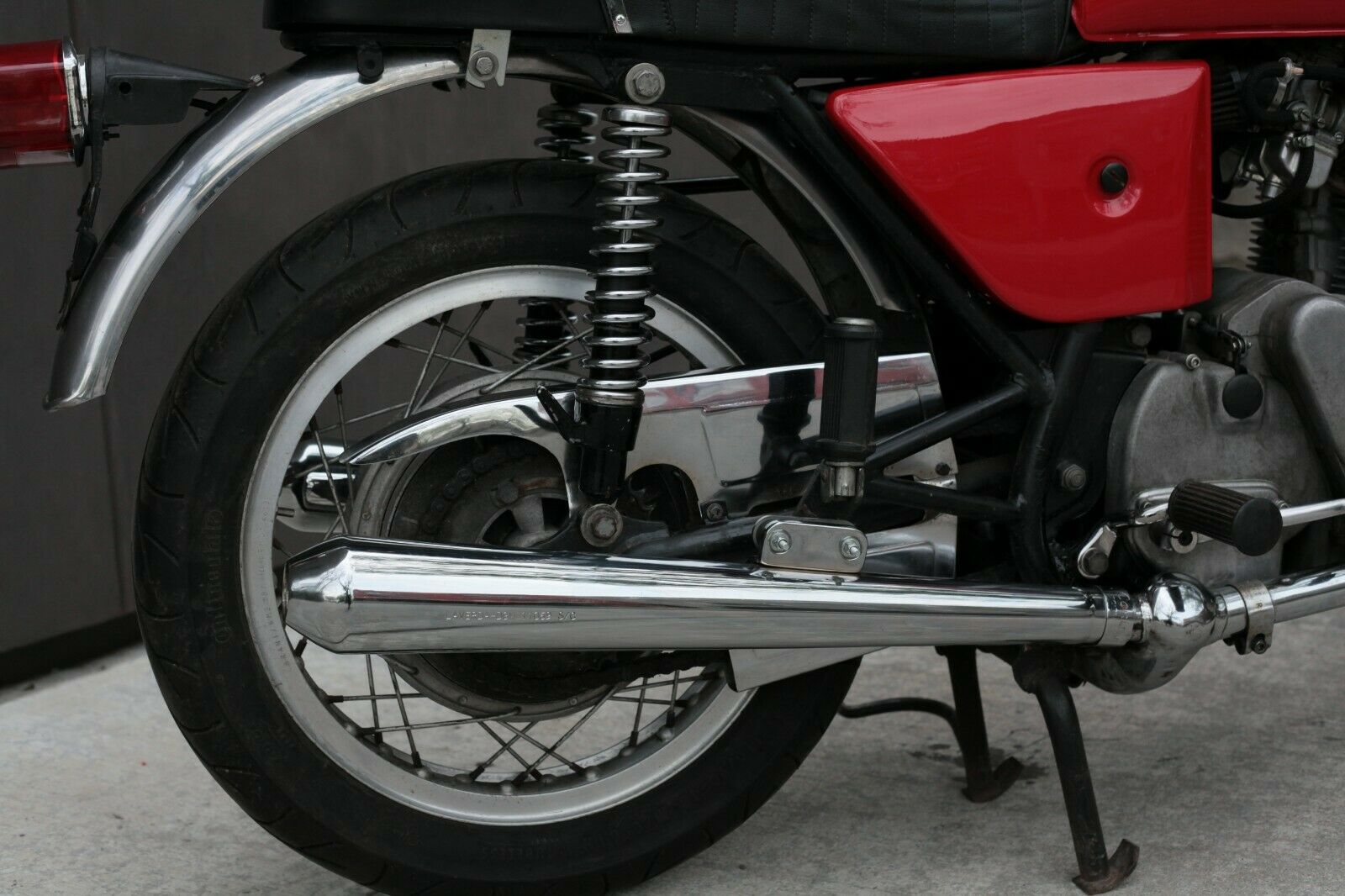 As if it needed any proof, this 1974 Laverda SF2 is a hardcore survivor. And like a great bottle of wine, it has somehow become better with age. Minor faults when new become character lines of a classic bike. And while the purist may claim to want a nearly zero mile, never been touched, ridden or ever been outside sort of bike for a collection, the experiences that this bike has under its belt makes it more of an enigma and that much more interesting. Intended as a rider, this SF2 sports some minor upgrades picked up along the way. There has been a considerable amount of work completed recently, and the deal will include a new set of tires. As the seller points out, it is by no means restored – but maintained as a cool piece of history, ready to rumble when you are.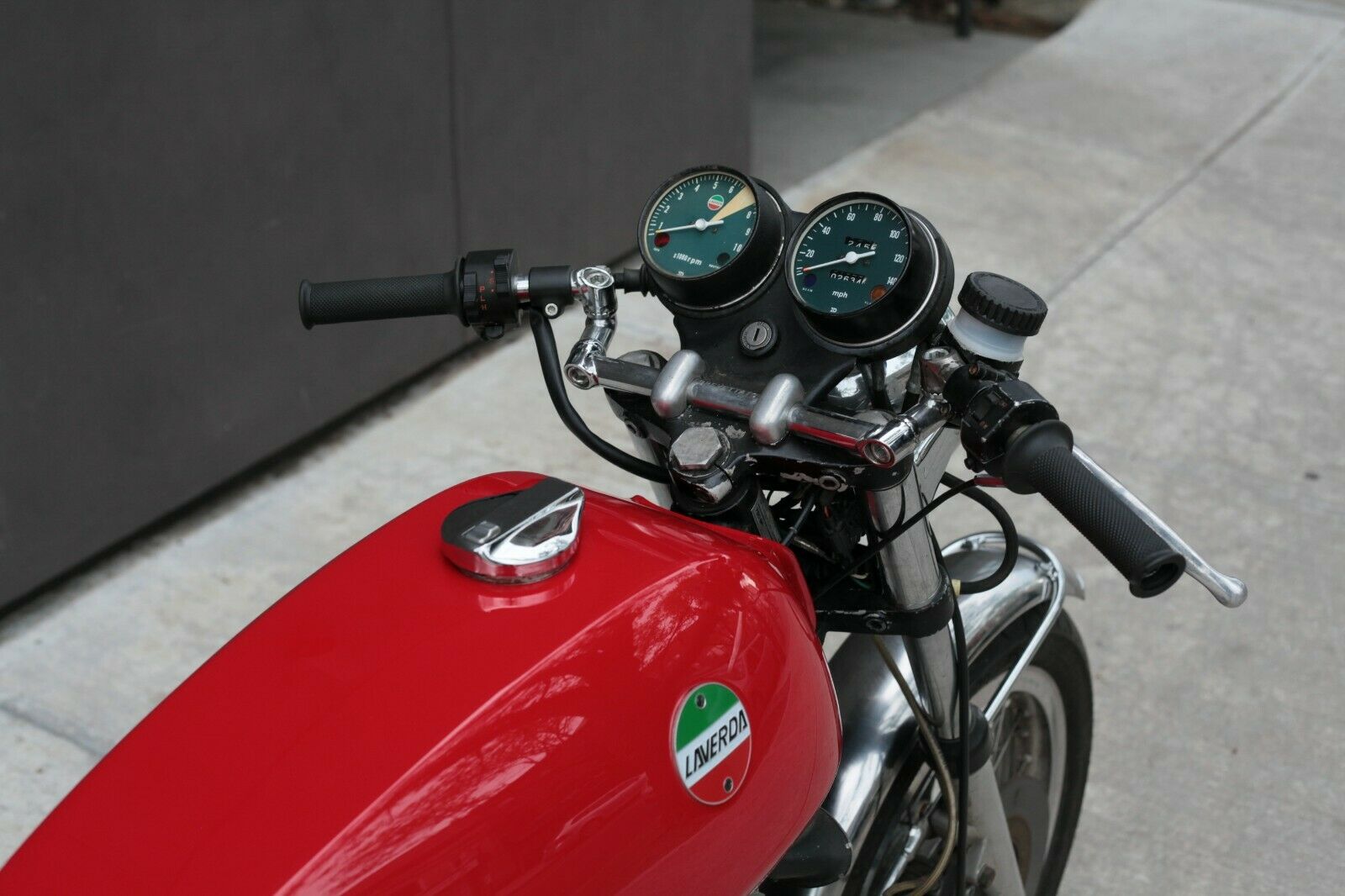 Despite the iconic looks and the same bones as other Laverdas of this period, the SF2 is a bike that mere mortals can collect AND ride. This is a bike that gives you the feeling of actually riding, one that makes you look like a macho he-man even when tooling about, and sounding glorious with open carbs barking through chrome tapered pipes. It's no wonder that this bike currently resides in New York, where it undoubtedly makes a statement. But you can make the same statement in your town – just check out the eBay auction and then give Peter a call. Then go out and do the ton. Good Luck!!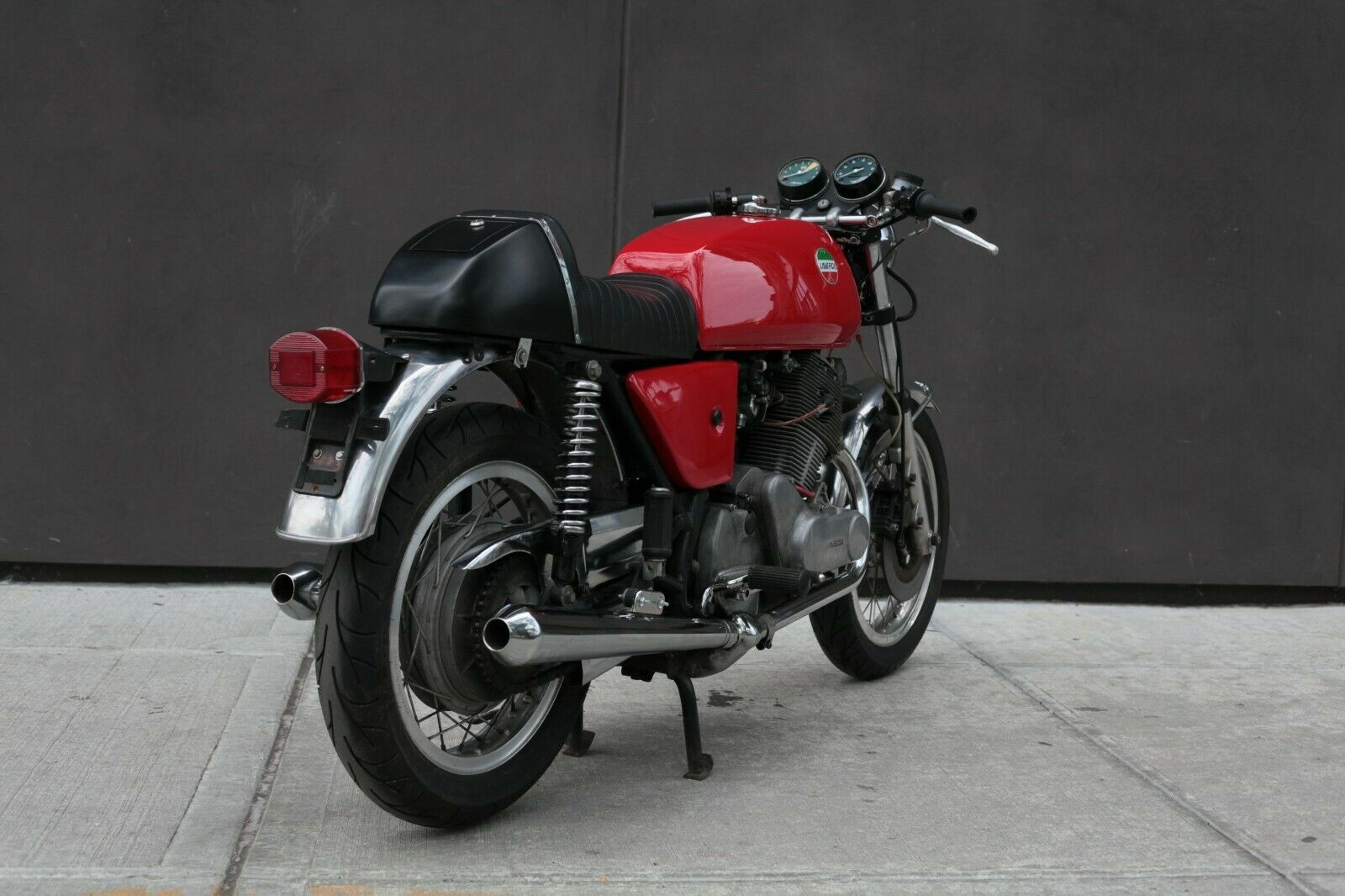 MI