Update 2.4.2020: This bike has SOLD at Bonhams Las Vegas for $18,400! Congratulations to all parties! -dc
Update 12.23.2019: Joe's bikes have been newly photographed by Bonhams in preparation for their upcoming auction at Bonhams 2020 Las Vegas Auction, and the photos are now in this listing and gallery. 
The auction is scheduled to take place on Thursday, January 23rd 2020 at Caesar's Entertainment Studios, beginning at 12 noon. For information about the bikes and the auction itself, please visit – https://www.bonhams.com/auctions/25835/ You can also contact Michael Caimano directly at 929-666-2243 or Michael.Caimano@Bonhams.com
Check out all Joe's bikes that are being offered at Bonhams. Good luck to bidders and seller! -dc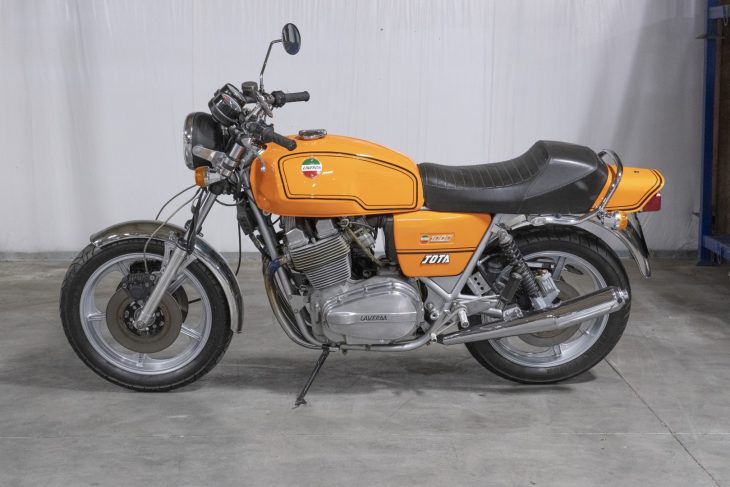 When it rains, it pours, and the past couple weeks have seen us feature several different Laverdas. Bikes this old are usually a bit too "classic" to feature regularly on the site, but certain models are just too important not to include at RSBFS, and the hairy-chested Lavereda Jota like today's featured listing is one of them. As a followup to their successful parallel-twin models, Laverda introduced a three-cylinder in 1973 after teasing prototypes for several years. It wasn't just a twin with an extra cylinder grafted on, it was an almost entirely new design, with a twin overhead-cam head.
The earliest three-cylinder bikes used a large drum brake at the front, but that was soon updated to a twin-disc setup, although a drum was retained at the rear for a bit longer. Although it wasn't tuned as aggressively as it could have been, the new, unimaginatively-named "3C" was one of the best-performing bikes available, with a 133mph tested top speed. But stock performance, however impressive, is never enough for some people, and UK Laverda importers Slater Laverda saw plenty of untapped potential and decided to build a bit of a hot rod.
Slater fitted factory racing cams and high-compression pistons, an updated exhaust, and SFC yokes for different front-end geometry. The resulting bike impressed Laverda's management, and limited production began in 1976. Power for the 981cc engine was up to 90hp and the bike could clear 140mph, making it the fastest production motorcycle at the time. After success racing the bike in the UK, Laverda expanded distribution, and eventually the bike found its way to the US, although bikes originally intended for us were of lower-spec than the UK machines.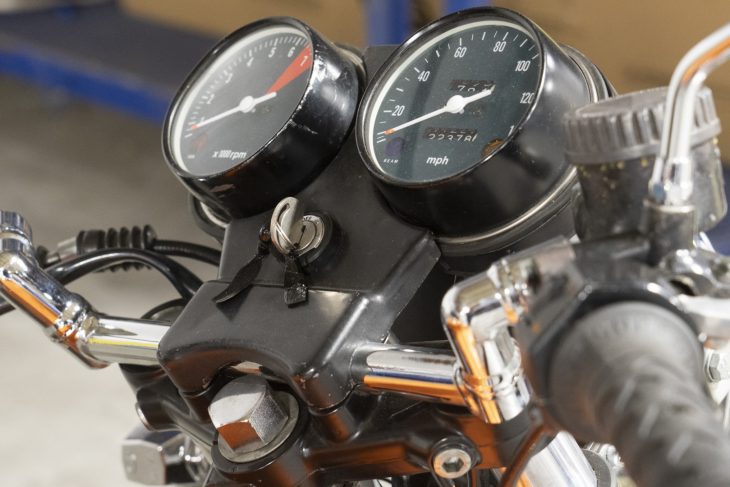 The Jota, named for a Spanish dance, is often characterized as a "man's bike" but could more accurately be described as "a bike for tall people with strong hands." The triples weigh in at nearly 500lbs dry, with a very tall seat 32″ high, no side stand fitted as standard, and a brutally stiff clutch-pull. Like all Laverdas of the period, they're solid and overbuilt with power and handling to spare, but a Jota takes work to ride quickly. Or slowly.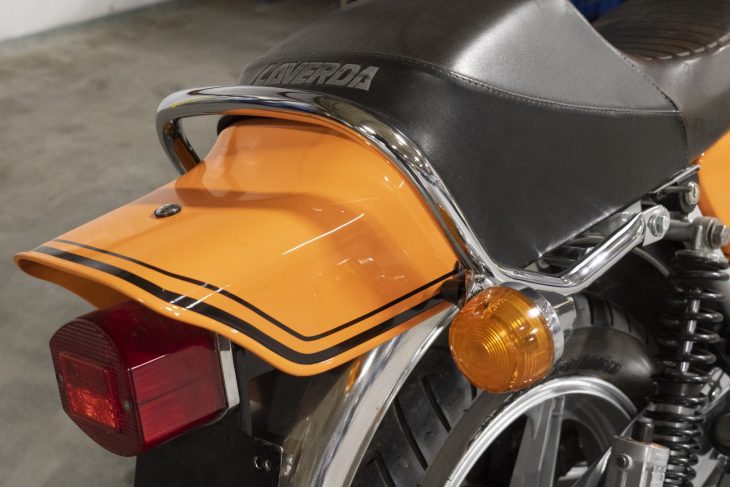 Slight clarification of the seller's information below: all of the early Laverda three-cylinder models, including the 3C and the original Jota used a 180° crank that basically fired "like a four with a miss." The Jota was basically a hotted-up version of the regular production triple and used the same crank as the 3C. The "two up, one down" crank was great for power and made a pretty distinctive noise, but vibrated a bit more than than was considered acceptable. Later triples switched to a 120° crank after 1981 for increased smoothness, but purists feel like only the 180° bikes are the only "real" Jotas. Personally, I think the 120° bikes sound pretty cool too, but the 180° bikes are definitely more desirable to collectors.
From the Seller: 1980 Laverda Jota for Sale
You should know that I am a serious collector, with a large motorcycle collection. I decided to sell some of the most valuable motorcycles in the collection. These motorcycles represent some of the most iconic motorcycles of the 1970s, 1980s, and 1990s. Those motorcycles are now being offered up for sale one by one. These motorcycles were targeted by me for my collection many years ago when the best of the best were available and that is what I purchased. 

In general, I do believe super rare Italian motorcycle of the 1970s and 1980s are the future Ferrari of motorcycle collecting. We all know what has happened to Ferrari. 

When you decide, as I did, that the rare, large Italian Sports bikes of the 1970s are a great place to be for collecting. You will for sure want to have a Laverda Jota in your collection. 

Make sure that your Jota is a real Jota with 180 degree firing order, which distinguishes the Jota from other Laverda models. Again, the 180 degree firing order means that the 3-cyclindar engine fires off when two of the cylinders are up and then 180 degrees later when one cylinder is up, it again fires. In other words, the Jota fires two times per 360 degrees and not three times per 360 degree rotation, like the lesser Laverda models. This is what gives the motor its unique power and especially its unbelievable thundering exhaust note. These are big, heavy, and handsome bikes. This one was restored by a Laverda guru a little over 10 years ago and was put in our collection shortly thereafter. If you are talking about these Italian bikes that are designed to look like they have big muscles the Jota certainly exemplifies that. Of course, any of the rare Italian 1970s and 1980s iconic bikes are always great garage art and most often wonderful bikes to ride. The Jota is a man's bike and not meant for the faint of heart unless you are going to just put it in your living room to look at it.  

There is plenty of information on the Internet about the Jota. There is a very large international club for them. This Jota was restored to perfection and is still in wonderful cosmetic condition and riding form. 

This is certainly a bike for serious collectors and for those that don't know all the details, the internet is just loaded with information. I can only suggest that you scrutinize the pictures and decide for yourself if this is another rare Italian collector bike that will eventually become as iconic as the Ferrari automobile. I spent a decade looking for the best one and this is the best one I have ever seen.

The real Jotas seldom become available and you should always get the best. When they are available, they are almost never in highly restored condition.  All my bikes are kept on trickle chargers ready to take a day's ride at a moment's notice. The Jota is one of those.  

I would suggest that you check out the other rare cycles that I am offering for sale by clicking on "other items for sale" in the upper right corner to see the other bikes being offered from my collection.  

Thanks for looking at one of the best!
The seller clearly knows bikes, and the collectability of the Jota is undeniable. The only Laverda model more valuable is the earlier SFC, and the Jota is a bit more civilized, although that probably isn't saying much. Many Jotas came with a half-fairing, but I much prefer my big, burly bruisers to be naked! Wait, that came out wrong… Anyway, the additional wind-blast will be perfect for bulking up your neck muscles to match your newly-muscled hands: I've got a couple friends with Laverda triples and the effort required to pull that clutch still blows my mind.
-tad