The RC8 was KTM's first attempt at a big sportbike and wow, what a first attempt. Right from the start it was designed to compete directly against Ducati's 1098/1198 Superbikes as well as the Big Four Japanese liter class bikes. When it debuted in 2008, the RC8 received positive but not glowing reviews, mostly due to the way it looked. "…looks like a stealth fighter crashed into a motorcycle factory"…"Certainly wasn't designed by an Italian…"…"Haven't we had enough undertail exhaust bikes already?"…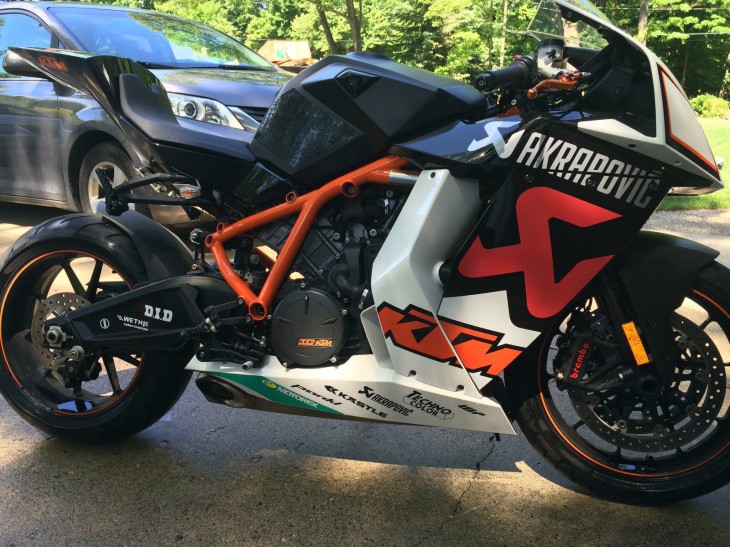 Once people started really examining the bike, it became apparent that while the looks of the bike were a bit unusual, in typical Austrian/KTM fashion it was actually form over function. The RC8 was developed with racing in mind, spent long hours in the wind tunnel during development and was almost infinitely adjustable when it came to setup, including the following components.
Front brake lever : Ok, thats available on lots of bikes, so no major bonus points there.
Clutch lever: Surprisingly still unavailable on many modern motorcycles.
Handlebars: The conversion from almost sport-tour-y to racebike is accomplished with four bolts and fewer minutes.
Seat: Not just the seat but the entire subframe, altering seat height from 31.7 to 32.5 inches in mere minutes.
Foot pegs: Lots of legroom when set in their lowest position yet still difficult to drag. Virtually unlimited ground clearance when in their high position.
Shifter: Adjustable for length (3 positions), leverage and GP-shift conversion.
Brake pedal: Nub adjustable for length in 3 positions.
Rear ride height: An eccentric allows simple adjustment over a 12mm range.
Gauges: Separate displays for street or track, most available via a pair of toggles on the left clip-on. The Road setting has displays for trip meters, clock, fuel mileage, miles to empty (best- and worst-case scenarios), trip time and ambient temps. The track setting has displays for lap timers, top speed, max rpm and race duration.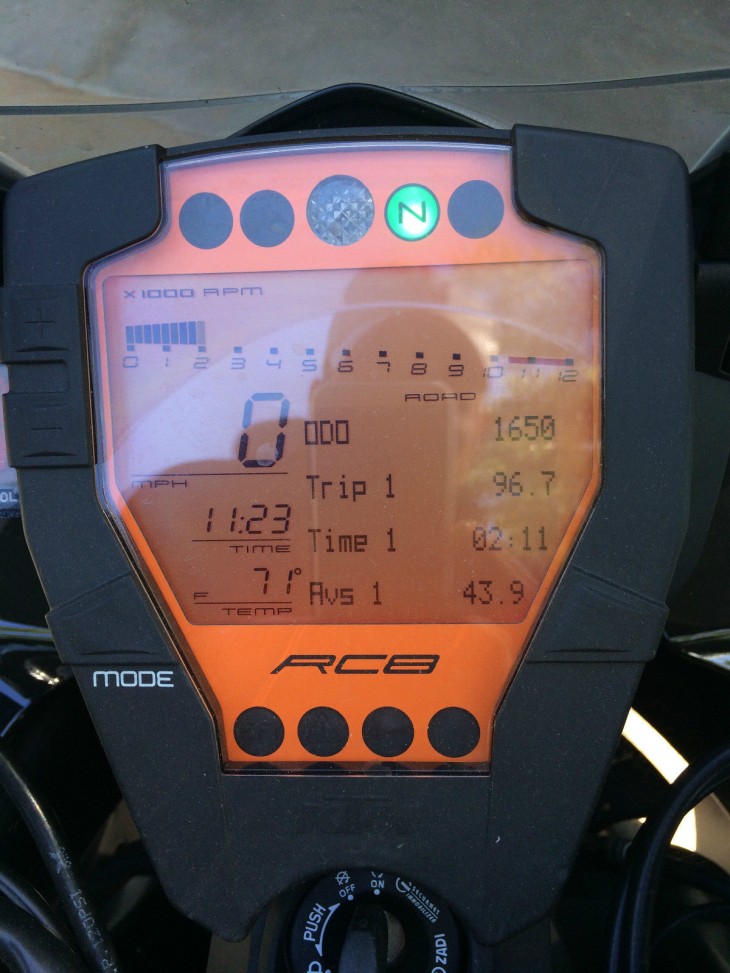 After introducing the standard RC8 in 2008, in 2009 KTM introduced the racing model,designated as the RC8R. The RC8R had several advantages over the standard RC8, including more power, different steering angles, and lighter wheels. And then to go one step further, in 2010 KTM produced two separate 25 unit limited-edition series with Akrapovic titanium exhaust systems and updated ECU's, designated as the Red Bull and Black Akrapovic editions.
Here we have one of the 25 black Akrapovic edition bikes with only 1650 miles. This particular bike is listed as being # 8 of 25 for the black Akrapovic edition and overall the bike looks good, although the standard rear tail unit has been removed (a common update) and replaced with a tail tidy.
So whats it worth? Well KBB lists retail value for a standard 2010 RC8R at 11k but there are no prices available on KBB for the Akrapovic editions. Also, the Red Bull edition seems to be a bit more popular than the black Akrapovic, probably due to the Red Bull graphics being less of a contrast to the orange frame. But given the low miles and rarity of the edition, I would expect reserve price to be somewhere north of 13k. And since these bikes actually include some technical updates and the titanium Akropovic exhaust system, they will probably increase in value over time so maybe get yours while you can?
DISCLAIMER: I own a 2010 red bull edition RC8R that I picked up last year
-marty/dallaslavowner