Today we have a double order of RC8 V-twin goodness, an orange '08 intro-year with just 1,055 miles, and a black 2010 RC8R with just over 19K.  Banking on the year and low mileage, the ask on the '08 is more than double the -R.  Tricky decision !
2008 KTM RC8 and 2010 KTM RC8R for sale on eBay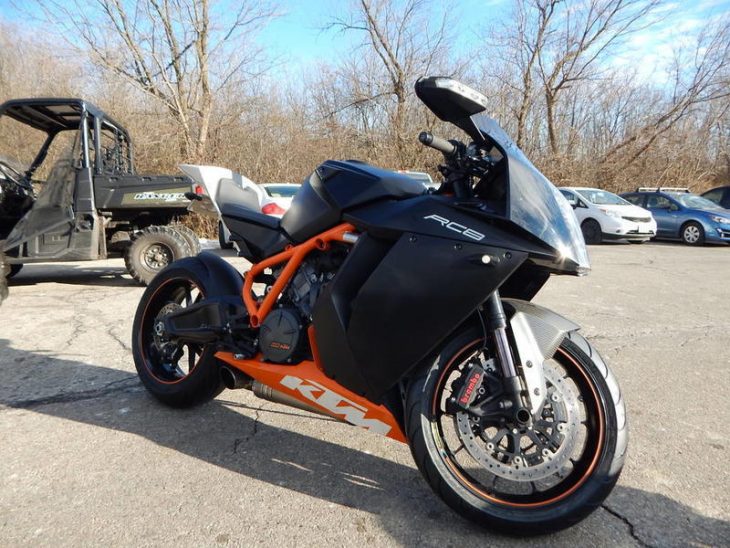 KTM developed their superbike for the 2008 model year and it's become a noteworthy alternative to some other V or L-twins.  Initially the Rotax-based engine was 1148cc's and good for 152 hp, and the later -R's 1195cc's checked in with 168 hp – serious stuff  ! – and the -R rates a factory slipper clutch.  The 6-speed transmission reviewed relatively clunky, but honing a smooth trans takes millions of units.  Both years have WP forks and monoshock, fully adjustable of course.  320mm Brembo monoblocks are overkill on the street, but a literal life saver on the track.  Like their 1198S inspiration, the KTM have a beautiful chro-moly trellis frame, in orange on the 2010.  The angular fairing design and clean rear fender design have become a KTM hallmark.
* * * * *
Seems like both these sellers stuck to the extremes, with the 2010 RC8R asking somewhat below the going rate, and the 2008 RC8's buy-it-now is similarly above the peak.  Both appear undamaged, but the 2008 is a 1K-mile cherry, and the 2010 having logged 19,109.  The 2008's owner believes it is the 5th machine from that year's production, and the 2010 comes with following statement, " AFTERMARKET EXHAUST, ADJUSTABLE LEVERS, FENDER ELIMINATOR, LED FRONT SIGNALS, MARCHESINI WHEELS, CARBON FIBER FENDER, COOL BIKE! ".
* * * * *
KTM abandoned the superbike market in 2015 saying the machines didn't fit their corporate responsibility ( but somehow the 1290 Duke does ).  Now their sole supersport is a 390 cc single and the LC8 is a poignant moment in the 21st century.  The big twin is a durable 4-cam beast, if not destined for WSBK fame then a champ on the road.  The rest of the package is nothing if not a phenomenal first effort, a nice testament to computer-aided design and manufacturing.  Just try and pick one !
-donn