5.18.2022: This bike has sold. Congratulations to buyer and seller! -dc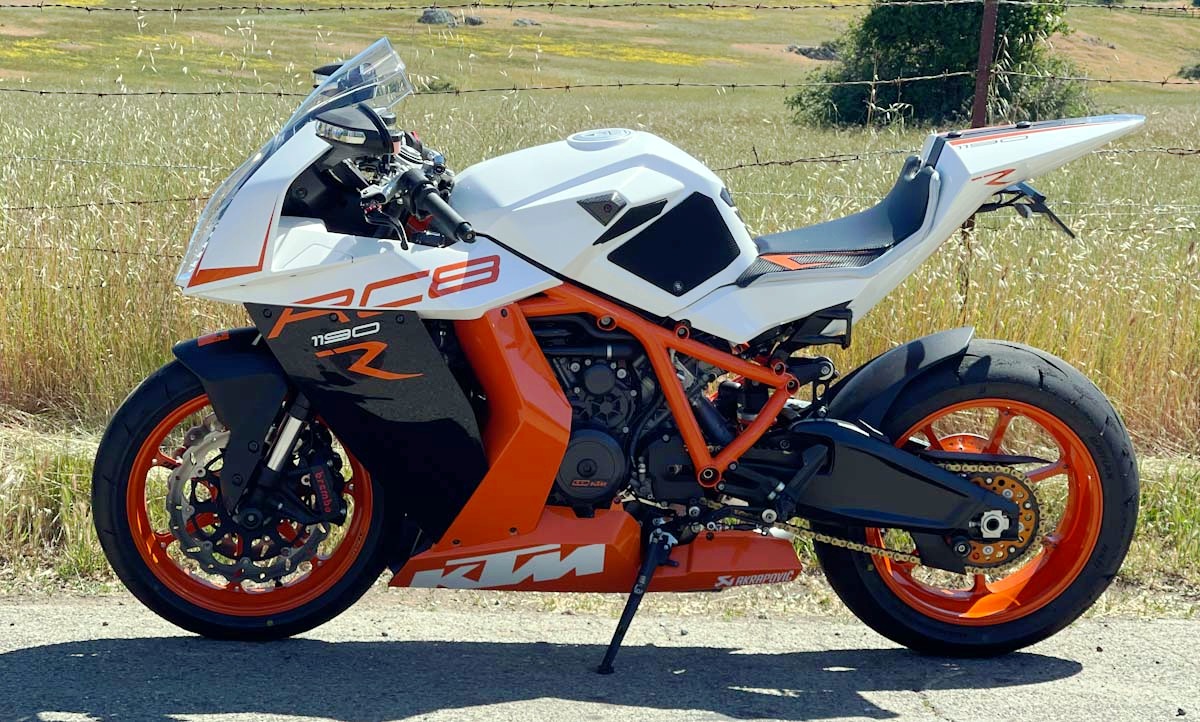 The KTM RC8R is the un-Superbike. It does not have the mass-market appeal of the Japanese WSBK competitors, nor does it have a long history of sexy design like the Italian steeds. What it offers instead is a no-holds-barred design philosophy that couples a ferocious powerplant with a stiff and stable chassis, premium components that enabled it to be competitive in WSBK racing, and the rarity of being something different. Exclusivity was guaranteed when KTM pulled the plug on their big bore, street going sport bikes in 2015, leaving the capable RC8 line-up in the hands of fans and those seeking something different on the used bike market. Today, these are edging their way into collector status for what they represent.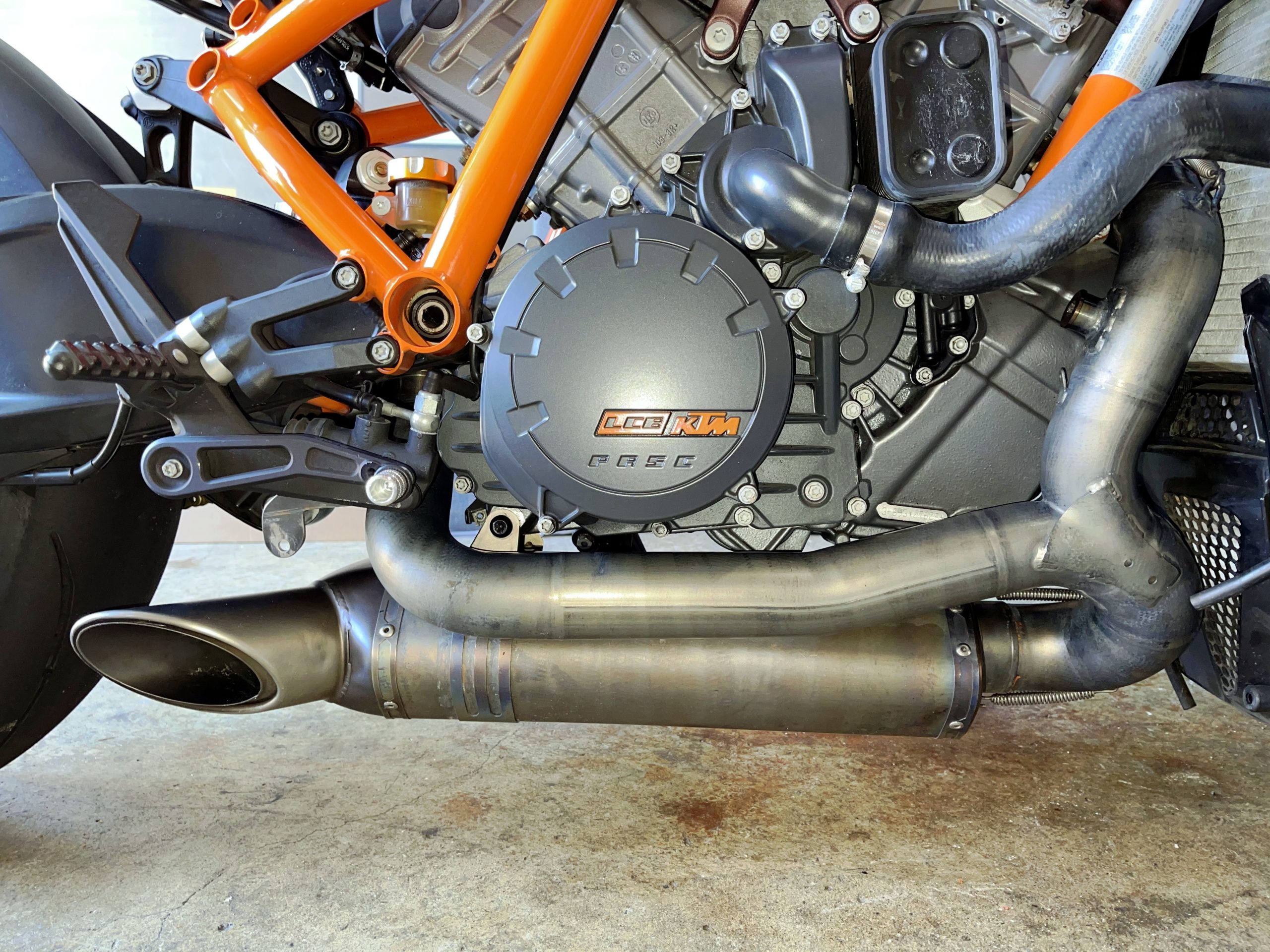 At the heart of the rare beast is an 1190cc v-twin splayed a unique 75 degrees, and spitting out 175 horsepower. All those mad, fuel injected ponies are unleashed through a tight, 6-speed gearbox with slipper clutch arrangement. That slipper clutch – along with the excellent chassis and WP suspension components, Brembo radial mount brakes, and sticky rubber – are all the tools a rider has in the tool kit to keep the shiny bits, well, shiny. You see, the RC8R is really the last manly Superbike, where traction control, throttle mapping and anti-wheelie systems are the exclusive property of the rider's right wrist. The RC8R is a bike without techno-nannies. There is no app to program it, there are no confusing menus to scroll through. Skill and bravery are rewarded with unfettered speed.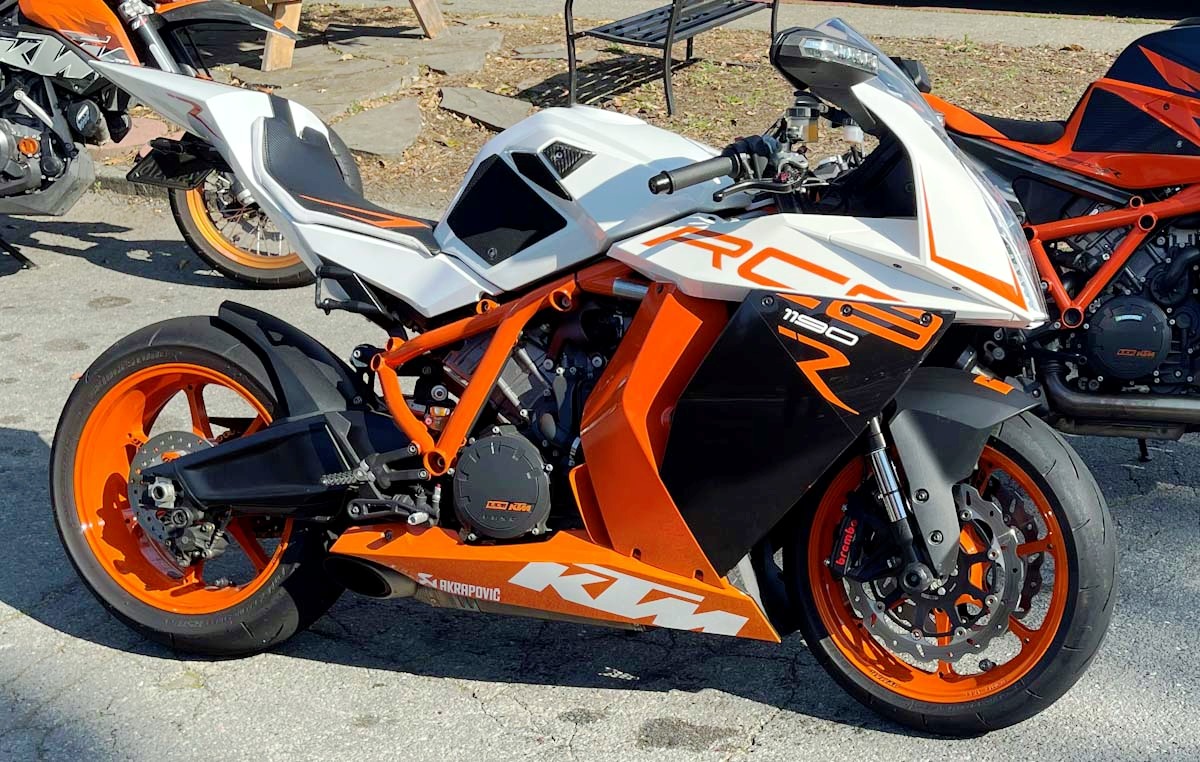 From the seller:
2013 KTM RC8R
Purchased the bike in January 2021.

Modifications:
Akrapovic Evo1 full titanium system
Dymag UP7X forged wheels installed 2,000 miles ago. Tires are Bridgestone RS11.
Galfer front wave rotors and 1375HH ceramic pads
R&G license plate holder/tail tidy with LED license plate frame and Rizoma LED turn signals
CRG levers
Carbon fiber tank protectors (OEM included as well)
Carbon fiber chain guard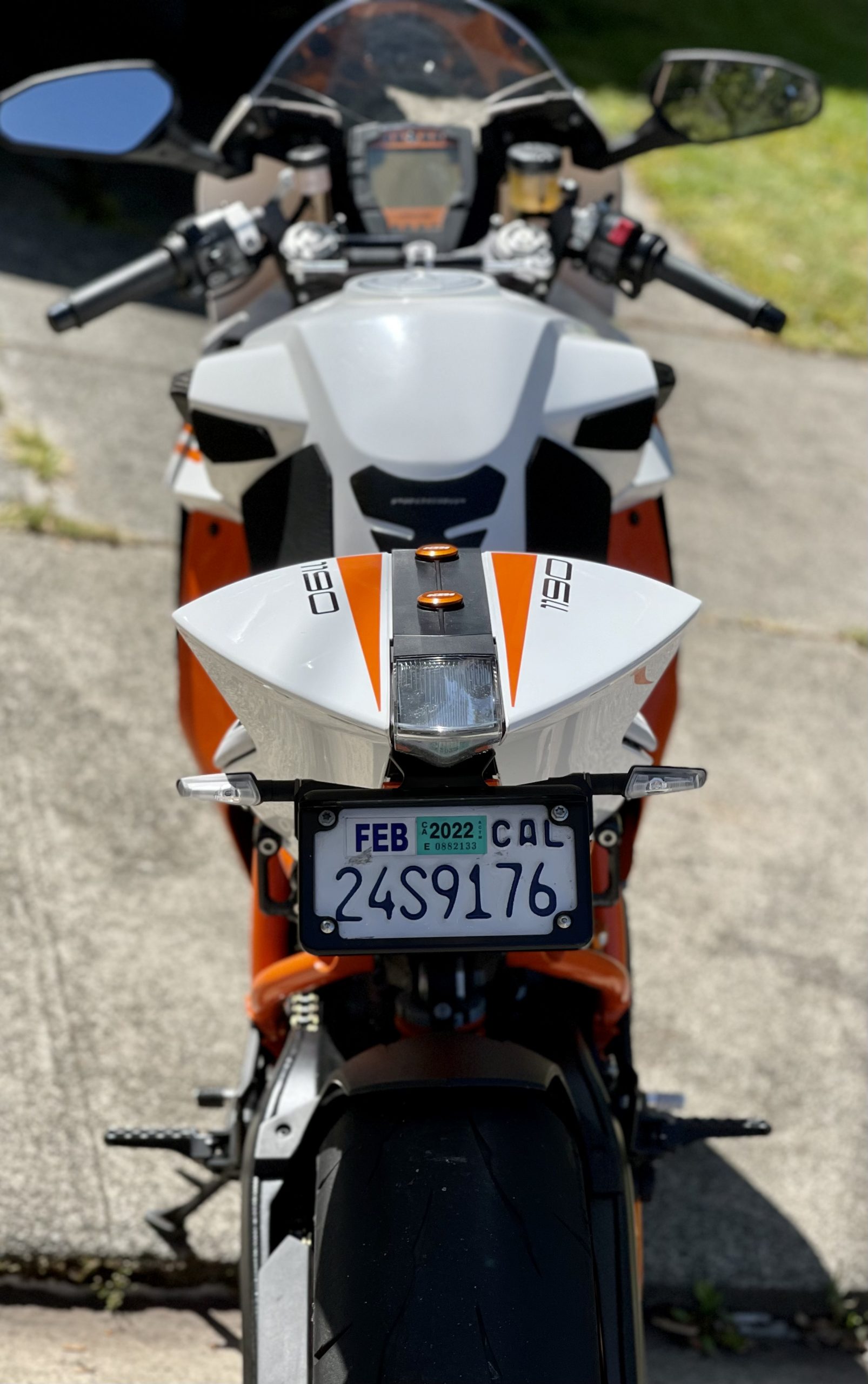 More from the seller:
Bike runs perfectly. No mechanical issues. Maintenance history included in images.
California Reg paid to March 2023, clean title in my name.

Cosmetic issues:
1) some small rock chips on underside of tail section and front fairing
2) nickel-sized mark on left front fairing (in pics, near the "R")
3) pin-head sized chip in tank from interference with steering damper
4) some scratches in tank from jacket zipper
5) The left fairing is wrapped in gloss black vinyl just below the "R" logo and I assume it's covering something up but I have no idea what and don't want to remove it. I actually owned the bike for several months before I noticed it.

Extras included:
Removed stock exhaust, CJ Desigs SAS plates, original owners manual and copy of workshop manual, ONE key.

Located in San Rafael, CA. 94901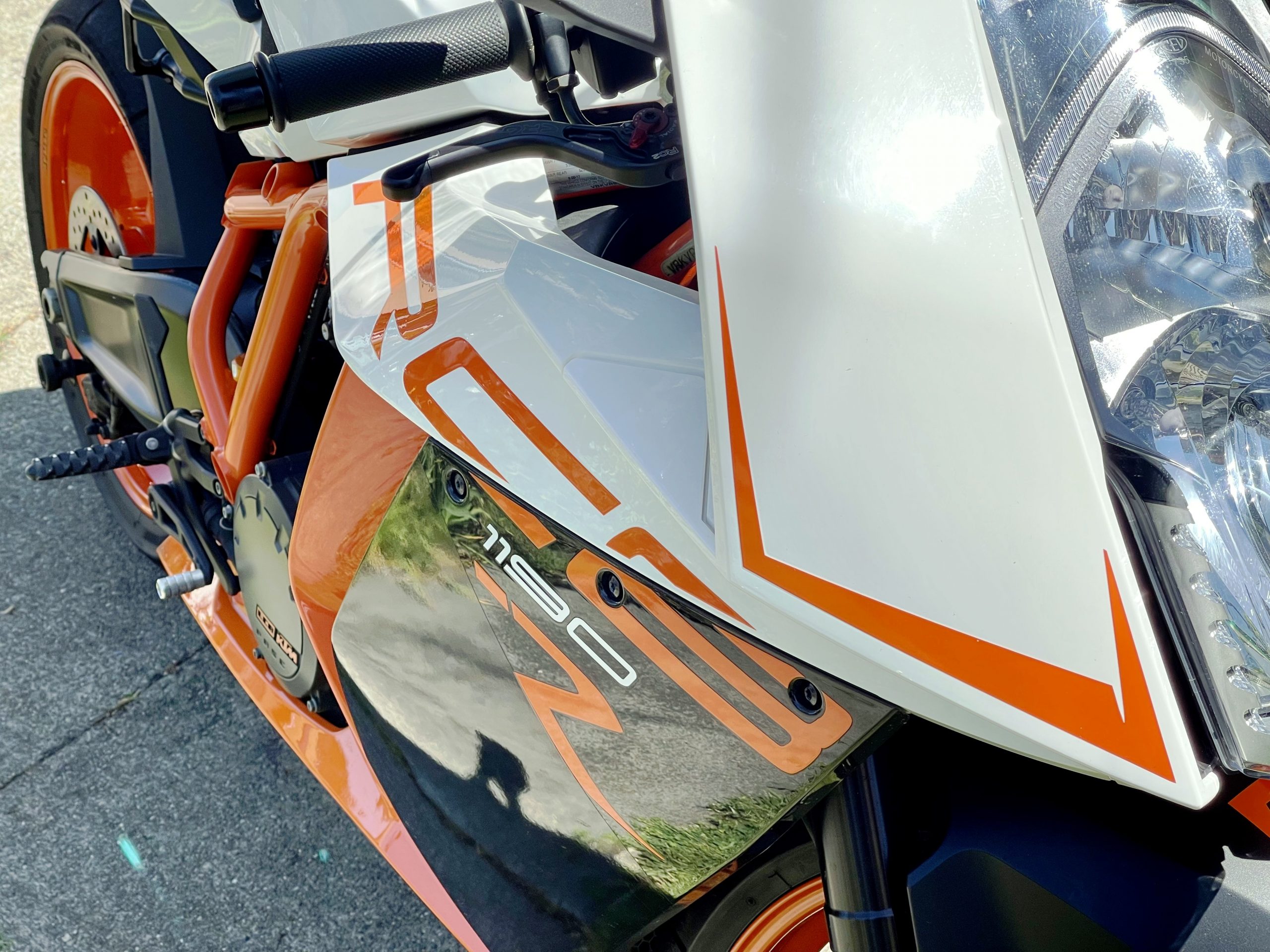 Today's awesome looking 2013 KTM RC8R 1190 comes from RSBFS reader John. The bike sports some very desirable performance and cosmetic upgrades applied to a very clean example. Maintenance has been performed as annotated in the list found in the gallery below, and John has been very open about the condition of the bike – so no surprises. In a world that is going down the technology rabbit hole with ever greater velocity, it is safe to say that we will not see another analog Superbike like this again. KTM created a fantastic platform with the RC8R, and this is destined to be one of the "not to be missed" collectors in this segment in future years. Meanwhile, nothing will put a bigger smile on your face than listing to the big twin hammer its way up through the gears.. Good Luck!!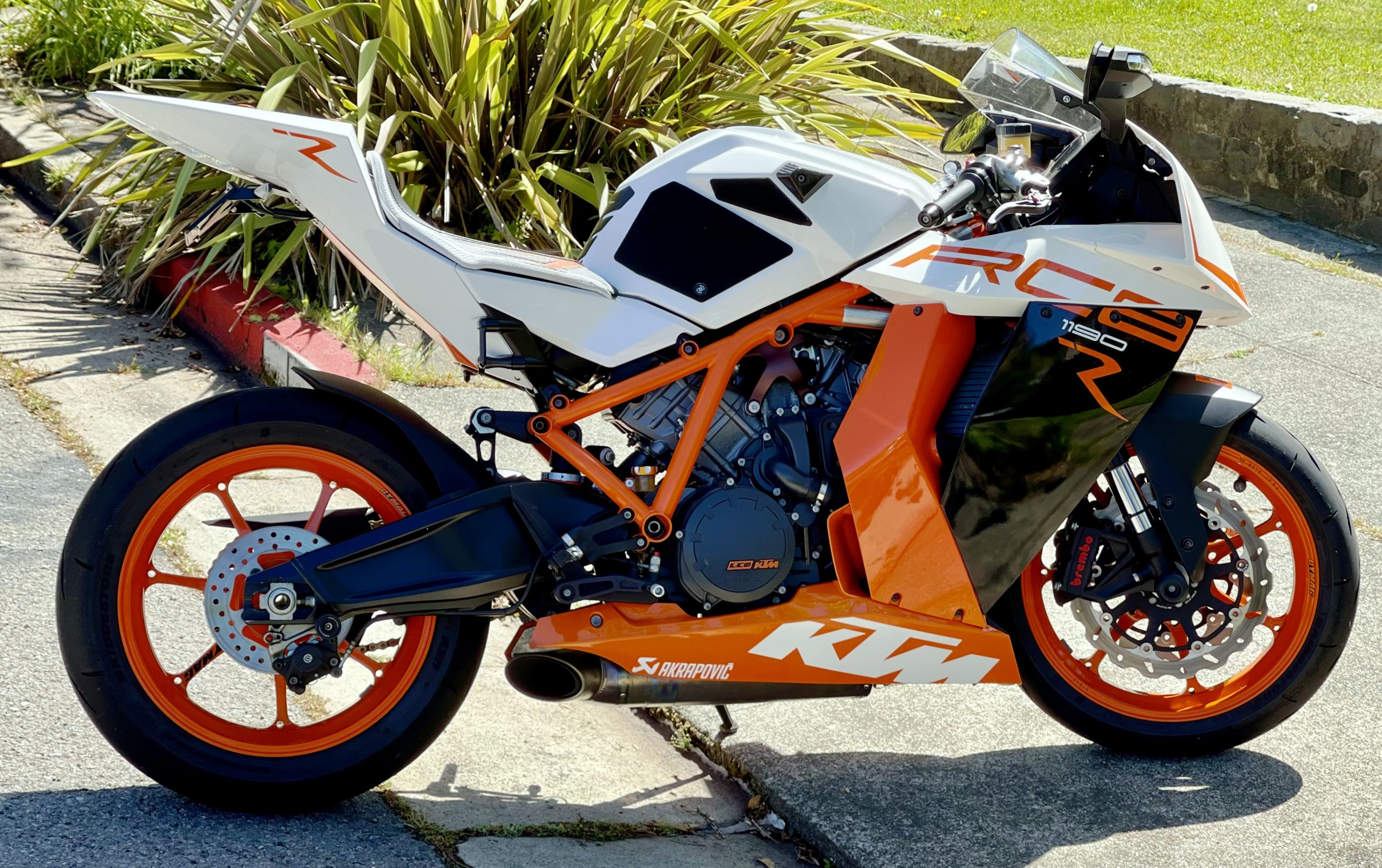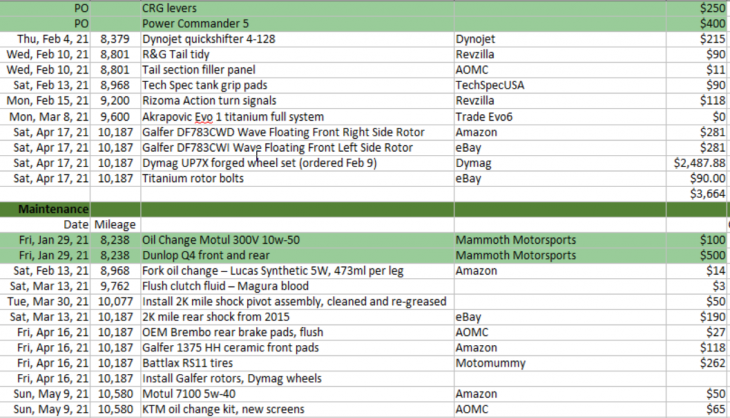 MI