Not long after Harley-Davidson purchased a 49 percent stake in Buell Motorcycles, the company introduced their more mass-produced bikes, the 1995-96 S2 Thunderbolt touring bike, and curiously afterward, the S1 Lightning sportbike in 1996-98.  With total production of about 5,000 units, the S1 was a nice success for Buell as they tooled up for the succeeding X1.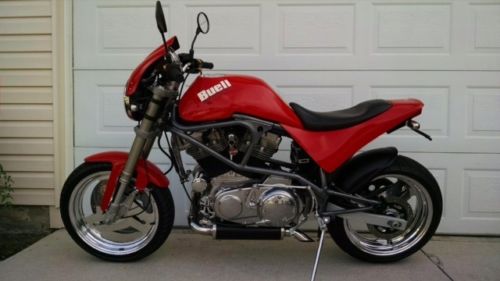 Using the 1203 cc Harley-Davidson derived V-twin, the Lightning has 101 hp and 95 ft-lbs. on tap.  The 5-speed transmission drives a clean, quiet kevlar belt instead of a chain.  The trellis frame is largely made from bent tubing and is complemented by the shapes of the intake and stainless exhaust.  Forks are adjustable 40 mm inverted, and the rear monoshock is mounted low, next to the muffler which is short to reduce the effect on handling.  Brakes are innovative, a single 340mm disk up front and 230mm rear, thought being that the single disk with 6-piston caliper will be lighter than a dual disk setup.  What bodywork there is looks very trim, a little bikini fairing and stubby seat console.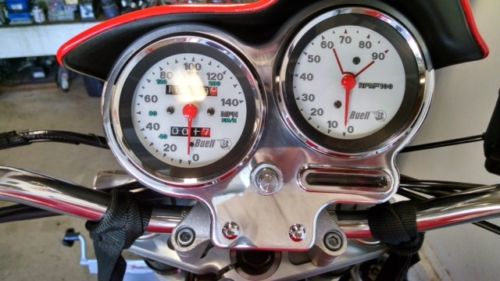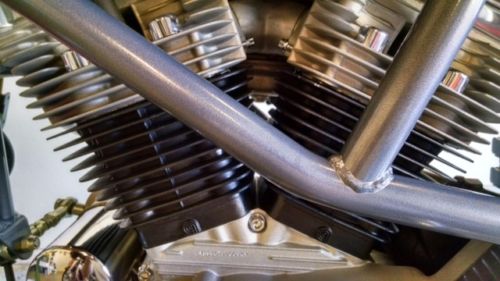 The owner of this Buell has evidently spent some time with a tin of Nev-R-Dull, can't see the 10,000 miles in the polished aluminum, and stainless.  Many of the accessories and controls have been billet-ized, as well as a carbon muffler and Corbin seat.  There has even been some engine work to make things flow a little better, as well as an updated front brake.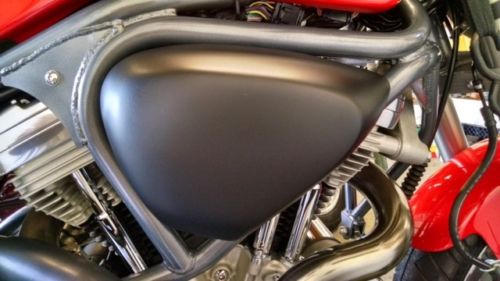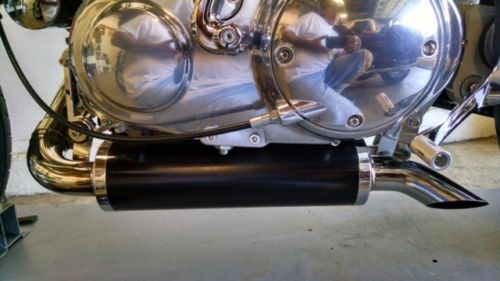 The as well owner keeps his comments spare and clean in the eBay auction:
1996 – S1 Buell Motorcycle. Clean, clean, clean. Low miles, PM wheels, Front EBC rotor, All billet aluminum accessories, Carbon fiber, Bartel's muffler, Bartel's air cleaner, Mukuni carb, Ported heads, American cylinders, Corbin seat. All stock parts, front and rear stands included- 91 HP.
Our editor generally advises we arm the asbestos pj's when a Buell rolls out, and no it'll never be very racey, but it's not terribly overweight.  The big twin reviewed as a quirky ball to ride, not perfect, but a great alternative, maybe not your one and only.  This one looks nicely appointed and well cared for…
-donn