Buell's first production machine with Harley-Davidson's backing started their relationship off on the right foot, selling more than four times what planners had thought.  This collector-ready example was parked for a score of years but has been rejuvenated without turning it into a budget buster.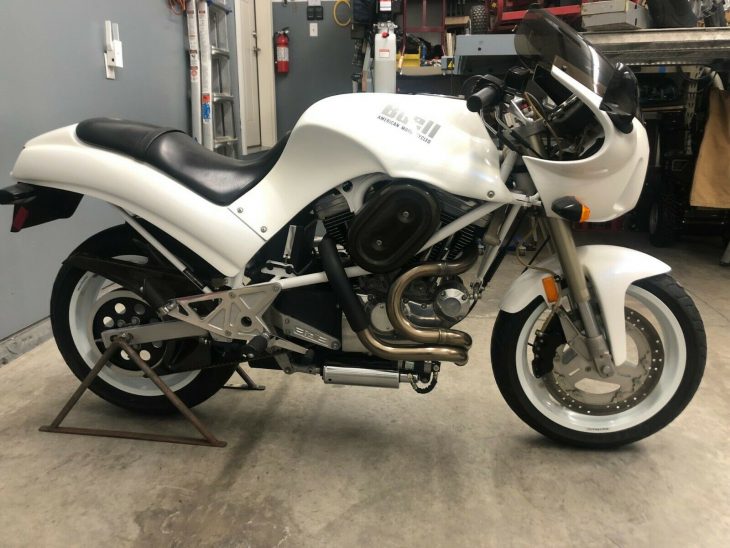 Buell had their tuners breathe a little more life into the H-D 1203cc pushrod twin, and wound up with a conservative 76 hp and 66 ft.-lbs. torque.  Some references say the tube frames were hand welded, and made room for the two 40mm carburetors to look to the right.  Harley's low maintenance belt drive was adapted, and Showa supplied adjustable forks and pull shock.  An early take on the signature single front brake is used, with a 340mm rotor and 6-piston caliper.  Shapely fairings are finished in a multi-stage pearlescent paint and the airbox and belt drive covers are carbon fiber.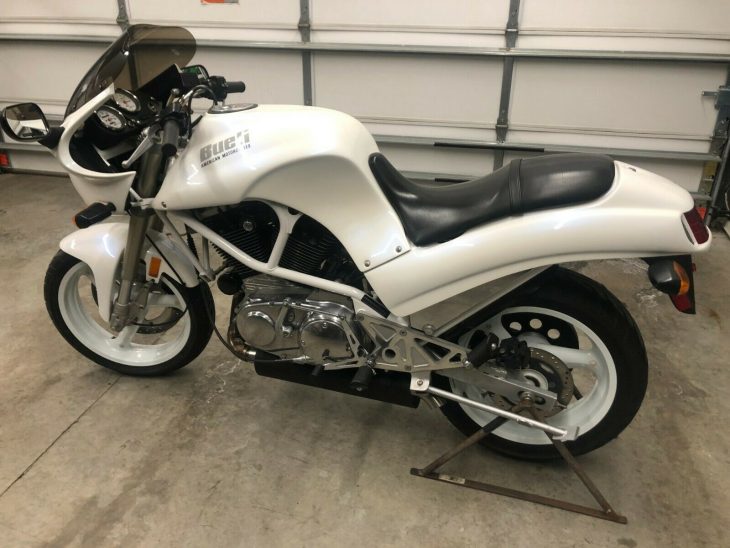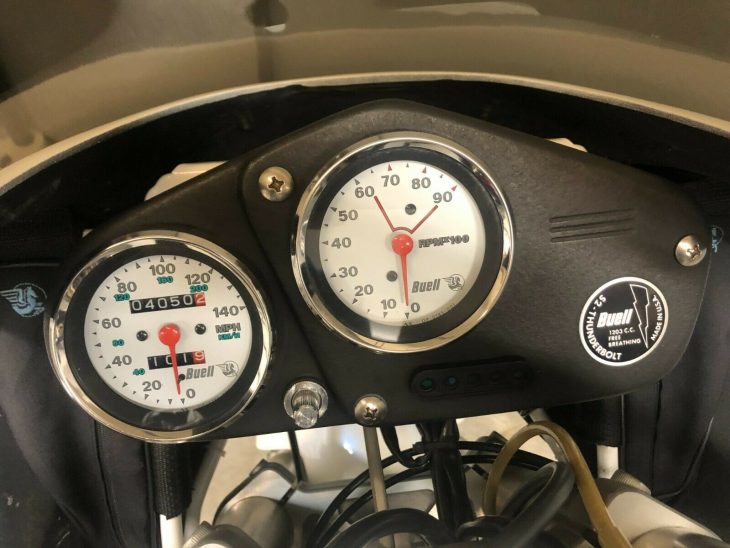 Clearly a knowledgeable fan, the seller found a gem that had been in storage, and went over it with a fine tooth comb.  A few parts had dried up in storage but are now refreshed, with niceties like the shock cover and plenty loud stock exhaust.  Wishing the seller had taken a photo of the S2 with the lowers installed, and maybe the numbered side cover.  Original tires should be replaced but saved in case Mr. Barber needs another S2.  Some of the comments in the eBay auction:
This is the nicest original S2 I have seen since I picked up my first back in June of 1994!

I purchased this bike from the original owner in March of 2021 where it spent the last 21 years on stands in storage with just 3,950 miles on the odometer. This is a 49 state bike #382 of 1399.

It is in very nice shape; original Ice White Pearl paint, never dropped, with extras such as OEM factory paint matched fairing lowers, touring bars and the originals, foot peg lowering brackets and the originals, and fairing bags along with an under-seat bag. It also has all the original dealer invoice and Signature Series documentation. All the original Buell correspondence, sales brochures, factory service manual, and parts book for this bike are included with the purchase.

It is still rolling on the original tires and there have been only 3 recalls performed on the bike that includes the fairing stabilizer, front brake line, and rear shock.

The original owner replaced the primary chain adjuster with a M-6 unit and the ignition was swapped out for a Dyna single fire cone unit and dyna coils. I replaced the M-6 unit with an NOS OEM unit. The M-6 adjuster, and original OEM ignition components go with the bike. An additional D & D muffler that came with the bike is included in the purchase.
Maybe not destined for the astronomical auction circuit like some sportier models, the S2 might be better choice when the spaces are wide open.  More of a riding collector than the higher revving and lighter in weight, Buell's choice of powerplant will always have its fans.
-donn