For Sale: 1998 Buell S1W ex PASCAL PICOTTE racer
Update 1.4.2012: The seller has contacted us to let our readers know this bike is still for sale and now just $6k. Please email the seller directly with inquiries. Good luck with the sale Doug!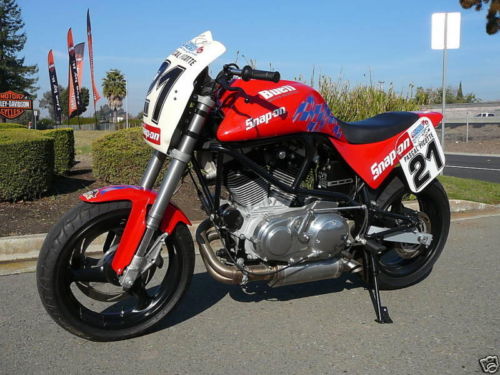 We don't see too many H-D era Buells on the pages of RSBFS. This is not a comment on the collectability or desirability of Erik Buell's creations, but rather that the latter stages of H-D-owned Buell were less exclusive than most collectors would prefer. It takes some serious history to make one of these bikes stand out - and today's S1W has exactly that. Imagine owning the bike on which Pascal Picotte WON - while he was a Harley-Davidson factory rider no less. Great stuff!
In fact, RSBFS posted this exact bike in 2010, when last it was up for sale. Check out Doug's excellent article on this bike here.
The H-D Race of Champions, run during the annual HOG Rally, situated riders on identically prepared motorcycles. In this case, the bikes were Buell S1W models with minor modifications. After his victory, Pascal signed his race winning bike. Ultimately all the bikes were sent to dealers, where this one ended up.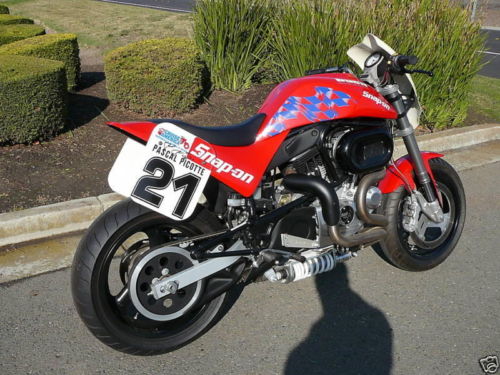 But it doesn't stop there. In addition to the Pascal Picotte racing history, the seller has used this bike to set numerous land speed records (including sidecar records). Like many "vintage" racebikes, this Buell has continued to build a history of competition - to the point where this bike has a pretty impressive resume, and would be appropriate for collecting, track riding or even street riding.
From the seller:
Pascale Picotte's Buell S1W race bike

This is one of 13 bikes pulled from the Line and Factory Race prepped for the Race of Champions at the 15th Annual HOG Ralley.

This particualr bike was ridden by Pascal Picotte who was a HaArley Facory Racer at the time. HE WON this race on this bike. This bike has Picotte"s Racing # (21) and is signed in several locations

Following the race all the bikes were given to the Leading BUELL dealers at the time.

I purchased this bike 3 years ago. I removed all the Signed bodywork and have used the bike to set several ECTA land speed records in Pushrod classes, It currently holds 5 records and won the final year MAXTON MILE bike points series and will be featured on the ECTA poster next year.

In addition to what is pictured:
Flat black Duracoat Small tank
FLat Black Duracoat Large tank
Flat Black S1W tail section
FLat Black painted Racing fairing
Flat Black front fender ( forget what model I got it from, but more Aero than the S1W fender)
Aftermarket Footpegs
Teather Kill Switch
Dyna Ignition Module
Various Jets
Steering stabilizer
GP Shifter kit
Base Plate for LSR Sidecar (Holds 3 Sidecar Records)
To maximize gearing I converted to a Chain, and have several sprockets, still have the Pulley's if you wanted to convert it back.
Clip Ons

The Sidecar mount was designed and built as was everything else so it could be put back to Pascal Picotte form with no damage

NOTE: WP SHock Shown in photos was replaced on recall (Front Shock Eye Failure issues) Has a enclosed Showa Shock now

This bike does not have a title, however I have enough Notarized paperwork from the Harley/Buell dealer I purchased it from you should have no problem getting title if you wanted to use this bike as a Street bike. Where Else can you find a practically new S1W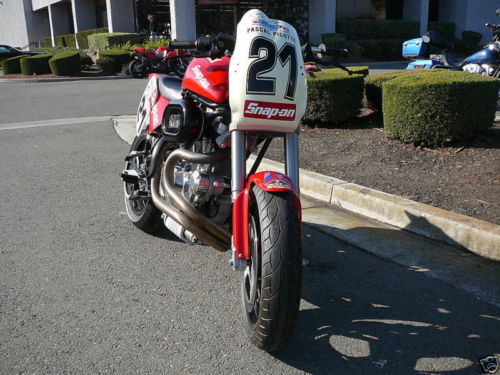 Note that the pictures offered by the seller here do not necessarily reflect the latest state of the bike. The seller claims a list of additional items (which may or may not be on the bike), as well as a chain conversion (but the bike pictured still has the Buell belt drive attached). As always, we encourage prospective buyers to contact the seller for more information and pictures.
This is a pretty neat piece of history, and even though it is not a Pascal Picotte race winning Superbike, it is still very cool. This auction is going on now, and the starting bid is only $2,500 with reserve in place. There is also a BIN for $7,000 Now just $6k. Please email the seller directly with inquiries.
MI