I'm really not sure what it was that made Erik Buell stick with Harley Davidson power for so long. Maybe it was patriotism? Stubbornness, a desire to do something simply because no other sane person would even attempt it, let alone succeed?
Who knows, but the bikes he came up with, especially in those early years, are endearing and playful mutts, with a sort of cobbled-together style that stressed function over form. The weird, bulbous bodywork, the Performance Machine billet wheels, the huge, almost automotive air cleaner sticking out of the right side. But somehow it all works to create something that looks purposeful and cool, and clearly built around that imposing and iconic Harley mill.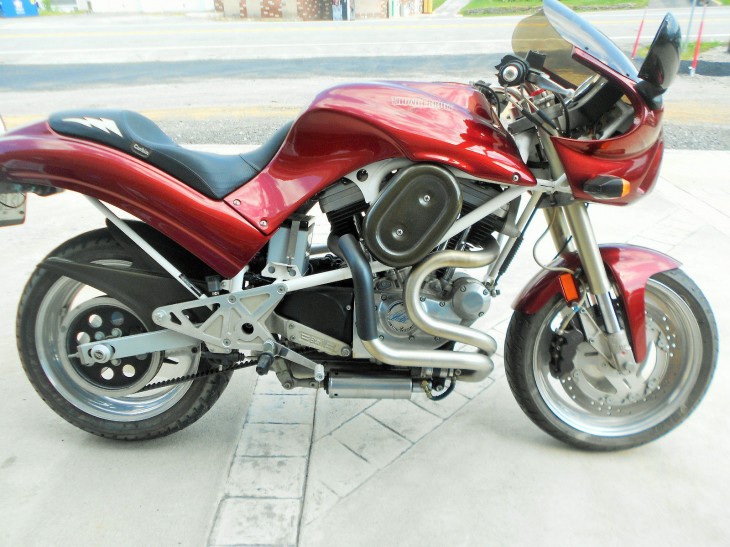 They also tuned the motor to make the powerband more sportbike-friendly and give it more than just a fat bottom-end. They did their best, but these are still heavy, low-revving lumps, and they run out of breath pretty early. But the torque, man. The torque…
Buell eventually introduced many weight-saving, mass-centralizing features on their bikes, but you can still see indications of the direction he would eventually take in this early iteration. Although it lacks the distinctive ZTL ["zero torsional load"] perimeter brakes, their signature underslung exhaust was already in place and certainly unusual for the time.
This particular example looks great and includes a number of standard, effective upgrades that boost power for the 1200 Sportster engine to a claimed 108hp at the wheel!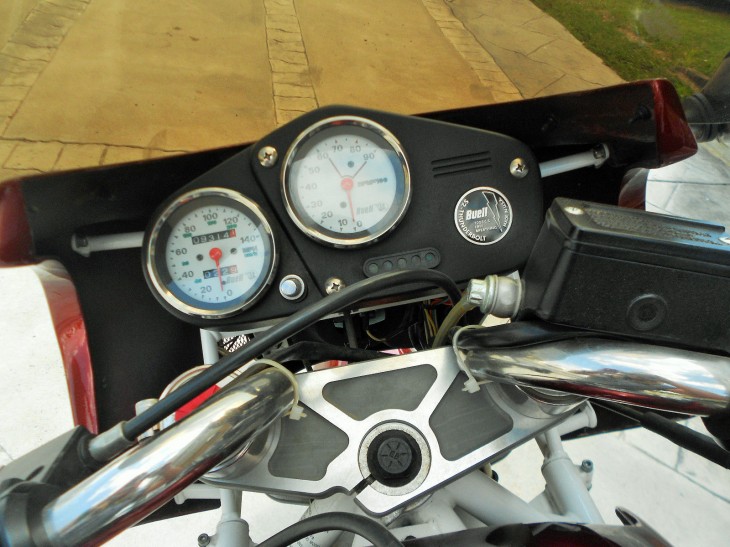 From the original eBay listing: 1995 Buell Thunderbolt S2 for Sale
Up for sale is a cherry condition 1995 Buell Thunderbolt S2 Signature Edition. This particular bike has been owned and cared for by an adult and has not been down. It currently has 9314 miles which all have been well maintained by Lancaster Harley Davidson. The bike is currently on consignment and sitting in our show room for sale. It has had a fair amount of custom work with out effecting the quality of the ride or reliability. The custom work was all done proffesionally by J&B Moto Company and Lancaster Harley Davidson with the up most care taken when performing the work.
This bike might be relatively clunky and crude by today's standards, but it makes enough power to keep modern sportbikes honest. With most maintenance parts available at your local Harley dealer, this is an exotic you can live with that offers real-world performance in a sport-touring package. Also, that Harley connection means it's okay to wear fringed leather chaps while riding, if you feel like it.
-tad