Back on eBay after last being posted in June of 2019, this rare EBR 1190 RS Carbon Edition is still looking for a new home. Miles are still claimed as 500, with new pics in the ad. All links updated.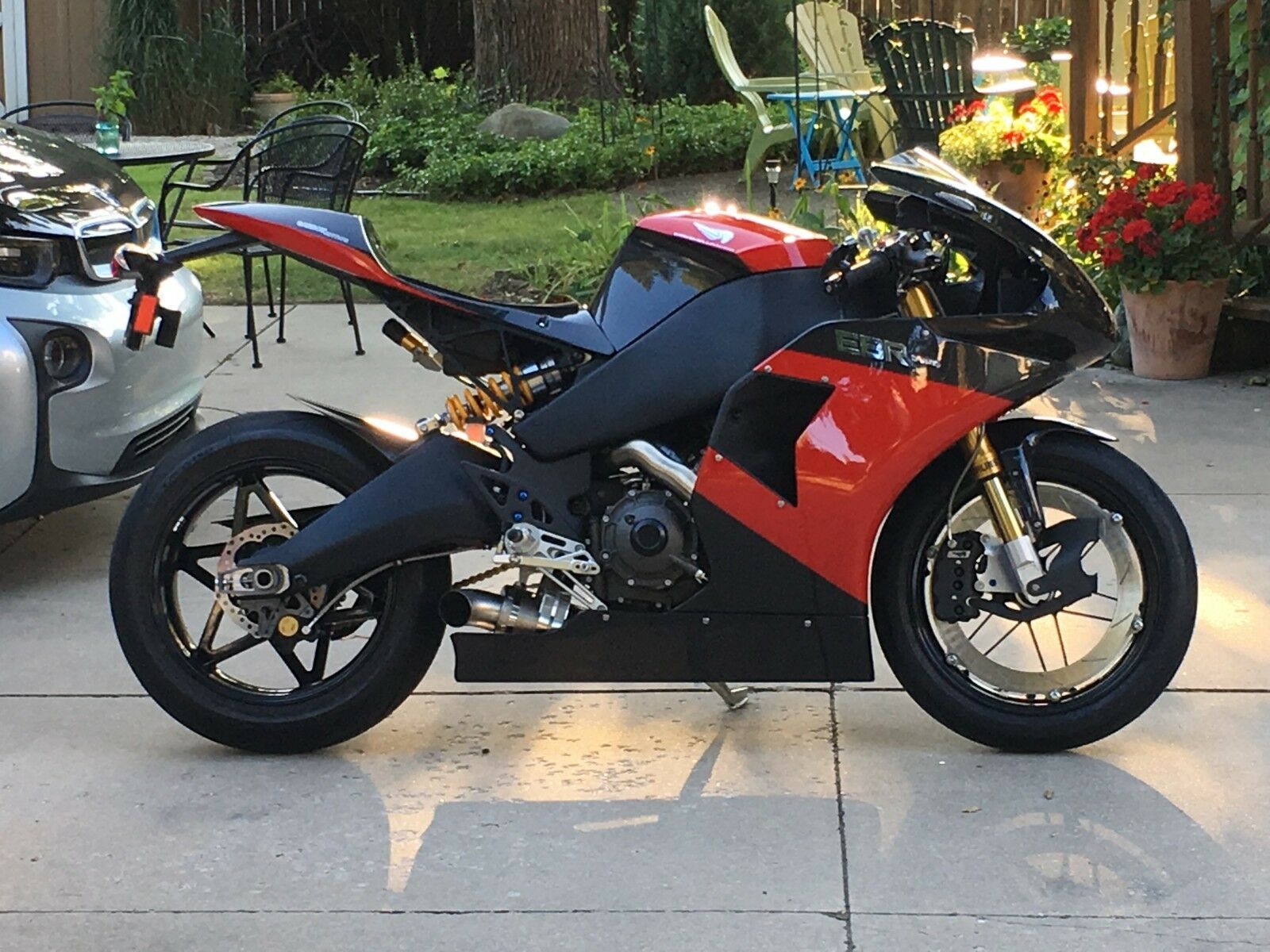 Resembling a 1125 RR race bike for the street, the 1190 RS was a homologation machine from Erik Buell Racing in the post-Harley Davidson era. Freed from the Milwaukee boat anchor that powered earlier incarnations of the Buell product line, the EBR series utilized a technologically superior unit from Rotax. Delivering over 175 HP in under 400 lbs package (wet weight, ready to race), the EBR 1190 RS had the goods to take the fight to the top level of Superbike racing – right until the bottom fell out. Ultimately the company was liquidated and thus ended the dream of an American top-tier Superbike offering. But what an offering the 1190RS Carbon Edition was!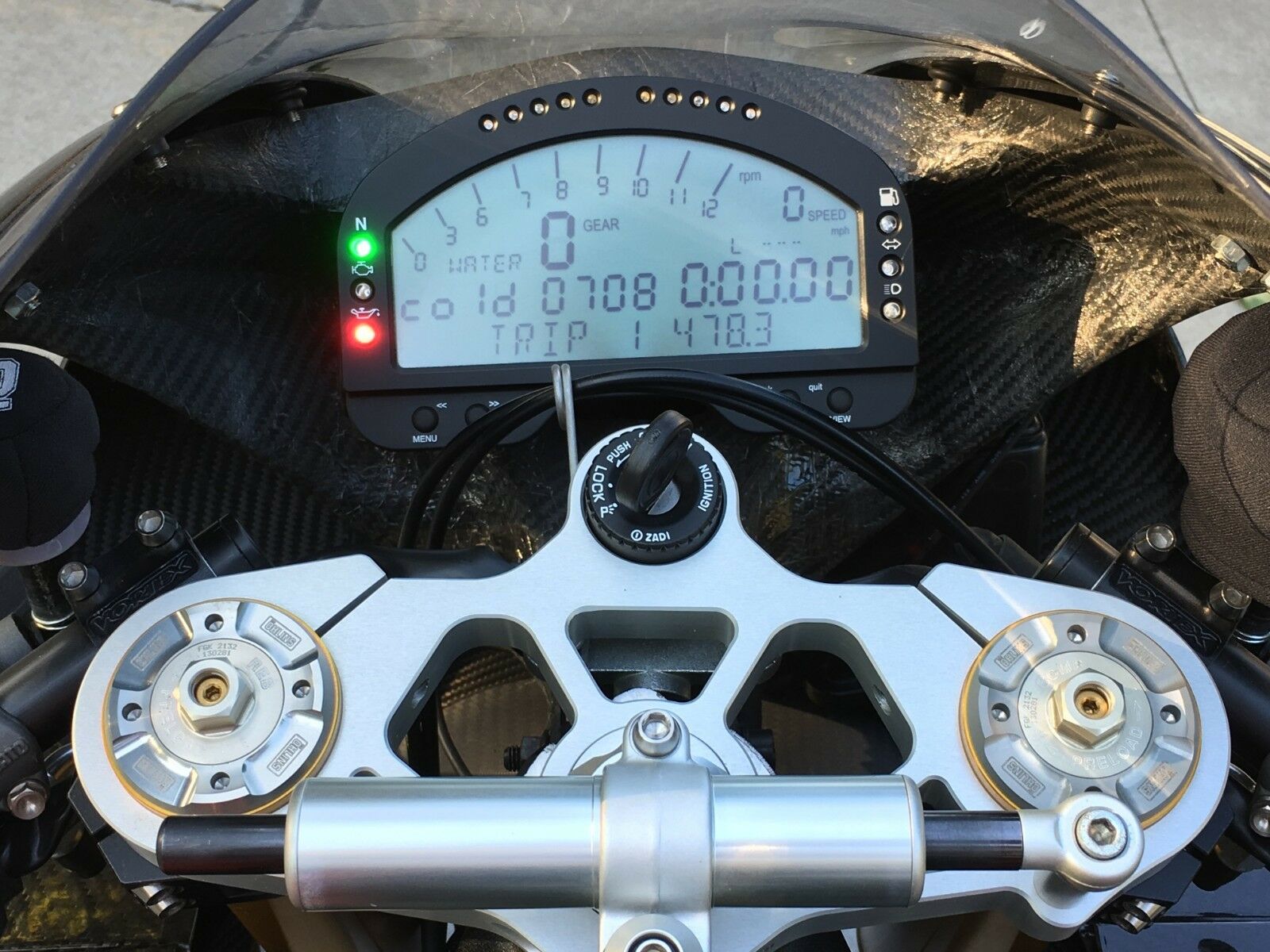 The EBR 1190 RS started life as a $40,000+ machine. The Carbon Edition tipped that sum past the $50k mark. But for the money, you received the very best of the best across the board. Start with the Erik Buell exclusives, such as the hollow aluminum frame member that doubles as the gas tank. The single, perimeter rotor front brake is a Buell specialty, offering a zero torque load to the race spec Ohlins front fork under hard braking. Yes, that's an eight piston caliper gripping that massive rotor. Out back the signature high-arc swingarm operates against another race spec Ohlins product, a TTX shock unit. There are enough adjustments here to provide setup across an amazing number of conditions – or riders. That healthy 175+ HP comes courtesy of a Rotax 1125 mill that EBR bored out and refitted with racing componentry such as forged rods, titanium valves and specialty made aluminum pistons. Other than the wheels which are US-made magnesium pieces, the rest is pretty much carbon fiber. Add up the cost of just some of these components and you will start to see where the MSRP starts to make sense.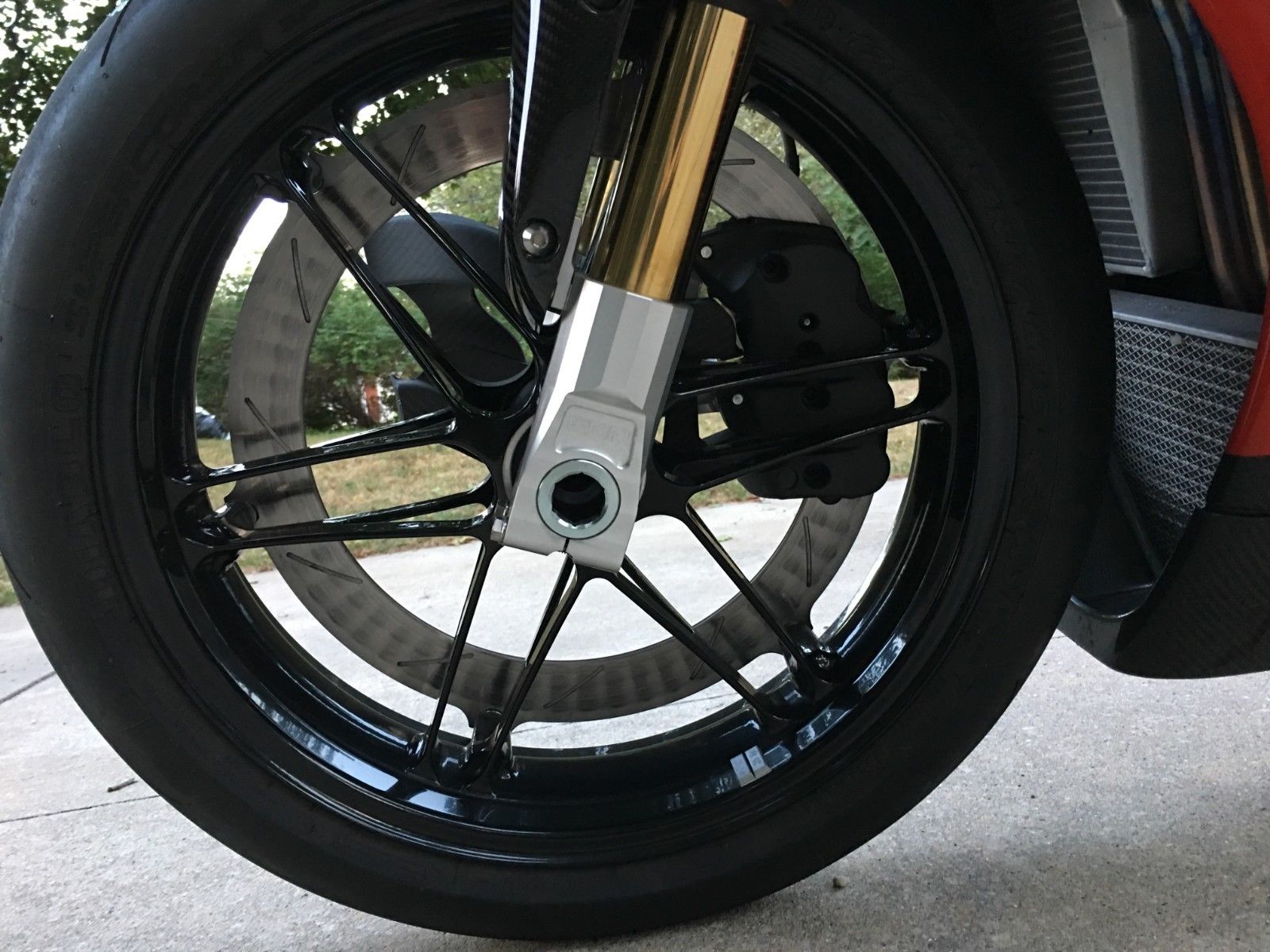 From the seller:
Very rare bike. No. 7 of 35 2013's. New MSRP, set-up like this was just over $50,000. Original owner. Factory race exhaust (Euro) with 93 octane race ECU; lots of Ti and a Lithium Battery Tender. 500 miles +/-. Gentle street break-in miles only. Not quite fully broken-in. I am a retired championship winning racer/mechanic and treat my bikes with respect. Comes with all original parts as well as an uninstalled full Bazzaz system with the quick-shifter and remote. Comes with all the original parts. I uncrated it myself. It has never been in the rain. It has always been garaged or in my living room (all last winter). The engine is hand-built and full of exotic parts. This is literally a racebike with lights and mirrors. It has the most immediate power delivery of any street bike that I've owned (of well over 100). Original MSRP for a replacement engine alone was $27,000+/-. The suspension is from Ohlins' race catalog – not the typical street and track line which is less exotic. Excellent condition. One stone chip in the clear coat which can easily be fixed. I will include a 1/2 case of the required AMSOIL full synthetic racing oil and filter for the break-in service. Also all of the stuff that came with it including EBR tie-downs and the EBR crate tarp. Feel free to take a look if local but please – only if you intend to buy it.

Do your research and check the reviews. An amazing bike in near-new condition for well less than half of the original price. This is a very rare and special bike that you can buy, ride and enjoy and not see a big drop in value over time. The RS's are almost certain to appreciate in the future. I'm only selling because I no longer see myself tracking it and I'm getting into a nice cabin cruiser. I reserve the right to end the listing early.

Thanks for looking! As noted the stock exhaust, ECU, turn signals, etc are all included…
Today Buell as an H-D company is no longer. EBR had a brief flash before it also fell by the wayside. But of all the bikes Erik has touched, the 1190 RS is certainly the most technological. This is the apex of the path Buell was on, and the Carbon Edition represents the best of the best of the last. Only 100 1190 RS bikes were planned, and few of that number were the final Carbon models. This is as exclusive as any homologation superbike, but without the star power or Italian mystique. That is a shame, as these late edition EBRs are as capable as any bike of the era, and continue to be amazing riders to this day.
This particular 1190 RS Carbon Edition example has a claimed <500 miles on the odometer - which means it has not even been fully broken in! It has all of the goods included, and the seller has the stock pieces to go along with the ride. The bike looks very clean, well cared for, and includes a photo of its indoor parking spot. This has obviously not been abused, and with the low mileage one might consider this nearly new. Which brings us to the elephant in Erik's room. Buells in general are wonderful, iconic and unique motorcycles. As a low-volume manufacturer, many Buell models can be considered rare. But as an American manufacturer, EB has never quite reached the collector status deserved by the quality of his creations. Thus you can sweep up this lightly used 1190 RS Carbon Edition for a fraction of the original MSRP asking price (probably lower than we have ever seen). There is likely a future for key EBR models in the market, but that future looks to be quite a few years hence. Until then, my vote is that someone needs to pick up this bike and ride it like it was meant to be ridden. We need a hero to make the world a better place. Check it out here – and Good Luck!!
MI