Any Bimota is rare, unless it is today; then you have seven to choose from!
First is a 1988 YB4 located in Smithtown, New York.  A very clean example, however, the Isle of Man title could make it very difficult/impossible to register it if YB4's were never officially imported. See the ebay ad here.
Update: Sold for $10,655.00 on 05/23/09
Next, from the same seller, is another fuel injected Yamaha Bimota: A 1990 YB6.  The Italian flag colors are very cool, it has a claimed mileage of zero, looks to be ver clean (possible dent in the silencer?), but again, this bike suffers from a foreign (British) title.  I would also be weary of the digital binnacle.  The seller hasn't posted any pictures to show that it actually works (you would expect that he would show of the odometer at zero) and I would expect any faults in the binnacle extremely expensive and extremely difficult to have repaired.  See it's ebay ad here.
Update: Sold for $13,867.00 on 05/23/09.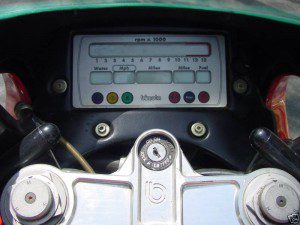 More Yamaha powered Bimotas with a 1991 Bimota Deici from Bremerton, Washington.  A 12k mile bike (with 49 since full restoration) that is showroom clean.  A gorgeous bike in yellow.  The seller seems confused as to what they are asking for the bike; it has be posted at $13460, $14995 (after being posted at 13.4), while the whole time the ad has stated $19995.  Being unoriginal, I would think it fair closer to the 13.5 number.  See the Craigslist ad here.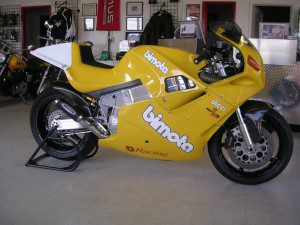 Next up is a Suzuki powered Bimtoa; a 1998 Bimota SB6R located in Pittsburgh, Penn.  Still pre-bankruptcy and Suzuki powered this bike is probably quite reliable for an Italian exotic.  The Challenge Stradale in the background doesn't look bad either.  Shown with zero miles and no mention of non U.S. title, this looks like quite a wise purchase.  Watch or bid on it at the ebay ad here.
Update: Reserve not met at $9,100.00 on 05/20/09.

In Big Lake, Montana is a Ducati powered 2000 Bimota DB4.  Being regularly exercised (but not mentioning its total mileage), I would expect this DB4 to be properly sorted and very use able for the next owner.  Advertised at $10000, I would imagine this to be the pick for someone who wants a Bimota they can use and enjoy.  See its Craigslist ad here.

Next is a modern Bimota with Suzuki power:  A 2006 Bimota SB8K located in Durham, NC.  Another show piece with zero miles, this bike is probably best if you're looking for a modern bike to collect.  See the ebay ad here.
Update: Reserve not met at $12,222.00 on 05/17/09.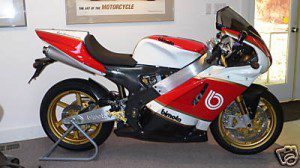 Lastly for today is the newest and most extreme Bimota:  A 2008 Bimota Tesi 3D located in (you probably guessed it) Beverly Hills, CA.  Claimed as No. 29 of 29 in the world this is a rare piece of machinery.  Depending upon whom you associate with, it should be safe to say that with a 3D you would be the envy of your friends and the only one on the block with one.  Advertised at $38500, makes it the rarest and most expensive Bimota I've posted today.  See the Craigslist ad here.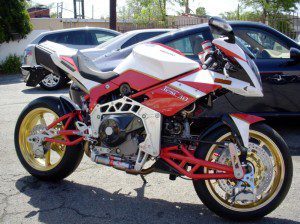 My pick for the day?  Rationally the SB6R from Pittsburgh, but, obviously I'd take the Tesi if presented with the option.
AG_