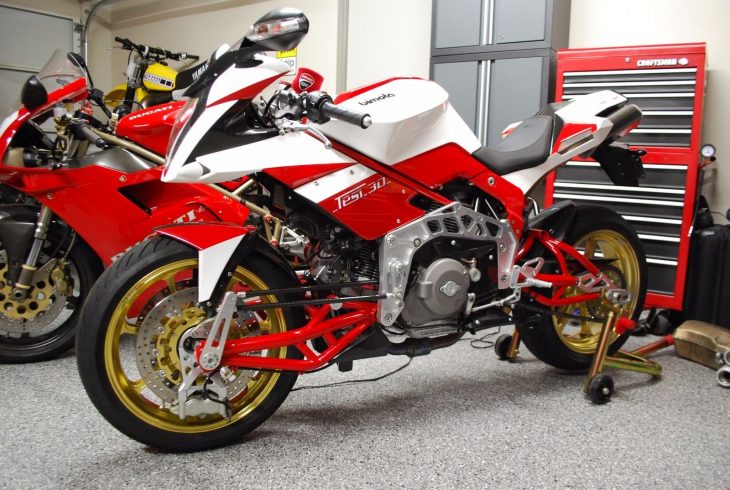 Most Bimotas are about obsessive light weight as a path to improved performance, but their radical Tesi goes a step further. The name literally means "thesis" in Italian, and that's what the series has represented from the start: an experimental alternative to traditional telescopic forks. Three-quarters of the Tesi looks pretty familiar: Bimota's hybrid trellis/ machined-aluminum frame and swingarm with minimalistic origami bodywork and a funky Zard exhaust. But the front looks a bit like the rear, with a second swingarm and a hub-center steering setup holding the front wheel, resulting in a machine that looks like nothing else on the road.
It's pretty well established that telescopic forks are a triumph of development over design. They've got significant drawbacks, but those limitations are well-known and their widespread use means that most manufacturers stick with them. It doesn't help that tire manufacturers design their products around traditional suspensions and hub-center steering set ups like this theoretically could get away with softer compounds… Ultimately, the theory doesn't play out in practice, and the Tesi is typically criticized for the lack of front-end feel that afflicts Hossack-suspended BMWs. Really, the only high-performance machine to make anything other than a telescopic fork work was John Britten, and I'm still shocked that no one has borrowed one of his V1000s, taken it to pieces, copied it, and put it into series production…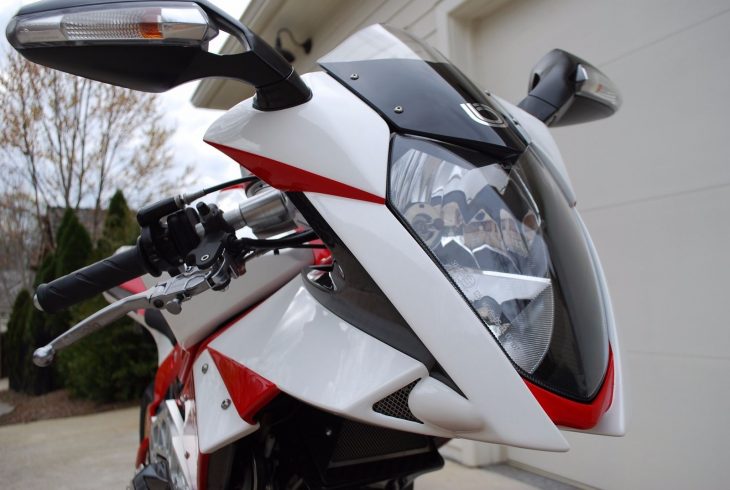 The Tesi has been around for a while, in several different iterations. The earlier 1D actually used a liquid-cooled 851 engine, giving it cutting-edge power, but later models used Ducati's air/oil-cooled two-valve engines, making them simpler and lighter, but down on power. I'd assume this is mainly down to Ducati's willingness to supply Bimota with engines, rather than a particular engine's suitability for the application, although aesthetics may have played a part: the Tesi does look better without a big old radiator cluttering up the place. Regardless, the use of simpler, higher-torque engines mean that the later Tesi models make for excellent road bikes.
From the original eBay listing: 2008 Bimota Tesi 3D LE (Limited Edition) for Sale 
This is number 05 of 29.  Exceptional condition, new Michelin Power3 tires. Comes with original tools, books, workshop manual, specialty tools, original rear shipping stand, and factory indoor cover.  Both keys and Zard Exhaust. The condition of the bike is as delivered.  This bike is a work of engineering art, the details are only appreciated in person.  Best guess is only 27 left in the USA, 2 were sold to collectors in Europe. These bikes do not come up for sale very often. The only minor issues circled in the last two pictures.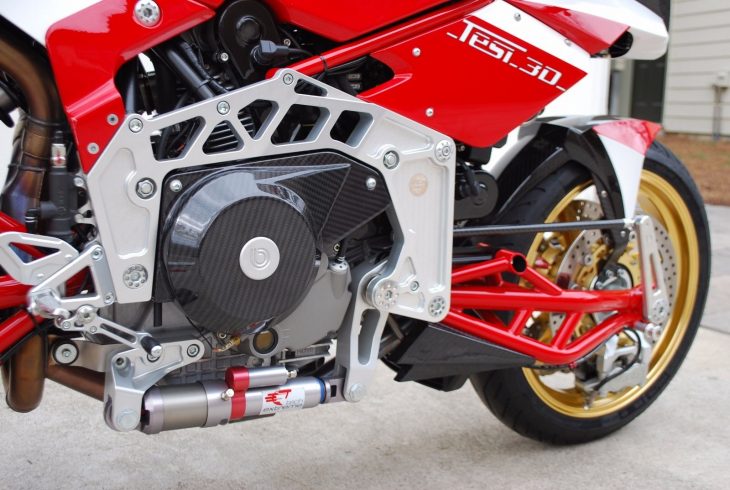 The listing also includes this walk-around video. The "minor issues" the seller mentions do look pretty minor, just a couple of cosmetic blemishes you'd be likely to miss the first time you saw this bike in person, since you'd be busy trying to absorb all the jewel-like details of this very exotic machine. Bimotas no longer perform much better than mass-production motorcycles, but they make up for it by being exquisite in terms of craftsmanship and style. And with the Tesi, you get all that and more.
Bidding is up to $16,000 with the reserve not met and plenty of time left on the auction. For the money, it's certainly possible to buy a faster motorcycle, but you'd be hard pressed to find one more fascinating and exotic.
-tad