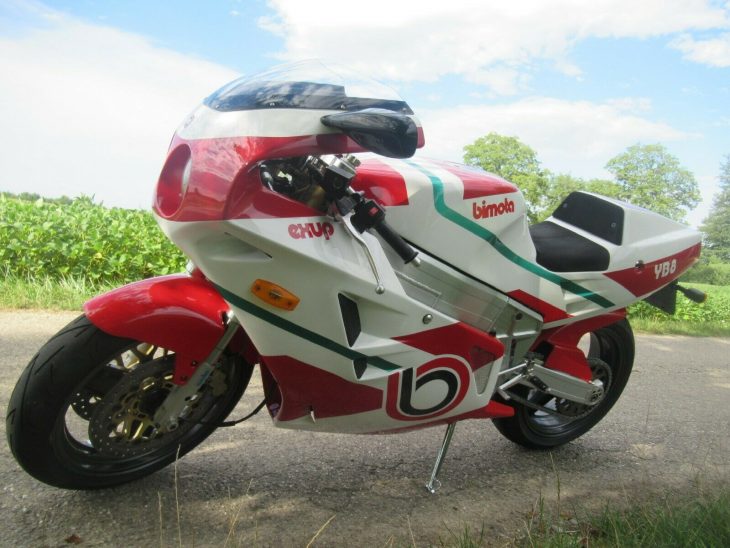 Many of the Yamaha-powered Bimotas like today's YB8 look suspiciously similar, and while I'm sure there are physical differences in the frames and fairings, I'd also bet that many parts are interchangeable between them. The YB8 used an updated YB6 frame, along with Yamaha's 1002cc, five-valve inline-four and EXUP exhaust system from the FZR1000. During this period, the 750cc-powered YB4 was homologated to win races in WSBK, while the YB8 was a more road-oriented "unlimited class" sportbike.
Of course, being a Bimota, it used lightweight bodywork designed to come apart easily and allow access to the oily bits sandwiched between the gorgeous, aluminum frame spars. Wisely, Bimota borrowed more than just the FZR1000's engine and gearbox: it also uses their wiring harness and gauges, as well as other assorted bits, to help put "Italian reliability" jokes and concerns to bed. The Bimota YB8 weighed a claimed 396lbs dry, a whopping 52lbs lighter than the FZR1000 and an obvious benefit of the bike's single-minded design and construction. I've no doubt Japan could have built something similarly light at the time, but they seemed to be obsessed with silly things like "versatility" and "durability" when designing their roadbikes.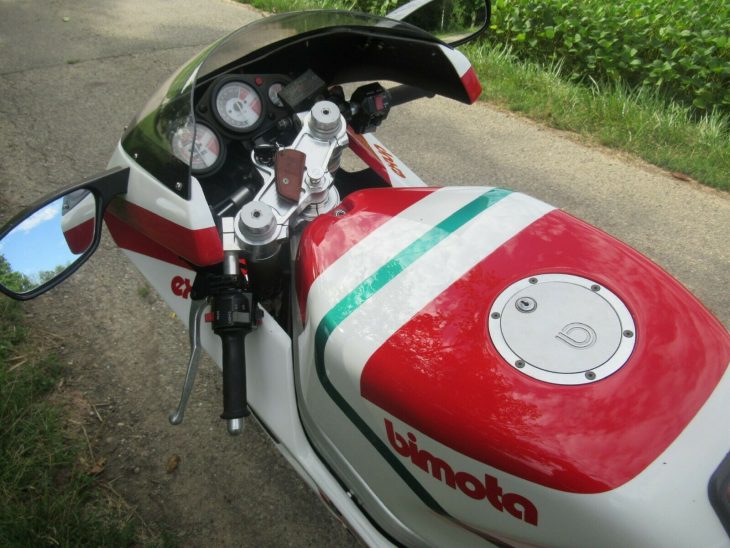 Power was up significantly from the FZR's claimed 125hp as well to 149hp, although that was largely down to the Japanese manufacturers' "gentleman's agreement" to limit horsepower and top speeds. A few Japanese performance cars were suspiciously fast for having just "276hp," so I've no idea how "de-restricted" the YB8 actually is, but just dropping 50lbs from an otherwise stock FZR would provide a huge boost to performance, and tuning wasn't really Bimota's strong point anyway.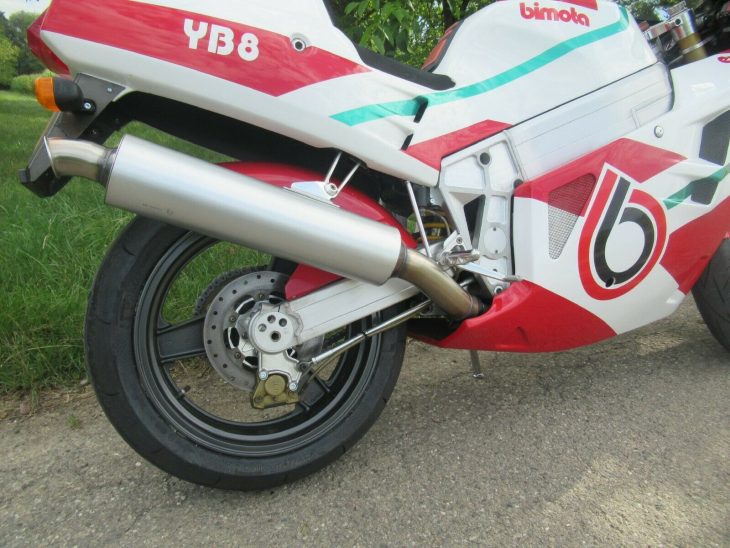 Handling and looks were the goal and the YB8 delivered, with a claimed top speed of 173mph. 150hp is still pretty stout by today's standards, and the 86lb-ft of torque, combined with the wide, flexible powerband of the 20-valve EXUP motor mean the bike should still be real-world fast. Adjustable Marzocchi components at both ends mean very stable handling, while Brembo calipers and 320mm floating discs up front combine with the bike's light weight to offer nearly modern levels of stopping power.
Just 252 were built between 1990-1991. The bike was upgraded in 1993 to the YB8E that replaced the original 38mm Mikuni CV carburetors with fuel injection, although this example is dated from 1994 and appears to retain the original carburetors. Roll with it: we're talking about Bimota here. Maybe 1994 is when it was first registered?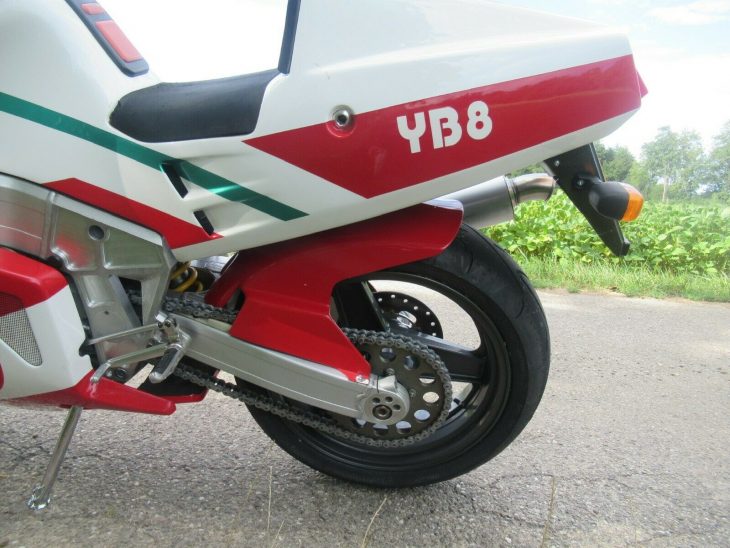 From the original eBay listing: 1994 Bimota YB8 for Sale
Rare and gorgeous Bimota YB8 with 6,000 miles


Carburetor version

This bike origin France has known only one owner. It has just been revised from top to bottom after a few years of inactivity. All consumables and fluids are new.

Original paint, very rare option or shock absorber and Öhlins fork.

Sold with the documentation of time, tools, certificate of conformity. French registration, can ship worldwide.

Located in Vitrolles, France.
The asking price is for this very clean looking YB8 is $13,900. Plus shipping and handling, of course. Bimotas of the era seem to trade for a good bit less when they show up for sale here in the USA, although this one appears to be nearly perfect and is ready to roll after a refresh. If you're looking for a classic Bimota, the extra cost might pay off, assuming the bike is as good as it looks.
-tad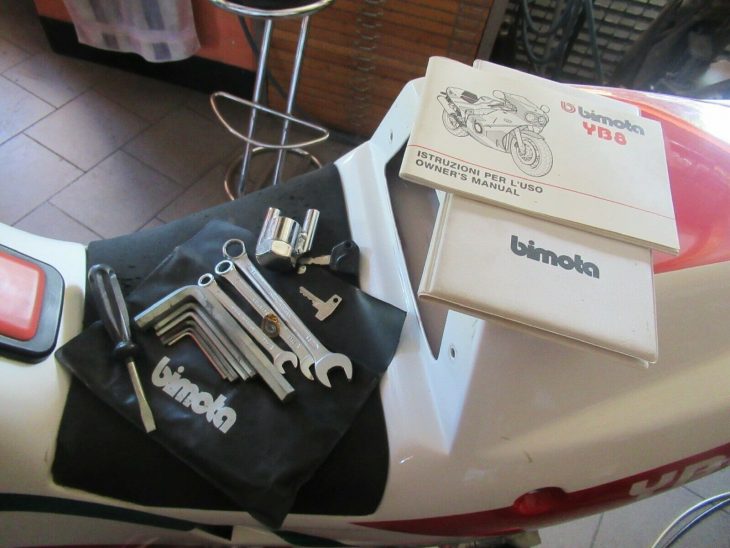 One Response.