The motorcycle world offers many interesting rabbit holes to dive into.  One can spend hours learning about a bike that only a few dozen are ever built.  Something that defies logic from a monetary standpoint, something that is just so over the top one would struggle to picture the intended buyer.  As one learns more about these rare machines they might understand it is never going to be for them, but they are happy to know it exists as it is a lust worthy creation.  The DB4C, a Bimota that was modified in Japan by the amazingly talented Shin Condo is one such example.  In period a buyer would have to write a check for $60,000 to get one of these motorcycles.
If Bimota took the Ducati 900ss recipe and elevated it, Moto Corse took things to the moon.  Sure the DB4 was more compact, made slightly more power and dropped a few pounds.  This was all well received, even if it came at a premium price point.  Some will be failure with the Moto Corse "kits" that were installed on standard DB4.  This was a set of FCR carbs, a fuel tank to clean them, a Ti exhaust and a few other minor tweaks.  The inhouse built DB4C is more of everything.
Power was increased by way of a big bore 944cc engine build that consisted of high compression pistons, performance camshafts, larger carbs, and a full exhaust.  The power was transmitted tot he road via an upgraded dry slipper clutch.  Weight was further reduced through the extensive us of titanium hardware.  The bikes were fully disassembled so that the signature gold finish could be applied to the frame.   Lighter magnesium wheels were installed, and on some bikes alloy Ohlins forks were utilized.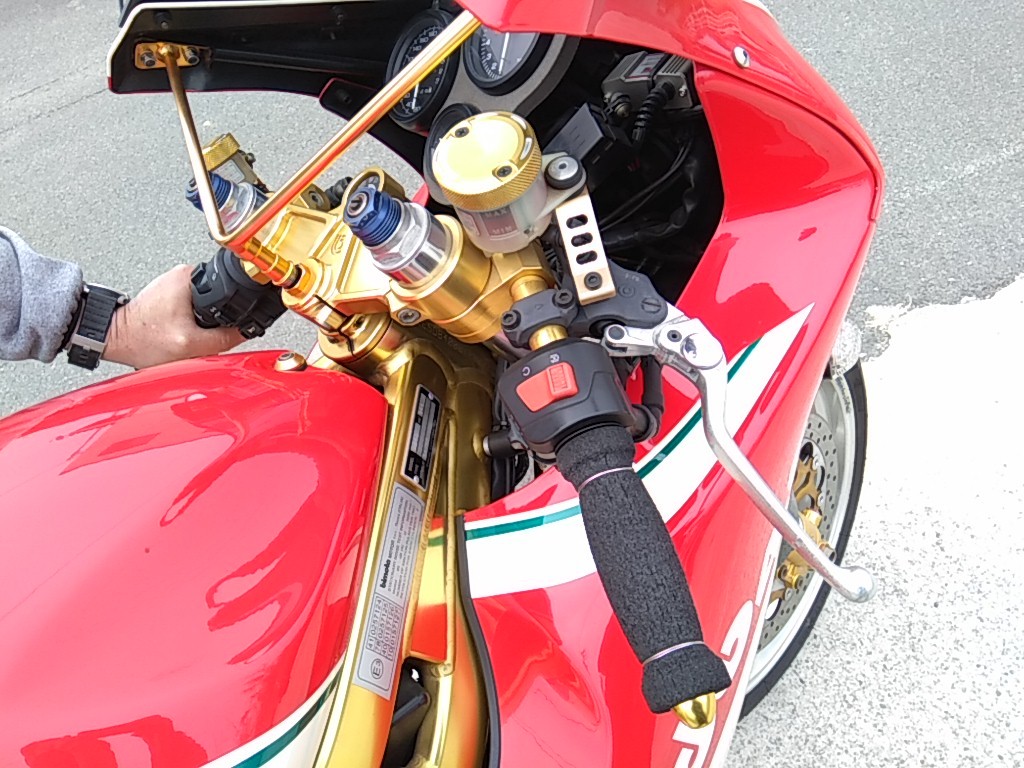 First year registration: April 2013, meter display distance: 14715 km, vehicle verification description distance: 13800 km.
At that time, it was a complete Motocorse vehicle produced in a limited number of 50 units worldwide.
It is a vehicle that has been exhibited and stored for a long time, and is currently immobile and unconfirmed (it is stored indoors). There was a car inspection in December, H27, and it seems that I was riding until then, but after that it seems that it has not moved at all.

The DB4C, a limited production vehicle of 50 units, was produced as a full-scale collaboration model with DB4C Bimota.
A slipper type butch forged high-comp piston with a 2mm wider bore, a combination of a Ducati L-twin scaled up from 904cc to 944cc and a special gold-finished frame, as well as a titanium exhaust, FCR carburetor, and magnesium wheels as standard equipment. It has produced performance that far surpasses that of the base DB4
Japan has long been the go to country for exotic motorcycles for sale.  This example is listed on Japan's Yahoo Auctions.  Export should be possible to much of the world.  When dealing with bikes this special it is unlikely to find something local.  If willing to ship across a county, it is not a huge leap to transport around the world.  The wider the net one casts, the better chance they have of catching something.  As when new, the elephant in the room is cost.  The opening bid is set to just over $31,000.  That is a staggering amount of money for any version of a Ducati 900ss or DB4.  There were people out there when these were new that were willing to pay up to have the best, and that might still be true today on the classic market.
Any DB4 is a rare thing to see come to market, so for many of us we just settle for drooling over images, or collecting press material.