For Sale: 1987 Yamaha TZR-250
Breathe deep, smell the castor, and (optionally) flip the bird to the EPA. Zing it up to redline and fear no floating valves. Live on the pipe on the way up, and the popcorn popping on the over run. Ahhh. Gotta love them two strokes!
This TZR-250 is a Japanese import. There is no title attached, so anticipate some hassles from The Man if you want to run this one on the street. As a track day bike, this might just be the ideal mount for those of us that are less immortal than Hayden or Edwards. More modern smokers might be quicker, but this one will definitely get some attention.
From the seller:
1987 TZR 250 imported from Japan (DOES NOT HAVE TITLE!!!! I have MSO you must title !!!) this is a collector bike this bike is all stock no road rashes no scratches on the pipes and very low miles only 3398 KM

I have owned for over 10 years I have put less than 100 miles on it. I bought from private collection you wont find a nicer factory race bike.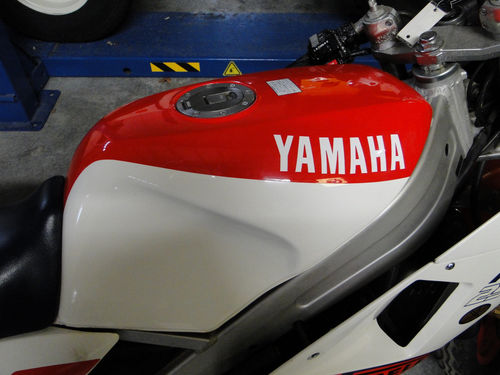 Other than the seller calling this street bike a racer – and aside from the Pirelli and Arai stickers which hopefully are not covering up any rash – this looks to be a solid import. There is some sort of scuff on the frame, but that is not clear in the photographs. Only $3,250 (with reserve not met) at the time of writing, this TZR might have a new home before the weekend. If you think that blue smoke is all part of your carbon footprint, click the link and jump over to the auction. Good luck!
MI