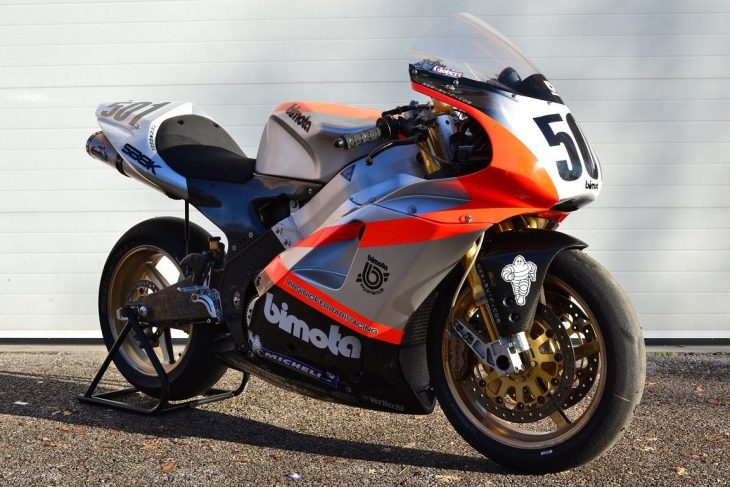 Both a flamboyant racer and a cautionary tale, Anthony Gobert was a hugely talented rider who fell from grace after a failed drug test. Several times, actually. Racing today is obviously a far cry from the wild days of the 60s and 70s, where playboy racers partied with stewardesses well into the night before getting up the following morning to risk life and limb while nursing a hangover. Today's riders generally treat racing as the serious profession it has become, instead of as a way for daredevils to travel and booze it up on someone else's dime. I'm sure Gobert's missteps would have been laughed off in another era, but a failed test for marijuana, of all things, ended his MotoGP dreams in 1997, although he continued to race in Superbikes events in a variety of classes. Somewhere along Gobert's slow downward spiral, he got a ride on this Bimota SB8K and managed to make an underfunded machine from a tiny manufacturer briefly competitive, a testament to his talent.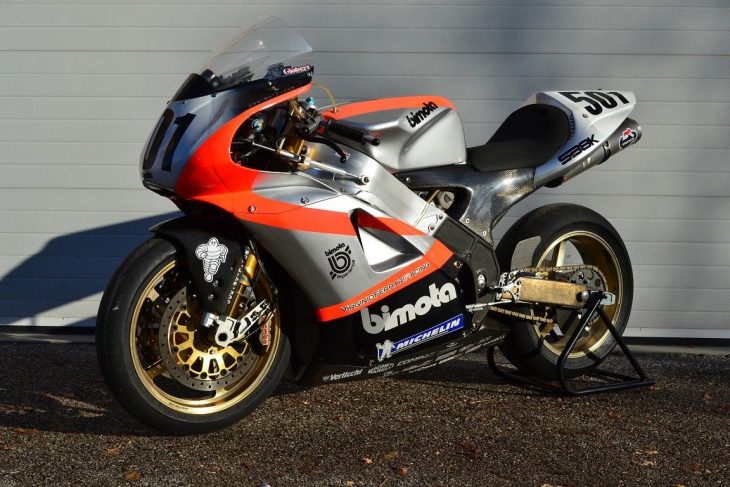 Bimota's SB8 was really the TL1000R that Suzuki wasn't able to build, and one of their most successful models. There's no doubting the liquid-cooled, 996 v-twin engine's prowess: it's been used in various iterations by Suzuki since 1997 to power both sports and touring models. More importantly, both Cagiva and Bimota saw the potential for the engine to power some serious sporting hardware, and just needed to work around the layout challenges posed by the v-twin. As can be seen by the Ducati Panigale's side-mounted rear shock, a transverse 90° v-twin is very long, making it difficult to package efficiently in a compact sportbike while simultaneously maximizing swingarm length. Suzuki used an innovative rotary damper with roots in Formula 1 to support the rear of their TL1000S and TL1000R. Unfortunately, while the concept was sound in theory, it didn't work so well in practice, as the undersized unit tended to overheat and cause handling to go from "stable" to "exciting" without much warning.
Bimota took that throbbing, 138hp lump of an engine and put it into a machine that could much more fully exploit its obvious possibility. As with all Bimotas, the SB8's real party trick was a state-of-the-art frame. While I'm a sucker for Ducati's classic trellis unit, the SB8 used a wild composite design based around stiff, lightweight aluminum spars with carbon fiber side plates and a self-supporting carbon fiber tail section. You can see Bimota's solution to that rear suspension issue, peeking out on the right side of the bike from behind the main frame spar. Ultimately, the SB8 weighed in at nearly 50lbs less than the TL-R, although the bike is uncharacteristically broad and bulky for a v-twin, ironic considering the amazingly slim design of the Ducati 996. It's exotic for sure, but not especially pretty, and the carbon air tubes on the original SB8R also meant you'd better know where those hand controls are without looking, or you'd be craning your neck awkwardly trying to find the high-beam switch or cancel the turn signals. Best not to use them.
Of course, the locations of headlight and turn signal switches matter little in this particular case, since this is the updated SB8K version that did away with the massive carbon tubes in favor of a more conventional intake system. And this bike doesn't have signals or lights anyway, since it's the very World Superbike machine that Gobert used to win at Philip Island in 2000, reminding everyone of his talent, if not his self-control. Many who worked with him feel he could have been one of the all-time greats, and flashes of his brilliance can be seen in results he achieved on the SB8K.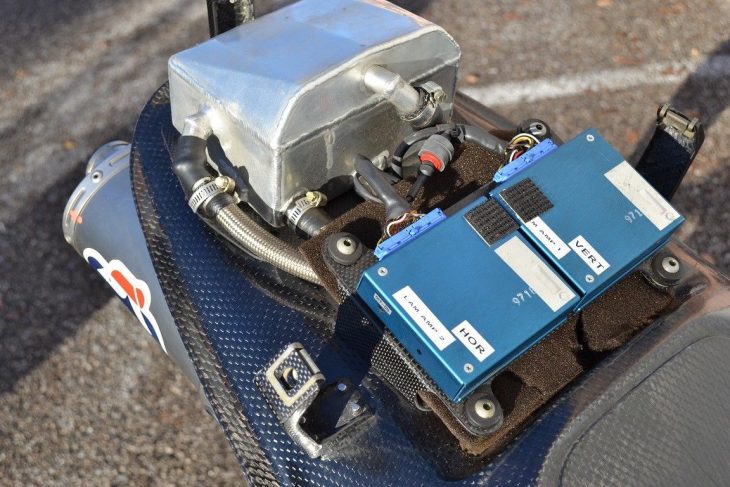 From the original eBay listing: Ex-Anthony Gobert Bimota SB8K for Sale
ex-Anthony Gobert, winning in Philip Island April 2000.

VIN: 00071

This is a legendary bike in a WSBK history for who remembers the victory in april 2000 in Philip Island when Fogarty ended his career… also it is an ICON for the Italian racing motorcyles enthusiasts and the Bimota collectors. 

Only 2 FACTORY bikes were built for the 2000 WSBK, frame #71 and frame #73. This is the only of the 2 fully preserved, complete (with telemetry) and owned by BIMOTA FACTORY from year 2000 to 2017. Full history know, fully untouched since the 2000 season ended.

The bike is fitted with SUZUKI FACTORY TL1000R magnesium/dry clutch engine but tuned then for Bimota by one of the TOP mechanics in the Italian motorcycling history, Franco Farne'… yes the Ducati legend! The bike comes with some spares: engine cases, 2 heads, spare rear wheel, box with bits and pieces.

Letter of verification by the FACTORY present.

Parade, race and collect!
Be sure to check out the photos in the gallery above. The shot of the injectors and one of the high-capacity radiator with the cutout for the front cylinder are especially cool. This is yet another ex-race machine being offered by the same seller as the YB4 racebike from a couple weeks back and, a bit of expected racing wear and tear and some significant discoloration on the swingarm, appears to be in very nice condition. There are several days left on the auction, and bidding is up to just under $9,000 with the Reserve Not Met.
-tad