For Sale: 1987 Ducati 750 F1
Fresh from our April 1 escapades (you DID realize it was April Fool's Day, didn't you?) comes this fantastic 1987 Ducati F1 in classic Italian tri-colore livery. Built during Ducati's dark days of the mid-to-late 1980s – sales were way down and Ducati was struggling financially – the 750 F1 was intended to evoke the company's TT racing success. The bikes were fantastic pieces: trellis frames, air-cooled desmo twins, Brembo hardware on both ends and Marzocchi suspension components. But with demand way down, Ducati simply did not import many – making these rare models to find today.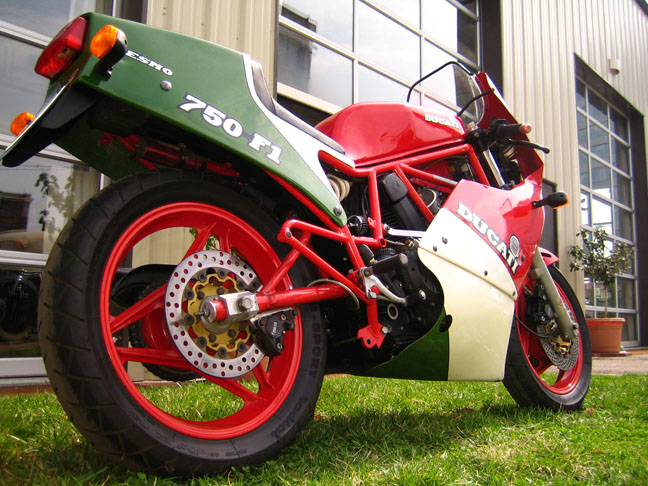 From the seller:
1987 Ducati 750 F1

Loud and fast Italian .40mm carbs,dry clutch,Open megaphone exhaust.Original condition,some nicks and scratches but excellent condition.Clear title.
This auction is current right now. The opening bid is set at $12,000, with no takers as of yet. The starting price seems a bit steep for a non-Montjuich model (which had higher performance and upgraded componentry), but this is indeed a relatively rare model and a significant piece of Ducati history. This is a no reserve auction, so the higher starting price is somewhat understandable. With a claimed 600 miles on the clock, this looks to be a relatively well preserved model ready to be ridden by its new owner.
For more pictures and more information, click on the link and . And let us know if you like this sort of stuff – or if we should go back to trikes and 'Busa customs. Send us some comments, as operators are standing by…
MI