Update 5.2.2018: Price reduced to $16,750! Good luck to buyers and seller! -dc
Update 3.16.2018: Recently serviced late last year at local Ducati specialist, including new timing belts, idler and tensioners, valve adjust,all fluids changed – including brake and forks, and carb rebuild with new accelerator pump. New price is $18,500 or best offer.
Contact Adam by email: adam_chovanak@yahoo.com
If you were looking to jump onto the Ducati 750 F1 bandwagon early with an eye towards making big money flipping one… That ship has sailed: these Pantah-powered race replicas now command some serious money. For years, these occupied the same place as the early Super Sport, in part because they straddle two generations of Ducatis, pre and post-Cagiva ownership, but don't seem to fully belong to either. They've got a slightly shed-built quality from the older era, combined with the "modern" Pantah L-twin and more 80s style. When new, build quality was criticized and suspension, as delivered, was a bit crude. But the potential was there from the beginning in bikes like today's featured 750 F1 Laguna Seca, it just needed a bit of development.
The 750 F1 used Ducati's characteristic trellis frame, designed in this case by Verlicchi and visibly wrapped around the lightweight aluminum tank. It was powered by a 749cc version of their air/oil-cooled, two-valve twin making a claimed 76hp and styled to look like the successful TT1 race bikes of the period. Dry weight was just 385lbs and the 16″ front and 18″ wheel gave nimble handling. The Montjuich, Santa Monica, and this Laguna Seca were all limited editions of the F1 that were priced higher when new and featured improved performance and a higher top speed.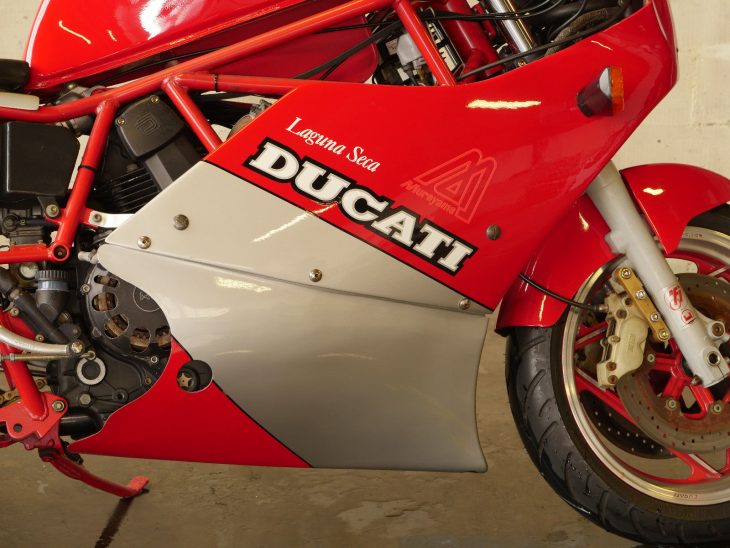 For years, the F1 languished forgotten and relatively unloved, but the fact that it was conceived before the company's takeover by Cagiva and the perceived mass-production that followed seems to be the exact quality now driving the increase in prices. Looking closely, there's one obvious indicator that the F1 came before Cagiva's ownership: bikes that came later reversed the rear cylinder so that both carburetors could be fitted into the engine's vee for much more efficient packaging. Some F1s have awkward pod filters fitted that bulge out from behind the fairing, but this example doesn't bother with something as trivial as "air filtration" and just has mesh screens to keep out rocks, stray animals, and small children.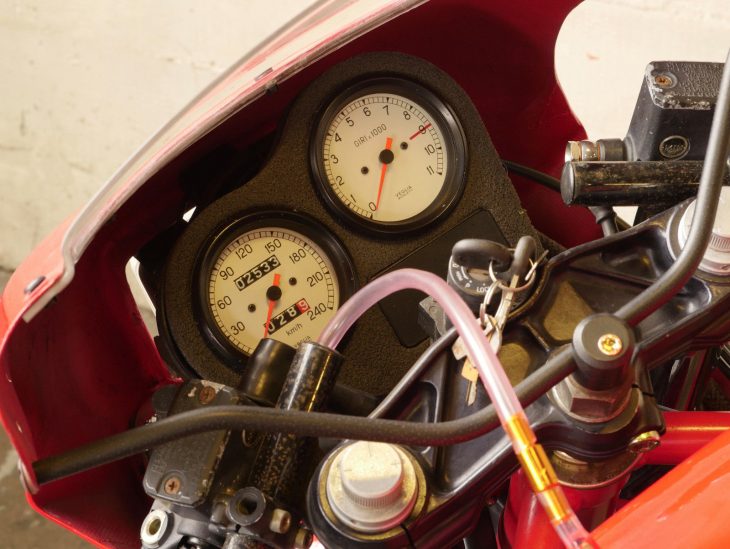 ZDM750LS-750139 / DM750L1-750238

Recently out of long-term collection in Japan – this Marco Lucchinelli Replica is a time capsule in beautiful shape with only ~2500km  / 1600 miles. Original paint and bodywork is excellent; red paint on the beautiful trellis frame very nice with some darkening on the upper surface of each tube. Clip-ons and muffler have visible surface corrosion. Runs great – bike starts right up, idles well and runs like it should. Original mirrors included in sale.

The F1 Laguna Seca, along with the Santa Monica and Montjuich, represented the pinnacle of the factory Pantah-based TT race-bikes. These hand-built race-replica bikes were closely based on the forks F1 racers with open-throat Dell'Orto carburetors, 10:1 compression pistons, bigger valves and less restrictive exhaust. Transmission uses straight-cut (like the works bikes) instead of helical primary drive gears. The Laguna Seca is fitted with Verlicchi aluminum swing-arm and solo seat.

Widely acclaimed when new – Cycle World stated, "They May Be Bargains. This last Ducati is a throwback in the spirit of the 750 SS of 1973, the F1's most famous predecessor. Like the 750 SS, the F1 is the Italian sportsbike of its era."

Mick Walker summarized in his 1989 Ducati Buyers Guide, "If you find, or already own, an F1 my advice is to hang on to it. If you are doubly lucky to have been able to afford one of the 'limited edition' models, then guard it with your life, for you have a real classic of the future. Any one of the Monjuich, Laguna Seca or Santamonica models is worth a full five stars, for they are both beautiful and rare."

This gem will make a fabulous addition to your collection. Offering with low reserve and reasonable buy-it-now. Currently on it's importation paperwork – Japanese de-registration certificate / English translation of certificate / NHTSA HS7 / EPA 3520-1 / CBP 7501 (stamped). Washington State title is available for $400 documentation fee approx. 5-week wait. WA state buyers responsible for Tax & License.
As the seller mentions, the bike isn't cosmetically perfect, but no bike that's thirty years old and in original condition is likely to be. Bodywork is very sharp, but some of the exposed metal parts have some surface corrosion but the paint on the bodywork looks very nice and mileage is extremely low at just 1,600. The seller is asking for $16,750
-tad