Bargain 1998 Ducati 900SS FE (Final Edition)!
My first post on RSBFS was a 900SS FE and I have always liked the classic lines of the old air-cooled Supersports.  For most people and for most street riding, these bikes are more than enough to get that stupid grin on your face without getting into too much trouble.  And $4500 will get you this very nice 1998 Ducati 900SS FE Final Edition (#30 of 300) for sale in San Francisco:
Final Edition #30
10670 Miles
All Stock except for AFAM front & 39tooth Rear Sproket (1k miles)
1k miles on brakes and tires
Magnetic Tank Bag
Battery Tender
2nd Owner
Minor Cosmetic scratches and rear light lense cracked
So there are some cosmetic scratches and the rear lense is cracked, but what do you expect for a 12 year old bike?  And for the bargain asking price, I can easily over look the minor details.  FEs have been hovering around the $5500 – $6000 range, so this one's a steal.
Also check out Ed's 900SS/FE website – chock full of good info.  If you end up getting this or any other 900SS FE, don't forget to get your bike in the 900SS FE registry as well!
Finally, just to show that Supersports can be Supersexy as well, see this tricked out 900SS FE special done up by performance parts dealer Motowheels complete with BST carbon fiber wheels, carbon fiber tank, Rizoma goodies… hmm….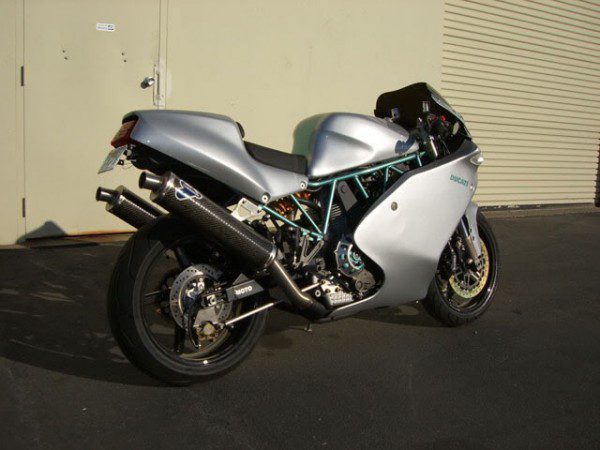 phil
[AffomaticEbay]Ducati 900SS[/AffomaticEbay]