All right, all right. I know it's probably not technically a sportbike. But all Confederates are extremely rare by their nature, and the very definition of exotic. The X132 Hellcat is more musclebike in terms of looks and riding position, the components list looks like an exotic owner's Christmas wish list: BST carbon-fiber wheels, Berringer brake and clutch master cylinders, huge Brembo calipers, WP suspension, and a classy, high-tech MotoGadget gauge to keep tabs on the revs and other parameters.
There's an American v-twin powering the Hellcat, but you're looking at much more than a warmed-over Harley engine. It's been built by Harley specialists S&S, but is their own design and shares nothing but inspiration with Harley's 45° twin. Cylinders are splayed at 56°, with square internal dimensions and huge pistons that displace 2163cc. The result? 121 horses and an insane 14o ft-lbs of twist that almost justifies the 240-section rear tire wrapped around the carbon-fiber wheel. The box has just five speeds but, given that torque, it'd probably work just fine with four. Or three…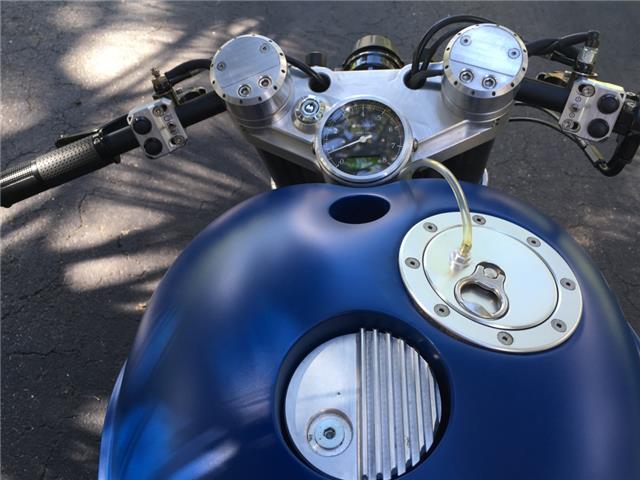 Sure, the Hellcat sacrifices cornering a bit for style, but that isn't necessarily a bad thing, since most of us shouldn't be pushing the limits of a bike this valuable. And even if you don't like the overall looks, it's hard not to get lost in the details: the clear window in side of the cases that show off the gears that drive the cams, the sight glass in the frame behind the steering head that shows the oil level, since it's conveniently stored there, the machined-from-billet everything… Love it or hate it, this is a boutique motorcycle with the very best hand-crafted components.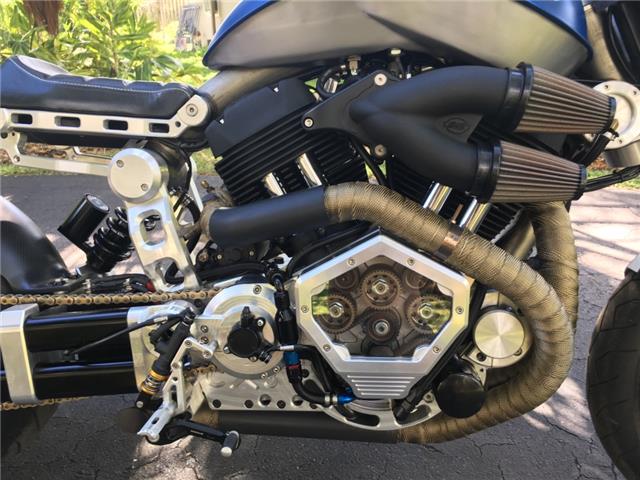 From the original eBay listing: 2012 Confederate X132 Hellcat Prototype Serial # 001 for Sale
Up for auction OR TRADE FOR COLLECTOR/SPORT CARS (AND TRADES FOR 1986 HONDA Z50 CHROME CHRISTMAS SPECIAL MINI BIKES) is a rare opportunity to own a piece of motorcycle history. This bike was owned and operated by the land speed record holder, James Hoegh until I purchased it directly from him. I purchased this bike because I fell in love with the design, and the history. Its not a practical bike for me and it belongs in a collection or a museum. This is a unique bike that has lots of custom attributes listed below: It does have Dual high intensity xenon headlights. Clip on handle bars. 132 CI S&S Engine with a 1 piece forged crank. 132 HP and 145 ft' of torque. 5 speed manual transmission with GP style shifting, 1 gear up and 4 gears down. Custom Marzocchi 50MM race forks that are adjustable. Race tech coil over shock in rear that is fully adjustable. Dual disc Brembo brakes up front with a single brembo disc in the rear with a 2 piston caliper. BST carbon fiber wheel, front and rear. 28″ seat height. Oil is circulated through the frame for cooling purposes. Large oil sight glass on on driver side where triple tree meets frame. There are a couple rock nicks in the forks which I have photo graphed. This bike is sold with a framed certificate of provenance & authenticity from Confederate motorcycle company.
The price for muscle-bike perfection and visibly, spin-y gears? A Buy-It-Now price of $40,000 which seems almost reasonable, considering the prices of new Confederates. Certainly, if you're looking to add something rare and unusual to your collection, you can't go wrong with #001, although it's a shame you'd damage the value by putting miles on it. Maybe if you just live your life a quarter mile at a time and blast from stoplight-to-stoplight, it'll take a long time to add up any meaningful mileage…
-tad