Ducati's two-valve "Desmodue" may not be the most powerful engine, or the lowest-maintenance, but there's a reason it's stuck around from the 1980 Pantah all the way through to today. Besides the obvious budgetary reasons: some of that tooling is probably long paid off… Joking aside, today's Desmodue is heavily evolved, compared to the original version, now punched out to 1100cc and packing dual plugs per cylinder and modern electronics. But the qualities of the original are still there, and make for a very entertaining ride. Ducati's mid-90s 900SS SP may not have been a powerhouse and was handily outclassed by every Japanese sportbike available at the time, but the aging thoroughbred still offered stable handling, good brakes for the period, a punchy midrange, and plenty of dry clutch rattle.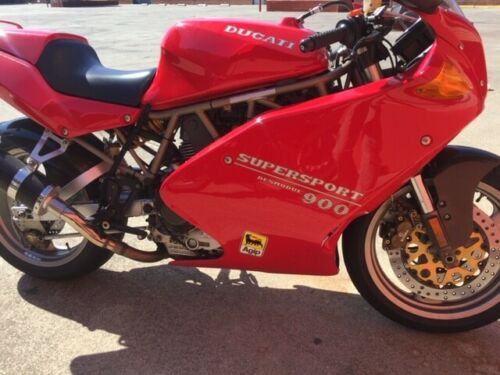 At the time, the 916 was making headlines for its ferocious performance on and off track, but the Supersport of the same period was a much better motorcycle to actually live with. Compared to the painfully focused 916, the 900SS almost felt like a sport-tourer. Along with the Monster it gave Ducati a range of bikes with real racing heritage, but without the expensive maintenance, high-strung histrionics, and performance most riders didn't really need anyway, especially on the road.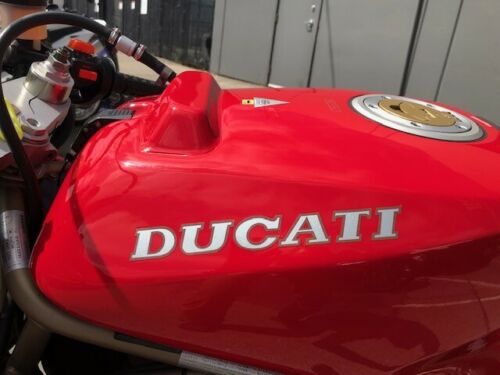 By 1996, the 900SS was available in two flavors: the cost-cutting 900SS CR that generally came with a stylish half-fairing, and the higher-spec 900SS SP seen here. The engines were the same, but the CR used non-adjustable forks from either Showa or Marzocchi on later machines, while the SP had a carbon front fender and three-way adjustable suspension up front and at the rear. There were other minor details as well, like a narrower 4.5″ rear wheel on the CR, versus a 5.0″ hoop on the SP. If you've got a CR, don't despair: suspension swaps between models and even years is pretty simple, and upgraded valving kits for the Showa forks are available. Unfortunately, the famously horrible Marzocchi units on the later CR models are pretty much best abandoned in the wilds to be savaged by wild dogs.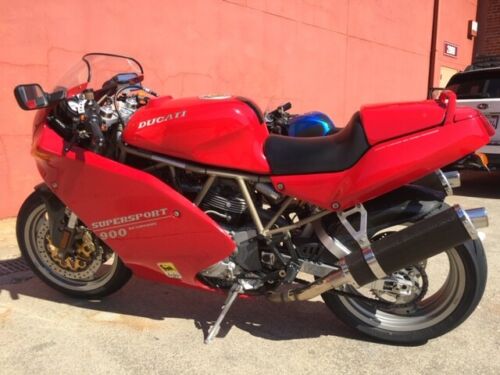 Ownership isn't necessarily as much of a headache as you'd expect. In spite of their reputation, the two-valve Ducatis are generally pretty bomb-proof, and you've got to be riding like a bit of an idiot to overrev one. First of all, no valve springs means no valve float! And second of all, in spite of an indicated 9000rpm redline, any remotely standard carbureted 904cc Ducati engine runs out of puff way before that. Power was a claimed 80hp with a pair of Mikuni CV carbs, and 75hp at the wheel from a strong example. More is available via head work and tuning, since these were originally built to race, although performance gains won't be particularly cheap.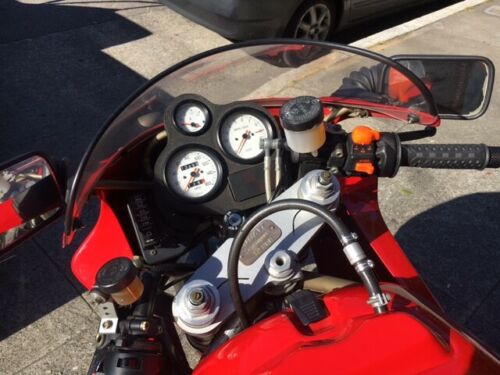 As for Ducati's infamous lack of reliability: the valves do require regular maintenance, although they tend to stay in spec after the first couple adjustments. The toothed rubber timing belts require biennial replacement to prevent an expensive transformation from motive force to paperweight, but many competent home mechanics find these tasks aren't too difficult to tackle. Italian bike electrical components, however, generally deserve their poor reputation, and it's worth regularly checking connections and using a bit of dielectric grease to make sure your lights light and your starter starts.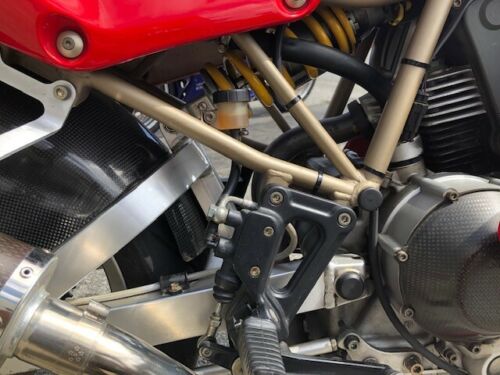 From the original eBay listing: 1996 Ducati 900SS SP for Sale
Excellent Condition, always well cared for, Ducati Limited Edition  500 SS SP SUPERLIGHT.  Low production number 47 of 500 made.

Full fairing, floating cast iron rotors and original factory oil temp gauge. New tires, carbon fiber mufflers. Includes owners and shop manuals, Hand written previous Owner records of services dating back to 8/12/97 with 2363 miles. 

Fresh timing belt, starter relay. Runs excellent sounds even better. Also have stock pipes to go with sale. This is a beautiful , air cooled, dependable, dry clutch classic example that will put a smile on your face.

Bike is currently on consignment at local Dealer in S.F. Paperwork to be  handled by them upon sale. 
The 900SS used to be an amazingly affordable entry into Italian bike ownership, especially if you're fairly handy with basic tools. The only cheaper Ducatis are the original Monsters, but both have started to climb in value, especially for nice, low-mileage examples. This one has 13k or so on the clock which, if it's been maintained by the book, means it's barely broken in. Higher-resolution pictures would be nice but, from what I can see, it looks to be a very clean example. Get one now, while they're still fairly cheap, since clean examples are getting hard to find.
-tad