Warning!
This post is in our archives. Links in this post have been updated to point to similar bikes available to bid on eBay.
Every post will be sent right to your inbox every morning when new posts are made. We will never sell our list or spam you. Plus you can click links to bid or buy right from the email and skip the site entirely. Subscribe to Rare SportBikes For Sale today!
1990 Honda RC30 VFR750R
Location: Herselt, Belgium
Mileage: 100 test miles
Price: $$$$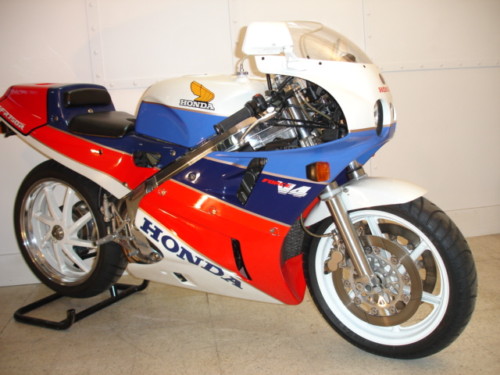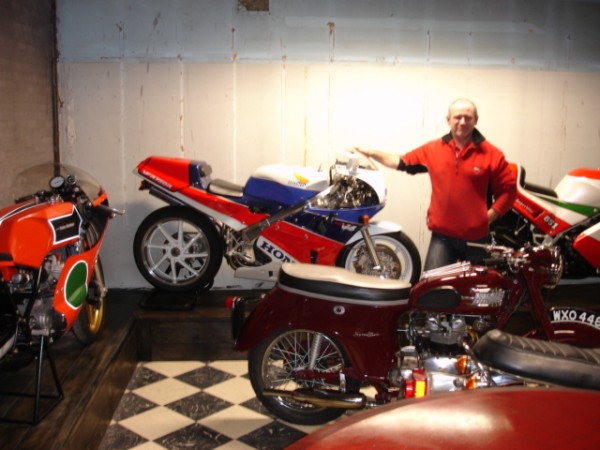 As the old saying goes "Ask and ye shall receive…"
Yes, we received the mother load on this one and I want to extend a warm RSBFS.com welcome to Mr. Crauwels, the owner of this fine RC30.
Let's get down to the good stuff on this pristine example. Mr Crauwels has done a great job of answering all of my questions and should you have any other questions his email is info@ducati.be.
From the seller:
I do understand your concern and your unbelieve about the RC 30.

At the end of the eighties, early nineties the private teams who wanted to race their own RC 30 HRC had to order a "normal" rc30, and for them Honda developed the HRC kit; which consited of:
Engine tune parts as pistons, camshafts, carburettors, electronics for ignition, radiator, full exhaust system, footpegs, clip-on handle bars, suspension modification, ohlins shock, wheels etc..

This bike was ordered to be raced by Stephan Mertens and was delivered to HRC in Aalst(Belgium) directly. It might sound strange to many people but the HRC headquarters are, still today, located in Belgium. Honda also has a production facility there for street vehicles.

So all the famous Honda racebikes, from Spenser to Rossi's bikes, spend most of their life in Belgium.
As Stephan Mertens eventually signed a contract with Ducati the deal with the RC30 was canceled and left the team owner without the so needed sponsors. Legal fights for unpaid invoices between HRC and the team owner kept the bike for many years in storage. Stephan Mertens' career with Ducati is history….

As HRC already prepared the bike for the world-endurance championship this RC 30 is indeed very unique… no it IS UNIQUE!!! The polished frame and swing arm is a standard procedure for HRC tuned racers. The standard bodywork was put on for testing the bike after the build.. it has 100 miles on the clock (foto attached). The "resin" on the exhaust is VERY ORIGINAL HRC !!!! it's a kind of seal that HRC put on the exhaust to prevent people to experiment with HRCs' proper work. If you see a huge scratch???? It can only be a foto problem… it is god damned perfect !!!! The wheels… the HRC 17 inch racing wheels are included in the sale as well as the new standard RC 30 wheel…. The wheel now fitted was for testing after the HRC kit was installed. Also together with the bike I have all the parts that came originally from the RC 30… so again: pistons, camshafts, carb parts, radiator…. all new and unused !!! All these parts are now at my other workshop .. next week I'll go there and bring all the parts for fotos, documentation etc…

I hope the history of this really extraordinary piece of history is more clear for you now… if you need any more info or fotos .. please don't hesitate… this bike is real and genuine….
Place your bid on Mr. Crauwels bike by
Thank you for clearing up all of the questions and good luck with sale!
So, I've been sitting on this one for a few days wondering what to do with it. No, I've not lost my mind and am certifiably sane… no, really I am!
I'm going to go out on a limb and guess that, along with me, about 99.99999999% of our viewers have never been inside the HRC factory much less seen a 0 mile HRC equipped RC30. If you are in the aforementioned .000000001% you can move on because this will be old hat for you and will probably bore you to death.
A BRAND NEW HONDA RC 30 IS VERY SPECIAL ON ITS OWN BUT THIS ONE WAS DELEVERD TO HONDA-RACING-CO HRC , WHO HAVE THEIR EUROPEAN HEADQAURTERS IN BELGIUM

IT IS COMPLETELY HRC KITTED WITH ALL FACTORY SPECIAL HRC PARTS, IT WAS MEANT TO RACE IN WORLD ENDURANCE SERIES BUT BANKRUPTCY OF THE CLIENT MAKE IT STAY FOR MANY YEARS AT HRC… never raced , never ridden , only kitted and tested by official HRC

NOW AVAILABLE FOR A SERIOUS COLLECTOR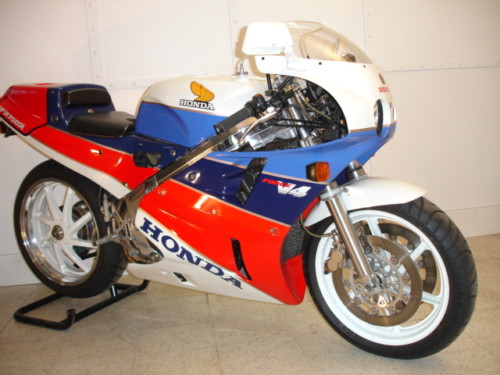 So what do you think? Once in a lifetime opportunity or hoax? Since I usually believe people until I can prove otherwise I'll go on the premise that this is in fact a once in a lifetime opportunity for a very "serious" collector. I emphasize "serious" because I can only imagine that it will take a whole lot of Benjamins to pick this one up.
I do however have a few concerns or should I call them 'notables' to point out. The reason for merely pointing them out is because I have never seen a brand new, HRC equipped, RC30 so I'm not sure how they were sold to the the race teams in 1990.
1. It has a polished frame
2. It has one side (right) of the rear rim polished, but not the left side
3. It has a polished swing arm
4. It appears to have some sort of epoxy on the exhaust canister
5. It shows either a huge scratch or a flash glare on the side panel.
6. There's no actual photo of the odometer to show mileage
7. I thought Honda retained ownership of all HRC race bikes/parts and only leased them to teams
8. If #7 is true how is this a fully kitted RC for sale on the open market?
9. If it's been modified by the HRC factory in Belgium why are there lights and a speedo still on it?
I have other questions, but I'll stop at those for now since I'm not a 'serious' buyer.
Have look for yourself:
To be or not to be is the question so you'll have to be the judge and then decide what to do. I don't mean to sound all negative and down on this bike, but if this bike is the 'real deal Holyfield' then why not spend a few extra minutes, show the documentation, give a more detailed explanation and avoid 90% of the questions that you will get asked.
Oh, I'm sorry, I forgot to ask one very important question.
10. Why is a bike such as this listed on ebay if it is what it's supposed to be?
I'm 100% sure there are people who would snatch this up in a heart beat if it were presented in a more suitable fashion. Maybe I'm off my rocker and this is one of those once in a lifetime opportunities to pick up the creme de la creme of modern day sport bikes.
Cheers!
dd