This is a nice looking, first year, CBR600F Hurricane about to end on eBay.
Bike:  1987 Honda CBR600F Hurricane
Location:  Bradley, Illinois
Mileage:  8,101mi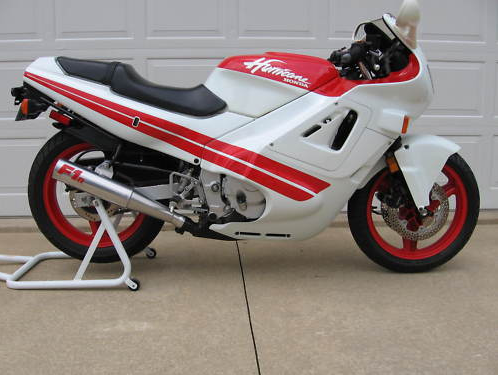 The seller states that this bike is a one owner example, in showroom new condition.  The bike has been modified with a K&N filter (And probably a drilled air-box cover), an F1 exhaust system, a larger rear sprocket and the passenger pegs have been modified.  The only claimed cosmetic imperfection is the small crack in the front fender.  The carb's were gone through earlier this year and new, Pro-line, fuel lines were also installed.
The bike does look very good in the pictures.  I don't doubt that it is fantastically clean in person but there may be some small issues the seller may have missed but, I'm pretty sure they know the bike quite well after 23 years.
Sadly, the only issue this bike may have is the price:  I don't see this bike going for $3,500 and the seller has a reserve in place.  Heading into fall, I'd probably assume this bike would go in the $2.5k-2.8k range.  There are collectors for these early CBR's but, they seem to not be willing to pay a premium because they know no one else will.
This was the first production 600cc bike to crack the quarter mile in under 12 seconds with a time of 11.7 @ 113mph.  These early CBR's are quite fun if you realize they are 23yo technology.  Parts are prevalent and nothing is really difficult other than the valve service–just like any inline four within a confined frame.  The only major drawback is the rim widths.  While the rims are 17″ front & rear, they are quite narrow and were originally fitted with bias-ply's leaving the current tire choices limited–but, still better than for an FZR.
Although I wouldn't spring for this bike at this price, I believe these aren't a bad choice if you're looking for a budget collectible.  While the F2 & F3 bikes may have had more aftermarket parts during their time, the Hurricane will always be the first generation of the, ongoing, iconic CBR.  See this bike on eBay .
AG
Here are some other Honda Hurricane's and parts for sale right now:
[AffomaticEbay]Honda Hurricane[/AffomaticEbay]