Update 7.26.21: This bike has SOLD! Congratulations to buyer and seller! -dc
From the classics section of milestone motorcycles comes the wonderful Honda 600 Hurricane. Officially known as the CBR600F when introduced in 1987, the Hurricane was Honda's wash and wear tuxedo for the ultra-competitive middleweight class; this was a bike that could do everything well. With a raspy liquid cooled inline four that was completely enclosed by bodywork, the Hurricane made a statement that set it apart from the rest of the crowd. During this time, full bodywork was an actual thing, with Bimota (DB1) and Ducati (Paso) leading the trend. Honda's entry was vastly different than the other Japanese Big Four offerings and resulted in a runaway showroom success that spawned many variants. Up through 1990 these became known as the first series bikes (CBR-F1, if you will), and what followed were the F2, F3 and F4 models.
Featured Listing – 1989 Honda CBR600 Hurricane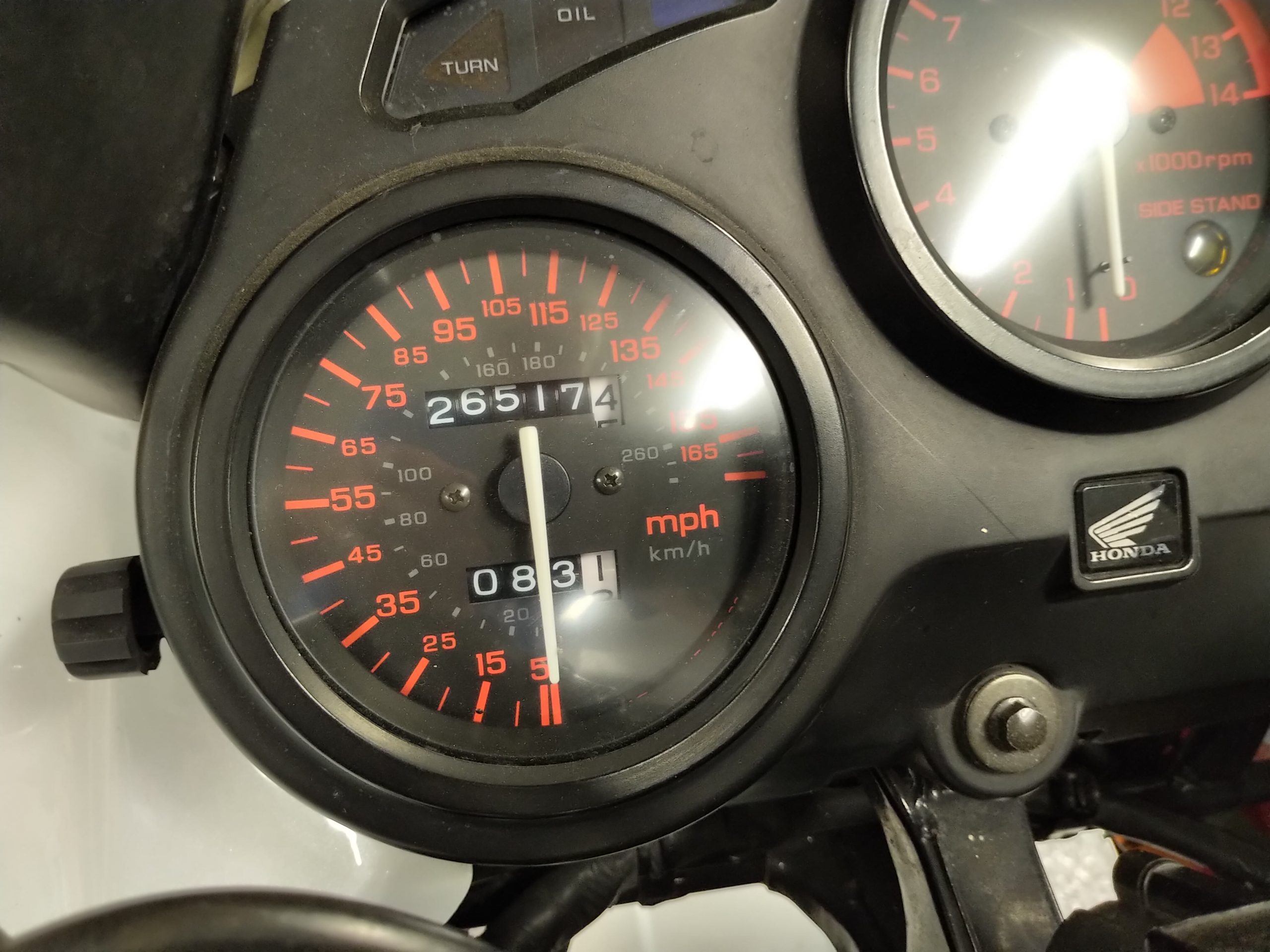 As the magazine adverts at the time stated, even the Ninja fears the Hurricane. And that was not too far from the truth. The CBR pumped out 85 ponies at the crank – plenty of motive force to push what was described as the lightest and quickest middleweight of the time to the top of the timing sheets. With air-adjustable anti-dive forks and a rising rate rear linkage with preload settings, the Honda could handle with the best of them. Our seller Jim is an obvious fan of the model. He has provided a ton of detail on this bike, and I will let him pick up the story here:
From the seller:
Lordy, I hate selling my motorcycles. This 1989 Honda CBR 600 "Hurricane" caught my eye the minute I saw it on Ebay a few years back. All I've done in my ownership is to ride it, enjoy it, and maintain it (like my other bikes). I'm a collector but everything must be ridden! I've put a thousand miles on it (odo is now 26,517) and I've enjoyed every minute of it. As far as I'm concerned the custom red/white/blue seat puts it over the top. It's been stored properly and tendered during the entire time I've owned it. The bikes starts and runs smoothly and everything works! It's also been freshly serviced.

When the "jelly mould" styling came out in 1987 everyone was a fan of the styling but I just simply loved that full enclosure bodywork back then. That full enclosure bodywork hides a steel frame, an inline four cylinder engine of 598cc with twin cam, 16 valves and 85Bhp. Did I mention it runs great? In 1989 this bike was the quickest and most powerful middleweight ever built, but it was it's the complete user-friendly nature of the bike that make the bike what it is—-super, all day comfortable yet still la great handler.
More from the seller:
CBR stands for "City Bike Racing" and Honda's idea was to create a bike that could take you to work and back five days a week and then win races on at the weekend. I get it—-30+ years later it still performs its mission well.

For the 1989 model year the hugely successful CBR600 got upgraded with minor tweeks. It looked the same jelly mould bike but underneath it got higher compression (11.3:1, up from 11:1), the cam timing was revised, bigger carbs fitted, new ignition and a beefed up clutch. It also got adjustable rebound damping. Power was increased from 85Bhp to 93Bhp and, apparently was a noticeable difference.

Performance
0-60mph 3.5 secs
0-100mph 7.7 secs
Top Speed 137mph
Fuel consumption 45mpg
More from the seller:
The CBR600F1 had a nice set of clocks that I still think look great today with their red details and markers. These clocks always looked great at night with their orange/red glow. There is just something about a set of needles, gently illuminated from below as you ride into the twilight. OK, maybe that's a bit too poetic but you get the picture. This is a great vintage bike in very good condition.

Nit-pick items? One of the mirrors is a little faded so it's a slight creamy white. It looks like one of the red decals is peeling up just a hair on the tank. The bike is not perfect but it's in damn good condition and is surrounded by admirers wherever I ride. You won't be disappointed. Be prepared to ride all day!

Price: $3,600 $3,300 USD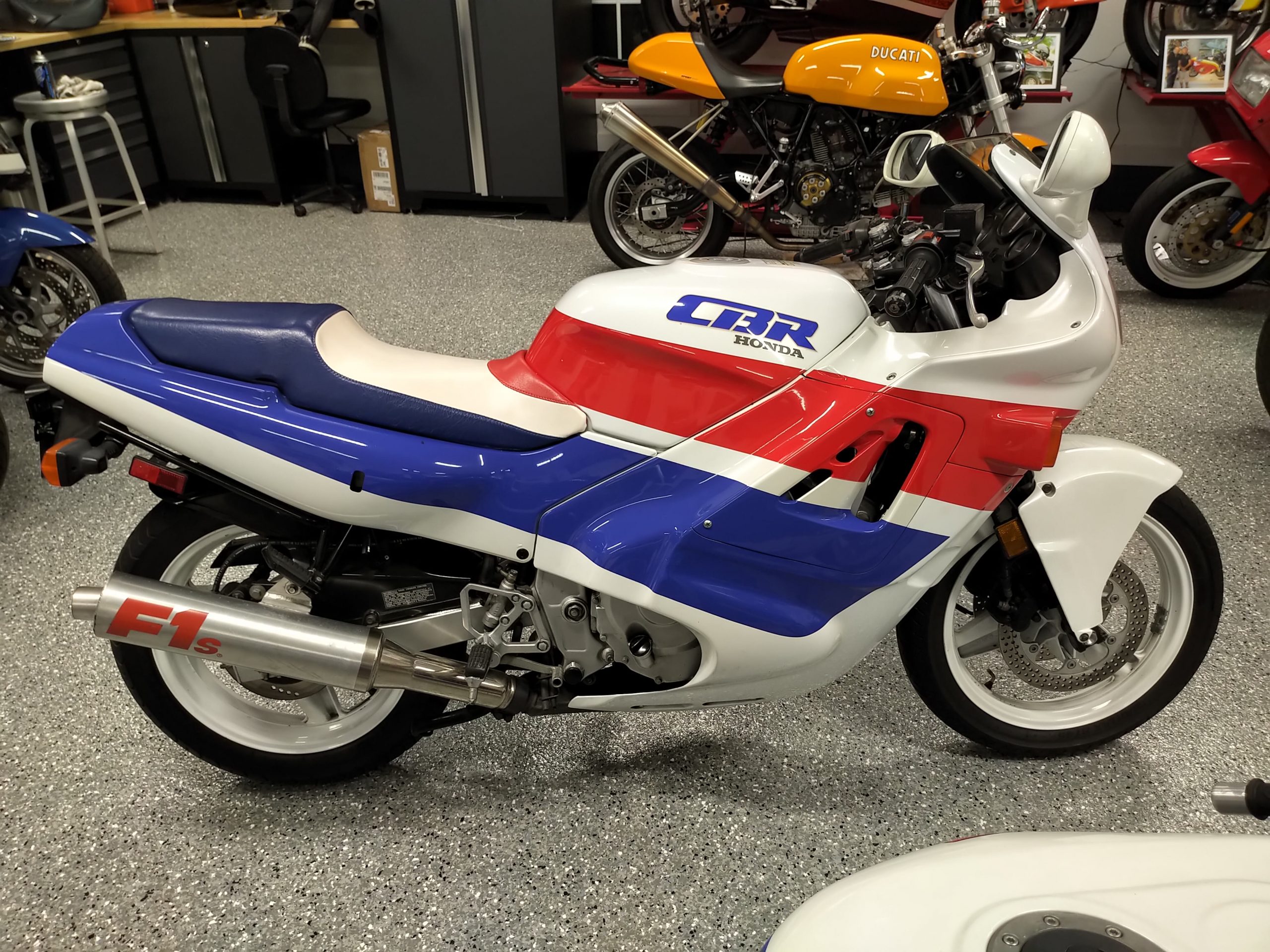 While never particularly rare in the day (this was a very popular model for Honda dealers), we do not often see these wonderful machines in such fantastic condition. Quite simply, most have been abused, dropped, stunted, raced, crashed and resold for scrap. This bike looks great, comes from a RSBFS enthusiast who has taken care of the beast, and is now offering up this example of a legendary model for a mere $3,600 $3,300. With typical Honda engineering and build quality, this is a bike that will last a lifetime of use when properly maintained. You are not likely to find anything that will turn heads – or put a bigger smile on your face – for that small of an outlay. It even has period correct F1 slip ons!
MI