From the cheaper seats – but no less fun – comes a bit of a unicorn in the UJM world, the Yamaha SRX 600. Emulating a British single by heritage, offering Japanese performance and technology by design, and providing impossible fun in a narrow and lightweight package, the SRX was gone before we knew it. It turns out the buying public wanted Ninjas and Interceptors during the sport bike arms race of the mid 1980s, not English throwback bikes. But the ensuing years have been kind to the design and philosophy behind the joy of riding a slower bike fast, and the ultra-narrow and nimble single cylinder 600cc thumper ensures a bucket full of torque with which to play. Today these are relatively rare machines, but do not command the premium we come to expect with collector bikes.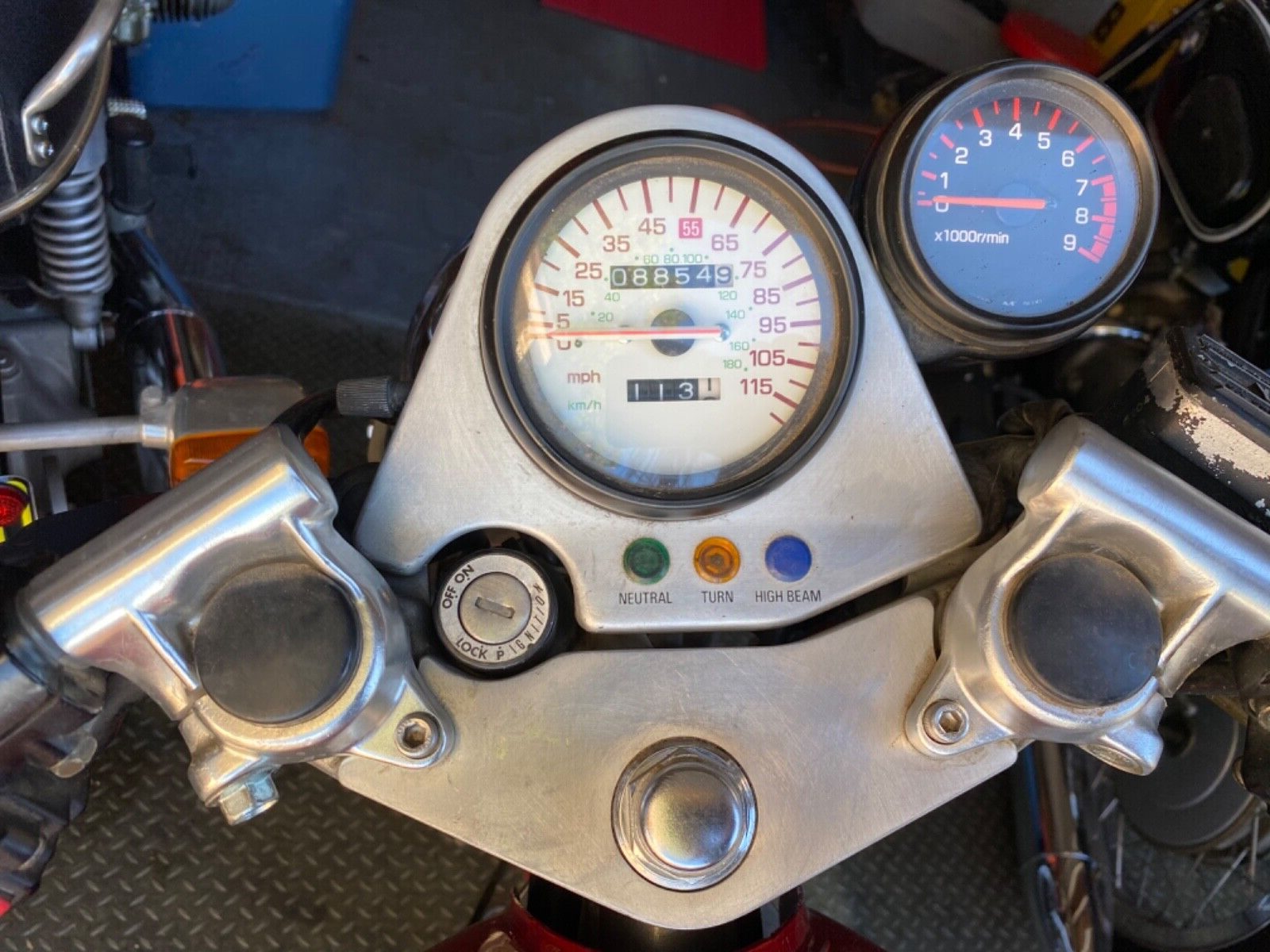 The inception of the SRX 600 dates back to the XT600 – the dual purpose do everything bike in Yamaha's lineup. With 4 valves per cylinder to aid in breathing and air cooling to keep things simple and light, the thumper in the SRX was good for approximately 45 horsepower with a redline of 7,000 RPM. That is not a whole lotta get up and go, but the dry weight of the SRX was down in the 350 pound range, making the bike very agile and easy to ride. The SRX makes due with a lighter flywheel to make it more responsive, as well as something that most modern riders have never used, let alone seen on the street: a kick starter (as in the starting device, not the new product investment website). That's right kiddies, this one lunger is so throwback that it only offers kick starting. Now, foot bumping a big single four stroke can be daunting, but Yamaha did include an automatic decompression device to make things a little easier. Still, when the seller notes that this bike can be difficult to start the lack of an electric starter only complicates matters a bit.
From the seller:
Nice low mile original bike except for supertrapp and air filter pods. Physically very nice for its age.

Needs tuning. A bitch to start but when it does fire up sounds incredible. Could be an altitude issue (I'm at 7000 feet) or simply timing or it doesn't like the pod filters(I heard the best set up is stock). I recently acquired the bike and it sat for years. I bought a stock airbox since the original was cut and it's included.

Fresh oil and filter, the tank is pristine inside, new petcock and fuel lines and rebuilt carb.
Brakes all work and have fresh fluid. Fork seals do not leak (yet!).

A nice example that just a needs a bit more tweaking and I just need the space for another bike that's on its way plus I'm a bit of a big guy for this machine. Tires have plenty of tread but are old. Comes with original brochure and model kit. Clear title in my name located in Santa Fe NM USA

I can hold bike for upwards of 6 weeks while you arrange to ship or pick up. Great time of year to visit our beautiful destination city!
More from the seller:
To answer a few questions: battery is new. Not sure why starting is difficult but from my experience on past bikes it could be a carb setting, timing issue or valve adjust. When it runs it's on the rich side occasionally backfired so could be that the pilot air is still dirty but I'm very thorough when I clean. The bike has the original owners manual. Physically you'd be hard pressed to find another in such good physical shape. I'm 57 and done kicking bikes, my knees are already messed up so I can't keep trouble shooting. It may run better at your altitude. I'd put the original airbox back on as most seem to support that it runs best stock.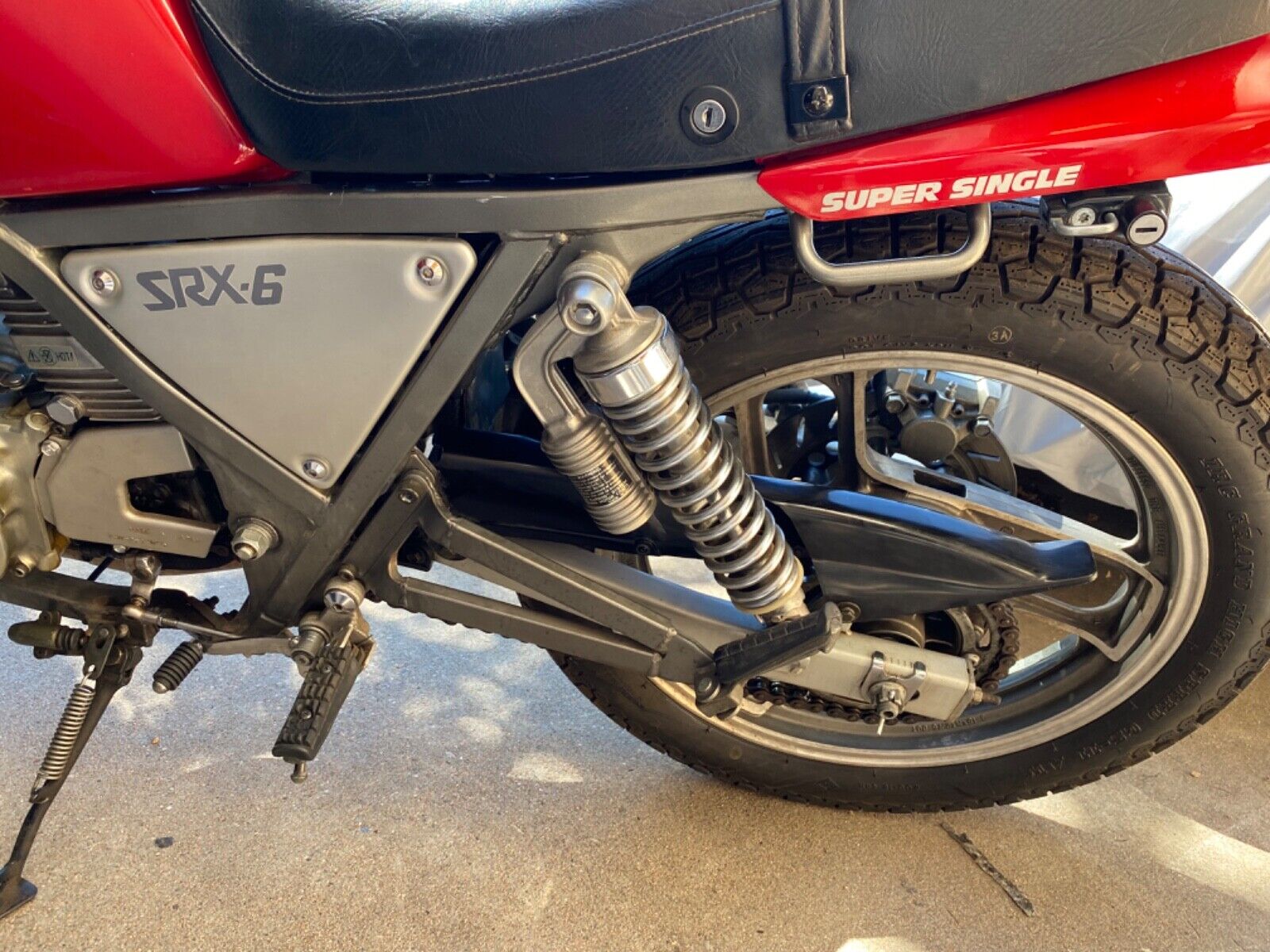 The 600cc version of the SRX was a one year only bike in the United States (it lasted until the end of the decade in Europe). The buying public wanted sport bikes, and this would be soundly beaten by any of the 500cc or 550cc offerings from that category in the day. These bikes are getting harder to find in decent condition, which makes it RSBFS worthy. The Supertrapp muffler is a decent performance mod, and likely helps the big single from sounding like yet another suburban lawnmower, however the cut airbox and question about jetting definitely exacerbates the kick start issue. The bidding is in the basement at the moment, with the high bid under the $1,500 mark. Depending upon where this ends, this could be a ton of fun (and actually do the ton – barely) for not much cash. Check out all of the details here, and Good Luck!!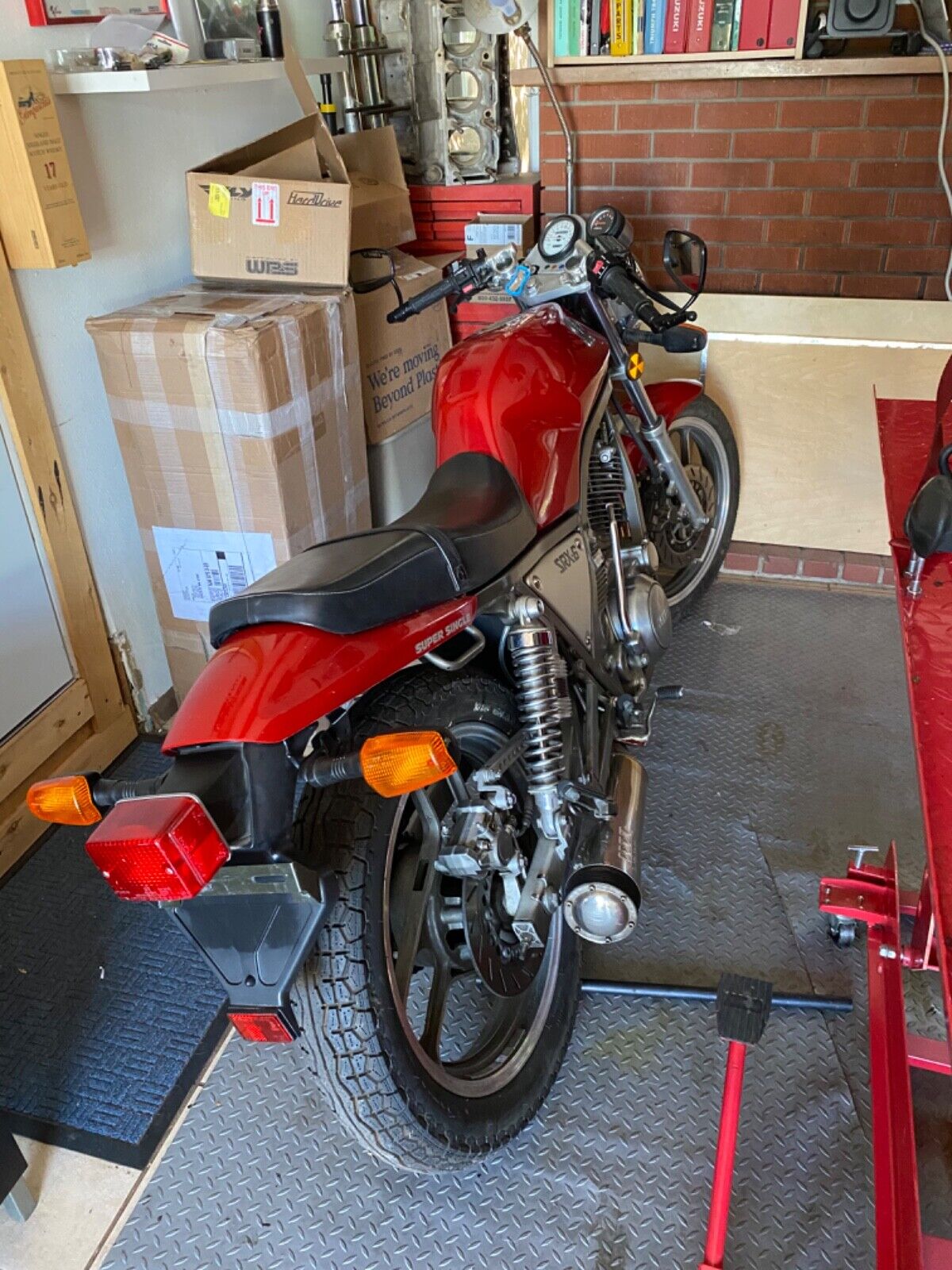 MI