There's little that can be said about the Honda CBR900RR that hasn't been repeated in every forum, magazine, Craigslist post and lookie-there sportbike blog ad nauseam. By the standards of the day, they were a revelation. They were tiny, pinpoint-accurate handlers with big-bore power. For a few years in the Clinton era, there were few substitutes.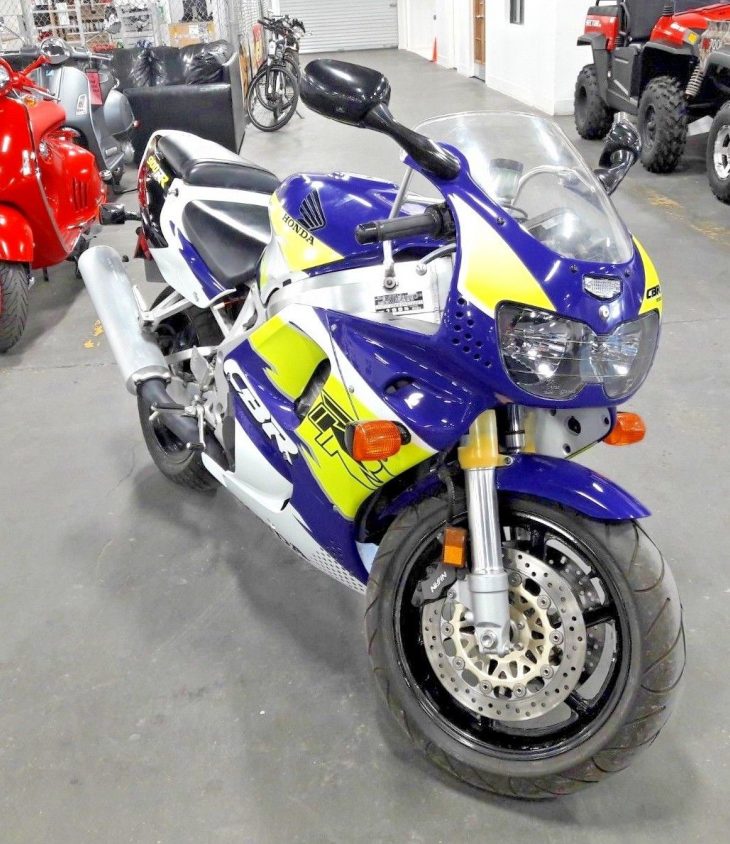 This 1995 Honda CBR900RR has been stored in a museum or collection setting for more than a decade, judging by the registration date on the Texas plates. It has done very few miles, is extremely clean, and appears to be 100 percent stock. Finding a CBR900RR in any kind of reasonable condition is becoming something of a feat, and this one looks like it has very little to hide.
From the eBay listing:
You are purchasing a

1995 Honda CBR900RR Motorcycle Purple/Yellow/white MV

EXCELLENT CONDITION. ONLY HAS 8465 MILES. FRONT RIM HAS SOME SCRATCHES. FROM THE M. VANN COLLECTION. HAS SOME VERY VERY MINOR SCRATCHES AND BLEMISHES CANT BE SEEN IN THE PHOTOS. BUY AS IS.

OTHER BIKES FROM M. VANN COLLECTION AVAILABLE CALL FOR DETAILS.

CLEAN TITLE. VIN# JH2SC2808SM302221

WE CAN HELP YOU ARRANGE FREIGHT TO ANY WHERE IN THE WORLD. (MUST ADHERE TO AND COMPLY WITH EBAY RULES)

WE HAVE HUNDREDS OF SHIPPING CONTACTS, SHIPPING CRATES AND PACKAGING MATERIALS TO PROPERLY PACK YOUR MOTORCYCLE FOR SAFE DELIVERY

BIKE IS BEING SOLD WITH RESPONSIBILITY FOR CUSTOMER TO PICK-UP. BUT FOR EXTRA CHARGE WE CAN HELP YOU SHIP IT ANYWHERE.

WE DO HAVE CRATES IN STOCK, CALL US TO GET A QUOTE. WE SHIP ALL OVER THE WORLD.

BUY AS IS.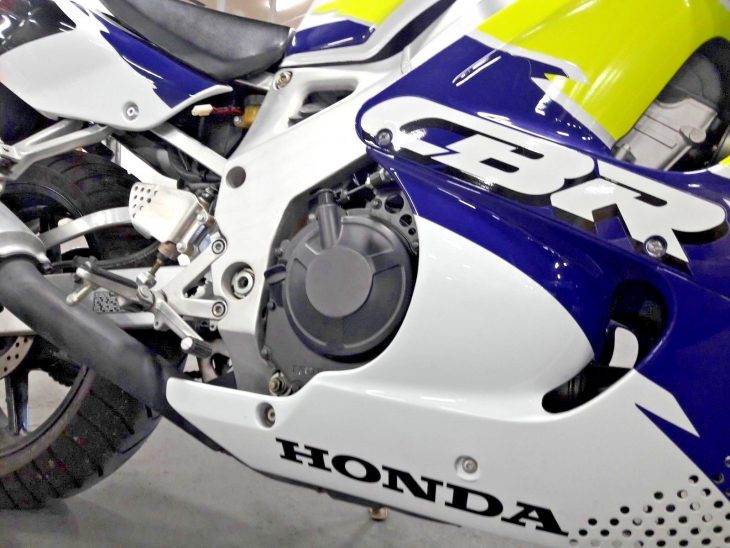 At $7,999, the seller is for sure asking a premium for the unmolested condition. If you can part with the coin and are looking for a clean CBR900RR, though, this one checks a lot of boxes.