Update 11.29.2012: We first posted this F1a in early August of this year and it failed to meet reserve just shy of $10k. Back on eBay with 4 days to go, the bidding is up to $8400 with reserve not met. Links updated. -dc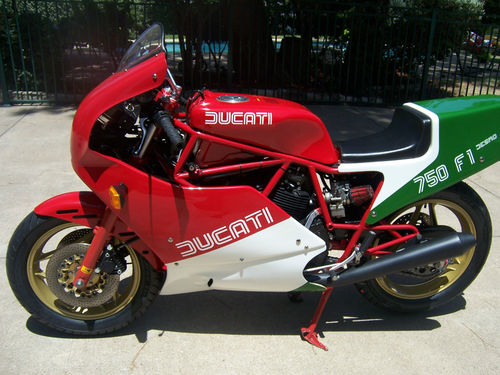 This Ducati 750 F1 "a" model is a pretty rare bike. It is not rare because of some limited edition number plate riveted to the headstock. No, this Ducati gained exclusivity the old fashioned way – they just didn't sell a whole lot of them. Fast forward 27 years and what was an interesting (albeit lowest of the F1 pecking order) bike back then becomes something a little bit more special.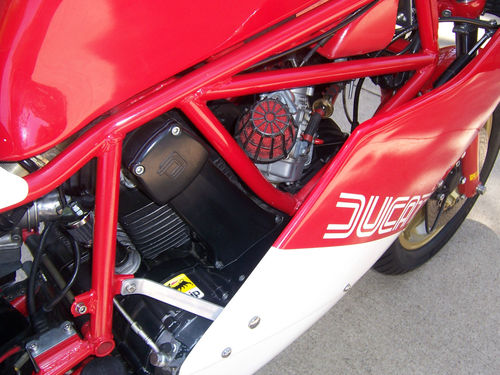 We have posted several F1 models on RSBFS over the years – in varying condition. This particular bike looks to be a solid example. It is neither ratty and worn out, but nor is it overly restored to be made "like new." I would certainly call it clean! It has pretty decent mileage on the clocks – 35000km according to the auction – which shows exactly what this bike is all about: riding.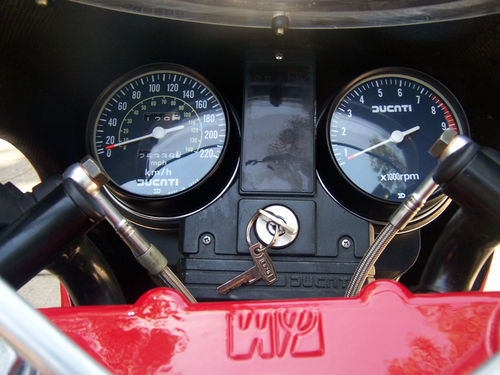 From the seller:
here is a nice clean example of a early f1 a. bike has covered 35000km as indicated on speedo.new avon tires installed. these bikes are becoming more desirable and very collectable,prices continue to rise on nice examples. dellorto carbs,brembo brakes. a nice example of a low production model bike.
The seller is right about the value. These three color wonders seem to be making more green than white or red. Values are on the rise, and bikes in top condition are snapped up quickly. As always, so much will hinge on the reserve for this particular bike. We have seen F1s in the $10-12k range in the past, but this looks more like it is headed for the $15k+ seats.
Striking good looks, relatively low production numbers, age and condition – these all determine future values. And this F1 appears to have a pretty bright future. Best part of all is that you can ride it and enjoy it today; these are still serviceable machines with a good supply of parts and mechanic knowledge. For your opportunity to be the next curator of this great looking F1, click the link and jump over to the auction. Let's see how high she goes!
MI