Update 12.2.2019: This bike is now on eBay. -dc
This is the first of four motorcycles being offered from the Stuart Parr Collection. Thank you for supporting the site and good luck to buyers and seller! -dc
Rare to the point where this might be the first 650SL to grace RSBFS, this 1984 model has been restored to museum condition and is ready for spotlights and close-up viewing.
In an interesting turn of the rulebook, Ducati produced the 650SL to homologate the 61.5mm stroke for the planned 750cc race machine.  The extra torque provided by the lengthened stroke was a welcome addition to the originally 500cc engine, and claimed 63 hp at 8,500 rpm.  Still considered part of the first generation of Ducati belt-driven cam engines, the twin used dual 36mm Dell'Orto carburetors.  The model's smaller-displacement origins are divulged by the 35mm Marzocchi forks and 260mm dual front disks.  The trellis frame with engine as a stressed member helped keep dry weight under 400 lbs., remarkable for the day.  The very trim monoposto fairing was retained from the 600SL, and finished in Ducati's yellow over red race livery.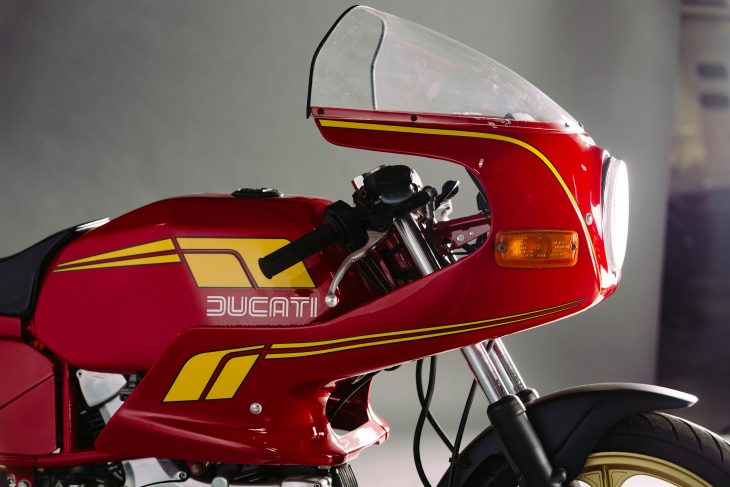 In private hands of Stuart Parr Collection, this 650SL was treated to a comprehensive restoration, and updated with a two-into-one Staintune exhaust.  Comments from the curator:
The 650 Pantah was built specifically to homologate Ducati's TT1 750 engine which used a 61.5 mm stroke. Instead of producing a production 750 road bike, the 650SL was created with an 82mm bore and the required 61.5mm stroke, thus complying to the governing bodies homologation requirements. The 650's bodywork is virtually identical to the 600, but it was painted in the now famous TT2 color scheme of red and yellow. Other minor differences were a different instrument layout and some other cosmetic minor changes, but it had far more torque, and that was a big improvement.

Only 288 650SL's were ever produced; enthusiasts and collectors alike have doubled the 650's value over the past half a decade alone, actions that have cemented this model's security as being a sound investment for the future. This example has been restored to stunning condition with gorgeous paintwork and finishes throughout. A Staintune 2=1 exhaust system and corresponding jetting was utilized, otherwise a stock bike. Fresh tires and zero post-restoration mileage.
The 650SL can also be viewed on the collection's website – here -.
The new two-valve desmo engine sparked the interest of the Castiglioni family, which took an ownership role at Ducati and likely saved the company.  Desmoquattro engines were just around the corner and a string of Superbike World Championships just over the horizon.  Significance and rarity off the scales, the 650SL is the Pantah for a knowledgeable fan.  The collection is selling to make way for new acquisitions.  Inquiries can be directed to Gregory Johnston on (631) 537-1486 or via email – here -.