Warning!
This post is in our archives. Links in this post have been updated to point to similar bikes available to bid on eBay.
The 90s sportbike market is booming right now. Folks that grew up riding or lusting after vintage 1960s and even 1970s bikes are steadily aging out of the hobby, and values for bikes of that era are already pretty high. Many people that lusted after 90s bikes, on the other hand, are right in that sweet spot, where they're young enough to still enjoy bikes like today's Suzuki GSX-R1100, but old enough to have some mid-career disposable income, now that the kids are headed off to college… And while the values of 1990s sportbikes have risen sharply, solid examples of some amazingly capable and entertaining machines are still available for much less than your average midlife crisis Corvette.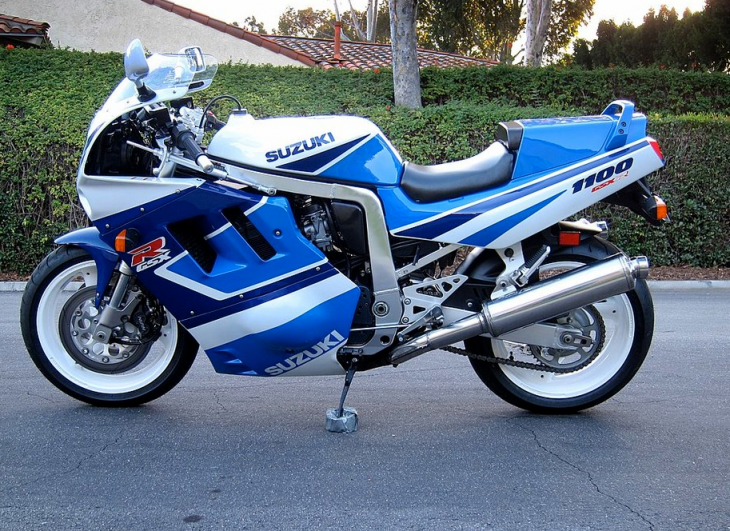 It also helps that the ergonomics of the big Gixxer, while considered pretty extreme at the time, are a far cry from the ass-up, head-down, seat-like-a-plank superbikes of today. In fact, the riding position could almost be considered "cushy" and far closer to a modern sport-touring machine. While still technically considered sportbikes, I don't think that there were too many classes that would have allowed this later Gixxer to compete when it was new, but that wasn't really the bike's mission statement by the 90s. It was devastatingly effective at the kind of riding your average weekend warrior does, with relatively stable, predictable handling in spite of the near 500lb weight, good wind protection, and room for two-up blasts.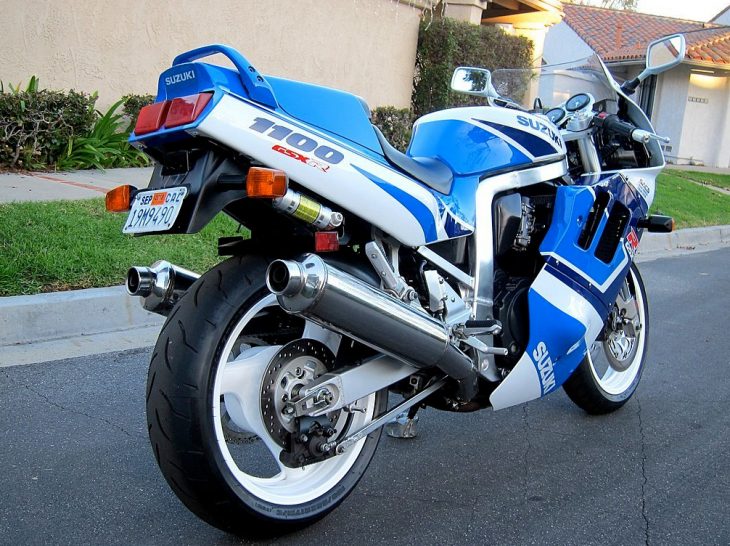 The majority of the package was pretty unremarkable, with an outdated but effective cradle frame, a full-fairing, a monoshock rear, and garish, neon-airbrush graphics. The biggest change from the earlier "Slabbie" and "Slingshot" GSX-Rs was the addition of updated bodywork with improved aerodynamics, including a fully-enclosed headlight unit. But the star of the show was definitely the engine, Suzuki's hulking "oil-boiler" inline four that relied on engine oil, a high-capacity oil pump, and an oversized cooler to keep temperatures under control.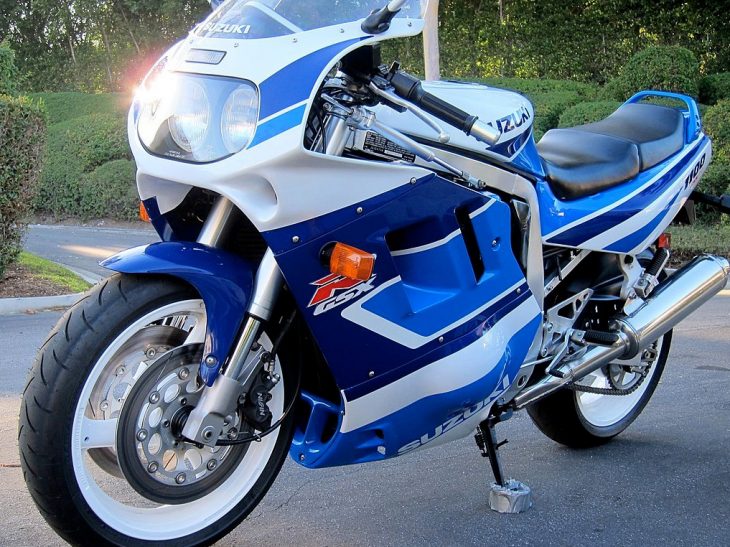 Displacement was up to 1127cc for this M-model version, and the factory claimed 145hp, although much more was available with careful tuning. These are famously tough bikes, and variations of the engine saw use in the later Bandit 1200 and GSX1400. But the writing was on the wall, and looming power and emissions requirements meant the addition of liquid cooling for 1993's iteration of the big GSX-R to help it keep pace with bikes from the other Japanese manufacturers.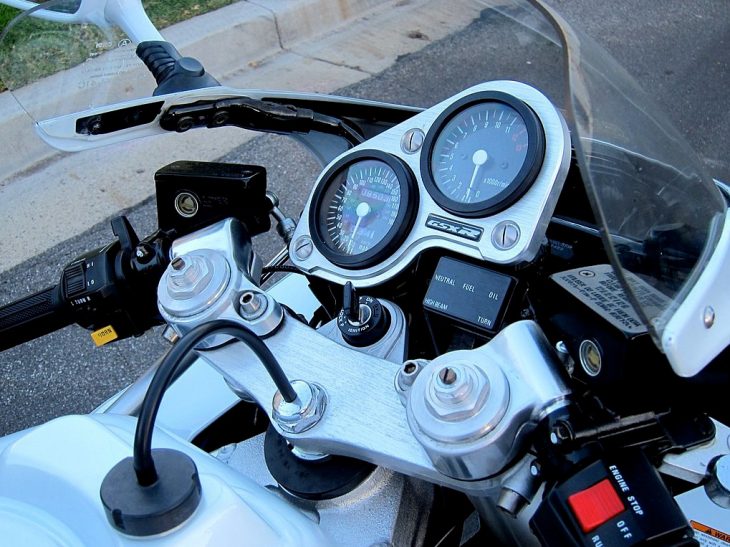 Of course, that meant even more weight, and while these things may disguise their weight on the move with a low center of gravity and good suspension, they're incredibly heavy if you're say, rolling one around your garage or a showroom… This example has obviously been cherished, and the seller appears to have been very meticulous when it comes to maintenance.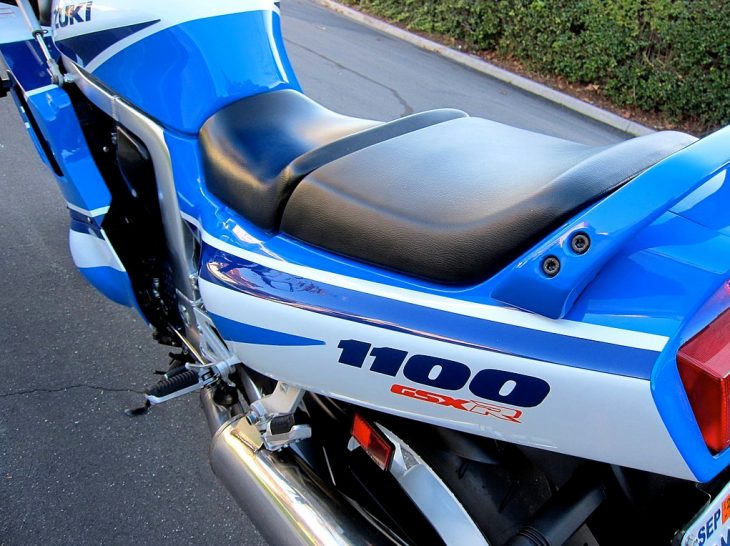 From the original eBay listing: 1991 Suzuki GSX-R1100 for Sale
I graduated high school in 1991 and this was my dream bike. At the time when I was 17, and was riding around a Riva 180 scooter as I couldn't afford the GSX-R, and I recall them being about $8,500 new. So when I could buy one, I did and looked for the very best stock, impeccable bike I could find just like I saw on the showroom floor. This bike is insanely clean, all original stock parts including the rare factory OEM solo cowl. I went through just about every mechanical thing I could, not because I needed to but because I didn't plan on selling the bike. See pics: I kept all the original replaced OEM parts like o-rings from cabs, needles, jets, o-ring seals, float bowl gaskets, etc. I wanted a bike that ran and looked like brand new and this one checks off both boxes. There was no expanse spared on this bike, period. The bike starts right up with choke, idles, and purrs along. I get told over and over not to sell, it's just a really excellent example of a perfect bike. The bike is truly a time warp.

At 9,469 miles, I went through the bike entirely and correctly as follows:

Carburetors. First, all four of the head-to-intake pipe o-ring seals were replaced, head oil hose o-rings, all o-ring seals in the carbs, including the most important o-ring on the plastic slide with emulsion tubes, float bowl gaskets, needles, seat valves, pilot jets, air jets, seals from replaced original seals
 Brand new Bridgestone BT016R Pros with 40 miles on them, they still have the knobbies… I went with these because they looked to most original to the bike and have the correct profile. Some tread patterns do not look correct and the profile is off, these look similar to the originals
Brand new air filter
Brand new oil filter and Motul 5100 10W-40 oil, mineral based
All new OEM factory NGK plugs including one factory OEM spark plug cap that was loose
All new bearings in the wheels and sprocket carrier. All factory OEM with boxes and receipts [NSK, NTN, etc. No Chinese bearings.]
EBC sintered brake pads new front and rear. 40 miles on them
Full hydraulic flush of brakes and clutch with Motul 5.1 fluid also at 9,469 miles
Recharged the rear shock with nitrogen to 140 lbs
New YUASA battery with trickle charger connection
Factory toolkit included, along with the original rear passenger grab handle
Factory solo cowl included
Bidding is up to near $6,500 with plenty of time left on the auction. These aren't quite as desirable as the earlier models, but all GSX-R1100s are pretty collectible at the moment. Clean, carefully-maintained, low-mileage examples like this are very hard to find, something that's reflected in the shocking jumps in prices we've seen in a very short period of time. They're big, fast, reliable, and relatively comfortable. What's not to like?
-tad