In plucky defiance of the almost subdued red and bronze LE featured earlier this week, today's GSX-R is a stateside version, with a few differences to the home market version, and quite an upgrade to base model.
Good as the showroom GSX-R750 was, Suzuki needed to homologate certain features for racers, and the Limited Edition was almost half again the cost of the standard.  Hard parts like the dry clutch, close ratio gearbox, and a slightly larger fuel tank were only part of the story.  Some markets got 29mm Mikuni flat-slide carbs, but the stateside version came a year later and this example appears with a constant velocity set-up.  Other special components on the LE included electrically NEAS operated anti-dive forks, steering damper and beefier clip-ons.  The Japanese model was tuned for just 77 hp, but the ROW model claimed 100, and beside a few items conforming to each DOT rules, just the muffler and livery differentiate the two variants.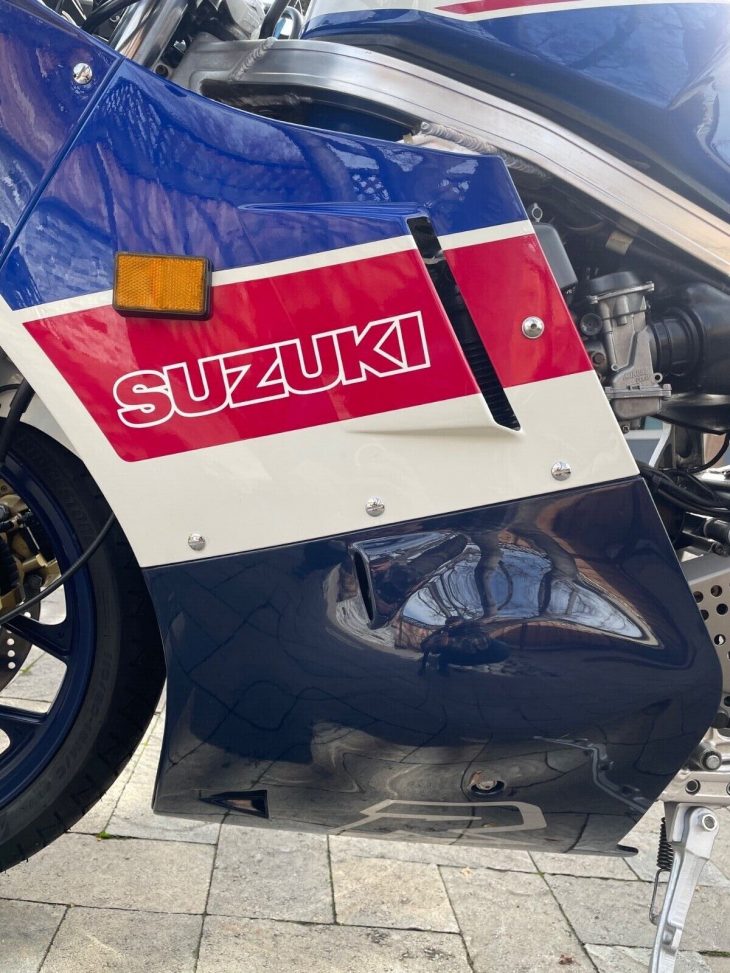 Presented by a collector with another GSX-R available, this one looks very collectible, with low miles and no apparent "experience".  A fairing touch-up is noted but not visible in the pictures provided.  All other finishes look about 1/33 of their age.  Detailed comments from the eBay auction –
The example before you has never been subject to any major abuse or racing. It appears to have made it through unscathed. History of bike from what I know. It was originally from Massachusetts then made its way to Wisconsin and changed hands twice from the vehicle history report. It then made its way to Georgia where I purchased it in 2018. Owner did not register it as Georgia doesn't require a title for bikes over 25 years old. Previous owner did mention that the upper fairing on the upper right side had been touched up due to a garage mishap. Not even noticeable. Owner rode it twice and stored it the rest of the time. All other body work is original. No cracks, no hair-line cracks, no scratches. Bike runs/idles/ shifts great. All electrical works as it should. I've put about 100 miles on it since 2018. 
In the last year I had RMC Moto motorcycle shop do:
New fork seals and fluid
Fresh Motul oil and Suzuki oil filter
New OEM air cleaner 
Rear shock completely rebuilt. 
New NKG spark plugs 
New brake fluid/bleed
New clutch fluid/bleed
Chain lubed and adjusted 
Carbs cleaned / adjusted / synched 
Tires are about 2-3 years old (probably 10-15 miles on them)
Battery is about two years old 
Bike is currently stored with fuel stabilizer in it. And on a battery tender. 
This bike sounds amazing at any speed and begs to be given more throttle. A very fun bike to ride. Whether for pleasure or investment, you will not be disappointed with this purchase as it's sure to be a discussion piece and will continue to appreciate in value.
This model changed the look of superbike grids in national and world championships, and some described it as the first modern superbike.  No denying it belongs in any serious collector's gallery.  Three days left in the auction and the mid-teens have arrived but haven't met the reserve.  Hopefully knowledgeable readers will weigh in and maybe even bid.
-donn