Jensen Beach, FL – 16,500mi – $3,900 w/Reserve
To me, the Kawasaki ZX-7 embodies the complete essence of what makes 90's sports bikes so awesome. With dual round headlights, bright (but not completely ridiculous) green/blue graphics, and pink/purple Ninja logo on the tank, it's hard to argue the timeless good looks. Sure, the standard ZX-7 might not be as coveted as the homologated ZX-7R. The standard model is touted as being more street friendly without the flatside cards from the R model and it will also run you about 1/3 of the price.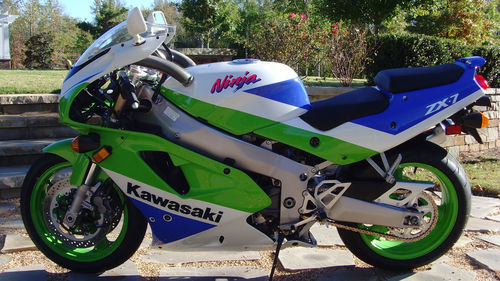 This bike is in as stock of condition as one could hope for. Not only this, but it is really clean and seemingly well maintained. I will let the seller take it away with the full description:
1992 Kawasaki Ninja ZX7

2nd. Owner and in MINT CONDITION

Very low miles ( 16,500 )

Never wrecked or dropped

Just did full service

New tires

New brakes

New oil

New plugs

New sprockets and chain

Tank cleaned

Carbs cleaned and tuned

New fork seals

ALL ORIGINAL MACHINE MINUS UPGRADED CAM AT FIRST SERVICE ( Have stock cam )

ALL PAPERS FROM ORIGINAL OWNER CLEAR TITLEOriginal grips

The only thing this bike needs is a new speedometer light… Very easy and cost effective fix… Just needs a bulb… Everything on the bike works MINT and she is a true classic as you can see from the pictures… EXTREMELY CLEAN !!!
This is one of the cleanest and well maintained ZX-7's I have seen in a while. I have seen these in semi-rough shape go for $2,700 and I have seen better condition one with mods go in the high $4k range. This bike has 16k miles, which isn't crazy-low, but it is definitely below the average for the year. The only non-stock part seems to be an upgraded cam (stock included). I could easily see this bike going into $5k+ territory. Want a good looking, great condition bike that is surely to appreciate in value with the ever growing vintage sport bike market? Here is your chance, check out the auction here and place your bid!
-JS