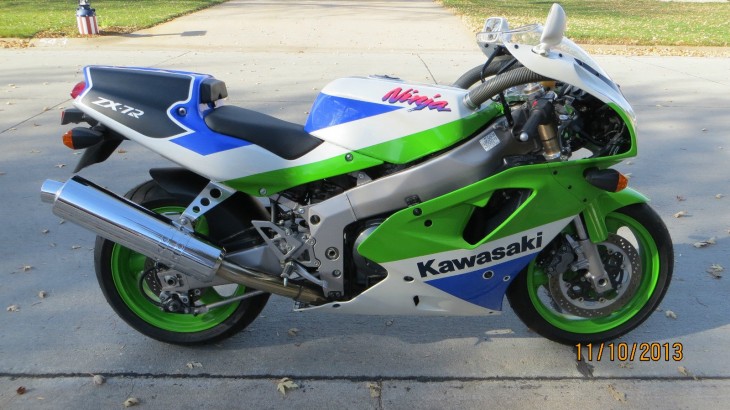 OK, I'll go 9.99 because I know there are a couple still out there in crates but lets be realistic;  this is about as good as it gets.  So, for those that didn't pull the trigger on last few ZX-7R's we posted, warm those check books up.
What the seller is saying about it:
1992 Kawasaki ZX-7R K2 Ninja, 800 miles. I've owned the bike since 2007, bought it from a Kawasaki dealer's personal collection. The bike is completely stock except for the following; the carb needles are shimmed .040″ to help the rideability, and the tires were new in 2007 (Dunlop Sportmax Qualifiers – 8 miles on them total). Although I've only put 8 miles on the bike since I've owned it, I start it 2 to 3 times each summer and let it warm up to keep things lubricated. This bike is one of 7 older sportbikes that I own – none of them are getting a lot of miles on them. All the necessary things are there to distinguish it from the standard ZX-7; aluminum tank, flatslide carbs, close ratio gearbox, etc… I have 2 original keys, owners manual, service manual, complete toolkit and sales brochure.

There is nothing forcing the sale of this bike, but I'll let it go for the right price. Buyer is responsible for pick up or shipping of the bike.
800 mile fresh.  I really don't remember another one like this.
There really isn't anything to discuss.  If you want a rare Kawi from the 90's that looks like it just came out of the showroom, this is it.
Ian