The Kawasaki Ninja ZX7 was a major player in the 750 class back in the 90's and it all started back in 1989 with the "H" models (called ZX7 in the US). The H1 looked uncannily like the first model of the ZXR-7 racer which would be ridden to the championship just a few years later. This particular example has a few stone chips that can be seen on the embedded video and has been modded a bit in the turn signal and headlight area. It also has a painted frame (which apparently can be removed) and an aftermarket exhaust. But it has new tires and low miles so perhaps it will migrate from its home in Florida to a new home that can bring it closer to original condition.
MG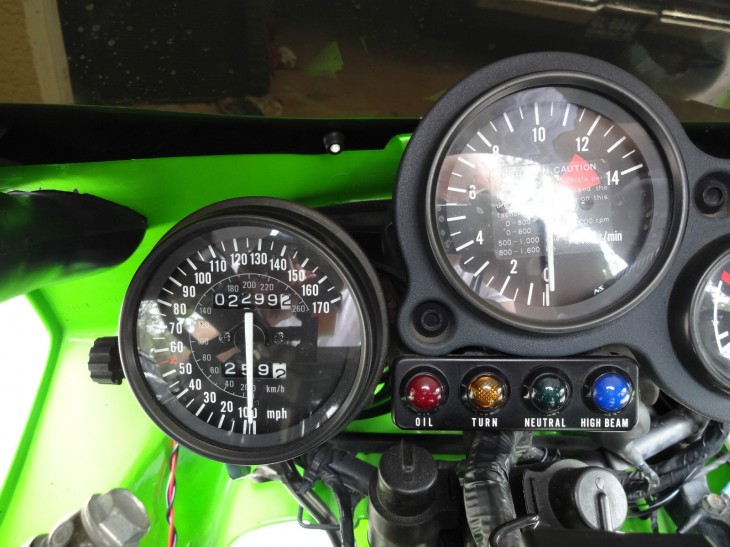 from the seller:
Auctioning off a very Rare and hard to find all original 1989 Kawasaki ZX7 H1 750 Ninja…Bike is like new with only 2318 miles on it !

Previous owner blacked out the frame with matte black spray paint(not permanent) that's easily reversible. I stripped off the right side.

Original frame paint is still there in tact.

Comes off easy enough with some laquer thinner and some patience or tape it up and black it out again. Looks good either way.

Mechanically it is in excellent condition with New Michelin Pilots front and rear…Just serviced with synthetic fluids, new plugs,

carbs cleaned, sync'd and is 100% turn key. This bike is in near excellent condition for 25 yrs old..

Owners manual, original tools and helmet that came with it in 89′ are included.