With the recent rise in popularity of all things late 80s and early 90s, there has been a push to find the most RAD vehicle for your local Cars and Coffee.  This Bimota YB will surely turn some heads.
Only 224 of these machines were built, and substantially fewer delivered to the USA.  These were very expensive and exotic bikes when new.  With over 145hp and top tier suspension components this bike will undoubtedly put a smile on the rider's face.  While some may shy away from an Italian exotic, Bimota deserves a closer look.  Yamaha supplied FZR1000 engine means reasonable and easy service costs as well as a solid parts network to keep the bike going.  Bimota themselves still offer support via their classics department.
This example appears to be well loved by a knowledgeable owner.  In the USA Bimota world, some of the best examples are known to have traded hands through Bimota Spirt in NC.  With fresh suspension and carburetor services, couple with a tank liner and overall clean presentation this bike will offer something that can be used and enjoyed day one.  Many Bimota live a static display life and take a fair bit of work to be returned to the road where they belong.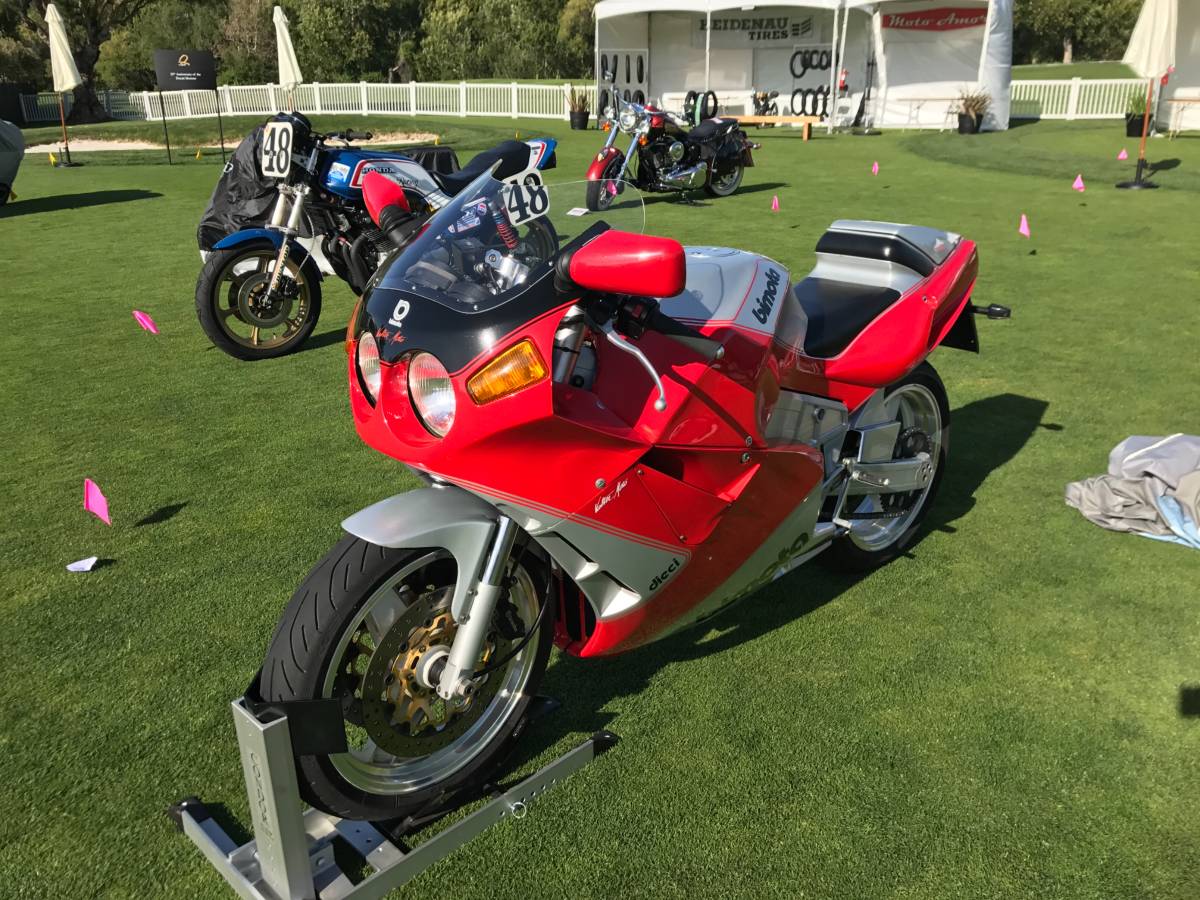 The $11,000 asking price is in line with other past data.  With the world of ultra rare bikes it is hard to know how wide the delta is between asking and selling prices are.  Either way with what some of the run of the mill superbikes from the Japanese big four have been selling for recently, this could be a chance to have something very unique with amazing styling for similar money.  A bike like this can be so much more then just a riding experience.  It can be a ticket to exclusive events.  This bike was on the lawn at Quail in 2018.
From the seller's CraigsList add:
A quintessential 90's Superbike with Italian styling & handling along with Japanese reliability. A rare hand built motorcycle with a total production of 224 units. 1991 was the first year for the Dieci. It's an Italian market bike that I purchased from Bimota Spirit over 6 years ago with 8100 km (5000 miles) on the clock. Currently odometer shows 12500 km (7767 miles). Professionally maintained by Jett Tuning in Camarillo, comes with service records. Jett Tuning replaced fork seals and performed front fork service, Mikuni carburettors refurbished, clutch, did tune up, cooling system flush, oil and filter change, etc.

Fuel tank was lined at GTL in North Hollywood, upgraded tank coupling and fuel lines, fresh fuel filter and Acerbis pet cocks. There is no leaks or smoking of any sort, bike runs super strong. All lights and turn signals work great. Tach, speedometer and temp gauge all function. New Yuasa battery with batter tender connectors.

Bike is extremely fast and will hold its own against much newer bikes. FZR1000 motor and Yamaha electronics are very reliable. Engine puts out 145 hp and top speed is 278 km/hr. Carbon fiber 4 into 1 exhaust sounds amazing. Brembo brakes, Marzocchi upside-down forks, brand new Ohlins rear shock custom made for the YB10 and imported from Europe.

Any Bimota is a rolling sculpture of hand machined aluminium billet parts including frame, triple clamp, pull rods, pegs, etc. This YB10 has been maintained and ridden by mature rider. Never been down or dropped, raced or tracked. It's not a museum example, has wear in line with a 30 year old motorcycle. Was a participant at 2018 Quail Moto Gathering.

California title and current registration good until 10/21. Rare owner's manual and Bimota garage mat included in the sale. I have a lot invested in this bike, it's been serviced and ready to ride for many more miles, the only reason this bike is on the market is due to relocation. Price is in line with a market on rarer Italian super bikes, it is firm.