I've mentioned this before, but everything just sounds cooler in Italian. If you want to intimidate someone, just shout gibberish at them in German: anything you say sounds clipped and military and very, very serious. But yell at someone in Italian, and it just sounds like you're trying to very emphatically seduce them. I mean, Italian car and motorcycle manufacturers don't even have to try, they just basically describe the thing, and it still sounds cool, exotic, and expensive. A Maserati Quatroporte? You mean a Maserati "Four-Door"? And bikes are even lazier: Testastretta is just "Narrow Head" and Desmosedici sounds plenty exotic, but it's just "Desmo Sixteen [Valves]." Today's Featured Listing Bimota YB10 Dieci might be the worst offender though. In English, it's just the "Yamaha-Bimota #10 Ten."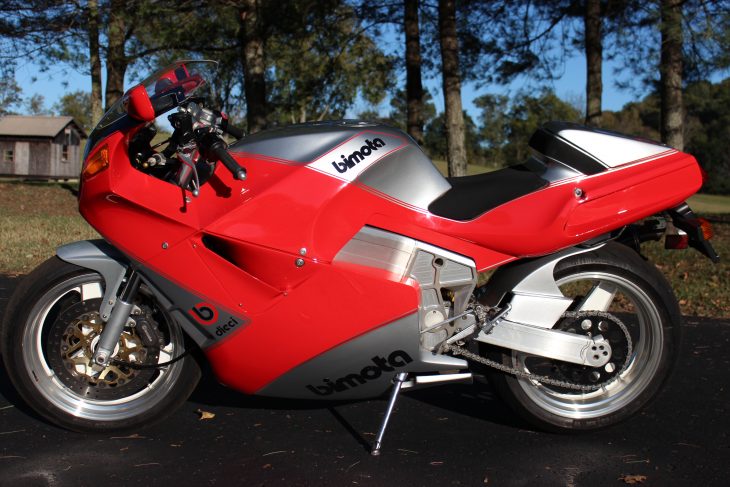 While giving your bike a simple, two-digit number for a name may not be all that creative, it suits Bimota's pragmatic approach to making impractical motorcycles. Seeing the potential in the powerful, efficient, and reliable engines being churned out by the Japanese manufacturers packaged into overweight, overbuilt, and under-suspended roadbikes, they took that performance and stuffed it into machines as much as a hundred pounds lighter. Spared any need to be affordable or practical, Bimota was free to experiment with exotic, weight-saving materials, the newest ideas in frame design, and the best suspension components available at both ends. Bimota's creations might not have been very versatile, but they were pretty good at the one thing they were supposed to be good at, which was going fast and looking cool. Okay, I guess that's really two things…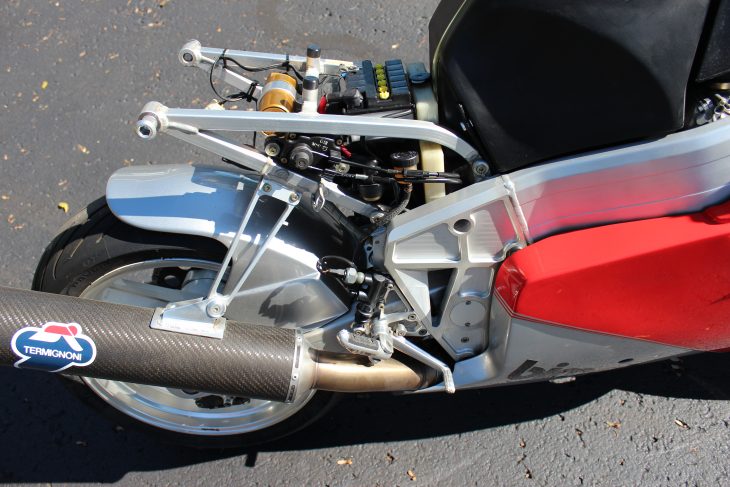 Of course, the fact that they were freed from any need to be practical also means that they can be a real pain to service. The stiff, light aluminum beam frame that was Bimota's signature during this period was wrapped tightly around the engine to keep weight down and centralize mass, so many of their bikes need to be pretty much completely disassembled before you can perform basic maintenance. Thankfully, they were also designed with body panels that are easily removed with a minimum of fuss. Seriously: look closely at those plastics and note how few seams and mounting points are visible: the tank cover, seat, and tail section are all one piece.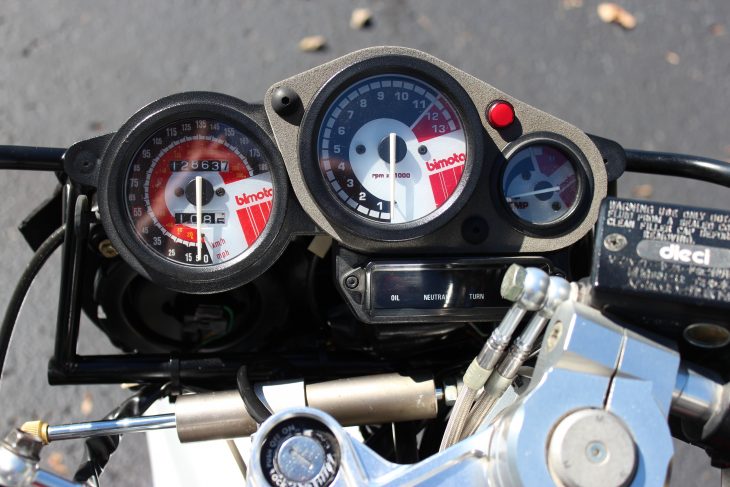 Of course, there's a downside to that simplicity as well: drop a modern sportbike and you might just have to replace a couple sections of fairing or a side panel or two. But when your bodywork consists of just four or five separate pieces and only 224 machines were ever produced… Well let's just say that if I owned a Bimota Dieci and planned to ride it regularly, I'd order a set of Airtech fairings and have them painted up to look like the original parts, then hang the stock bodywork on my livingroom wall.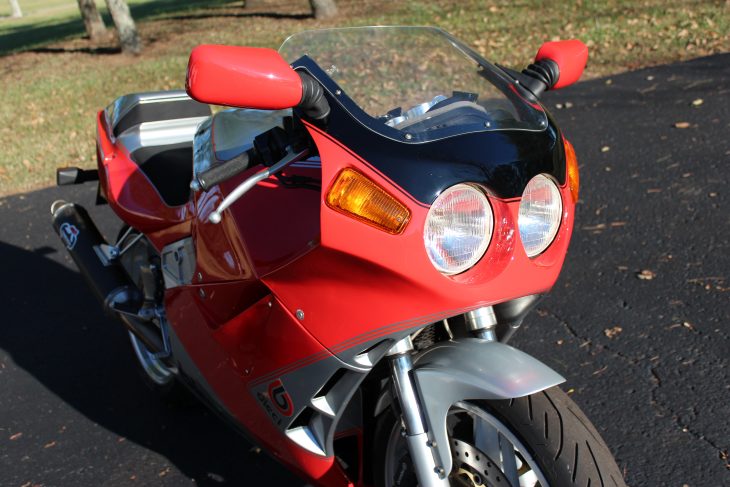 I'm not sure exactly what changes were made between the 1987 YB4 and the 1991 YB10, but the bodywork and frame look suspiciously similar. That's no bad thing, as Italian vehicles always do seem to get better with each successive generation as the kinks are worked out, right up until they finally get it right and then promptly discontinue the model. Similar-looking Yamaha-engined Bimotas were powered by 750 and 400cc versions of their five-valve Genesis liquid-cooled inline four, but this is the big daddy, motivated by a nearly stock 1002cc engine and five-speed gearbox from the FZR1000 that produced 145hp. With a claimed weight of 407lbs, nearly 70 less than the donor bike, the slippery superbike could hit a tested top speed of 172mph, with stability provided by the fully adjustable 42mm Marzocchi upside-down forks up front and an adjustable Öhlins shock out back, which the seller has helpfully photographed for prospective buyers.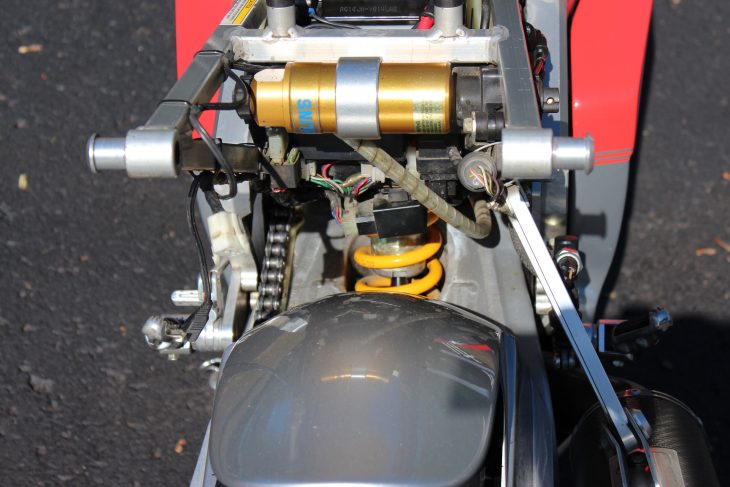 From the Seller: 1991 Bimota YB10 Dieci for Sale
VIN: ZESS8YA23MRZES041 In 1991 the first of 224 (total production) YB10 Dieci machines were produced with many of the best bits from previous models. Named Dieci (ten) in recognition of the 10th collaboration between Bimota and Yamaha, the YB10 represents the evolution of the series YB6 and YB8 with a 4 cylinder 1000cc Bimota tuned Yamaha engine. Pierluigi Marconi used inverted Marzocchi forks, super strong lightweight aluminum beam frame, redesigned aero, larger high-flow carbureted intake and more comfortable riding position. Dieci is the perfect name for the final development of the YB line. Weighing in at 407lbs (65lbs down on the stock Yamaha FZR) with 145BHP on tap, gives the rider power with a comfortable and balanced ride. Great brakes were a must so Marconi used a pair of 320mm front discs plus a single rear 230, combined with Brembo calipers. Whilst this Dieci is 25 years old and shows just over 12000 miles it doesn't appear tired or dated. It has been well preserved and restored where necessary. The bodywork is less rounded than current trends but the 'stealth' look still works well, especially with its silver over red combination. Overall the body panels are well preserved and in very good condition. Recent performance and service includes Ohlin rear shock, new Pirelli Corsa tires, Termignoni carbon muffler, new chain and sprocket, new braided lines and new battery. The Dieci was originally sold and serviced by Bob Steinbugler at Bimota Spirit. Needs nothing, ready to ride. $10,500. Contact Matt with your interest: mattshaw@comcast.net
The $10,500 the seller is asking is right in line with the asking prices we've seen for similar Bimotas recently, and is pretty much chump change for such a rare, exotic, and good looking machine that can still show many modern sportbikes a clean pair of heels. You might have to work a bit harder, and avoid pissing matches with modern literbikes, but your buddy on an R6 or GSX-R is going to be very shocked to see those two big, round, endurance-style headlamps in his rear-view mirrors on a brisk Sunday morning ride…
-tad