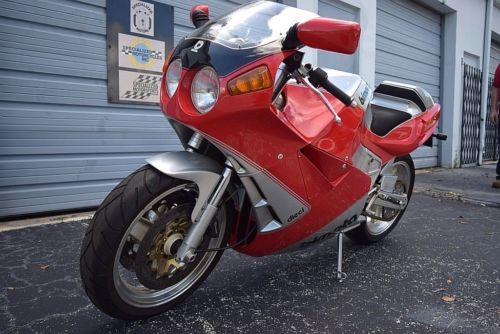 Considering that Bimota is still… in business [was going to type something else, but had second thoughts as maybe "thriving" is a bit too strong a word] it's a little surprising that some of their older offerings are so affordable, considering their exotic looks, extreme rarity, high specification, and performance that will at least keep modern bikes in sight. Powered by the Yamaha FZR1000's inline four and five-speed gearbox, today's Bimota YB10 is a surprisingly affordable proposition, considering parts for the drivetrain at least shouldn't be too hard to come by…
With just 224 built between 1991 and 1994, the YB10 "Dieci" or "Ten" in Italian was the tenth Bimota powered by a Yamaha engine. Have you stumbled across and unfamiliar Bimota? You can tell a bit about it just from the name, which basically reads as "Yamaha, Bimota, Number 10." Modifications to that EXUP-valved 1002cc Yamaha Genesis engine were minimal, up to 149hp from Yamaha's 145hp claim, owing to better breathing from an improved intake that also smoothed out some dips in the donor bike's powerband. Slipperier bodywork meant a slightly higher top speed as well: 172mph as tested.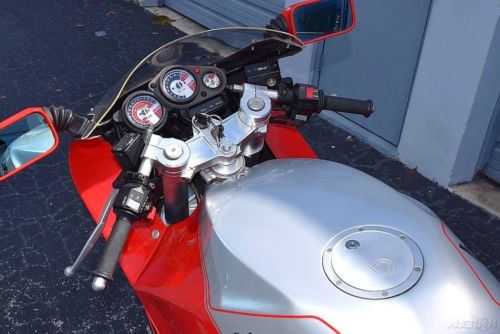 1970s Bimotas typically featured gorgeous tubular steel frames, but by the 1990s Bimota had moved on to beefy aluminum frames as seen here, with fully adjustable 42mm Marzocchi upside-down forks up front and an adjustable Öhlins shock out back. The main performance advantage of the YB10 over the FZR1000 is a result of weight lost: the Bimota had a claimed dry weight of 407lbs, nearly 70lbs less than the Yamaha. Period tests praised the handling and seemingly unlimited cornering-clearance of the YB10, along with unexpectedly improved ergonomics over the preceding YB8 and YB9.
Unfortunately, there's not much information over on eBay about this bike, as it's a dealer listing, although there are some nice pictures!
From the original eBay listing: 1993 Bimota YB10 for Sale
Specialized is offering this gorgeous, Italian-designed Bimota YB10 , this motorcycle comes out of our Museum collection. 1000 cc inline 4 cylinder Yamaha engine in a hand built Italian chassis, except for rear turn signals this is a Original YB10 correct as produced.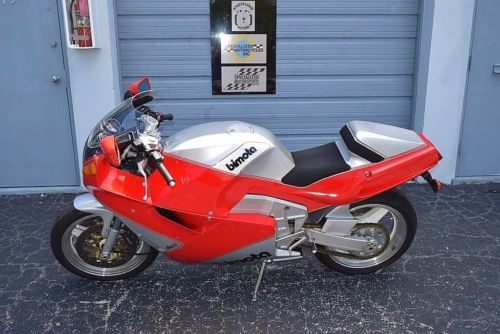 The Buy It Now price for this bit of exotic kit is $8,900. To me, 1990s Bimotas represent a real steal if you're looking for something incredibly rare, fast enough to keep up with modern bikes, and relatively easy keep on the road. Of course, "easy to keep on the road" assumes you don't drop it and need difficult-to-obtain bodywork or end up trying to track down nearly impossible-to-obtain suspension components: I know a guy who was waiting many months on a set of fork seals for a YB11. Although, if that becomes a problem, I'm sure you could track down a set of modern Öhlins forks and have someone make you up a set of adapters…
-tad