For Sale: 1991 Bimota YB10 Dieci
Update 5.19.2012: Buy-it-now has been dropped again and is now at $6k. Good luck with the sale Chris! Links updated, -dc
Update 3.14.2012: Originally listed in February, this YB10 is back and the buy-it-now has dropped from $8k to $7k. -dc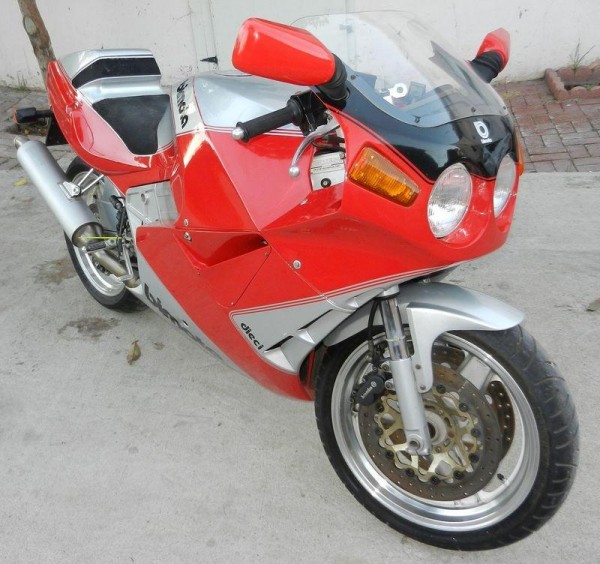 From a noted collector in San Diego comes this 1991 Bimota YB10. Known as the "Dieci" when released (Dieci means 10 in Italian), this model was an extension of the Bimota-Yamaha relationship with the FZ family of powerplants that brought such amazing machines as the YB4, YB6, YB6-Exup, Tuatara, YB8, and YB9 Bellaria. The YB10 was a carbureted YB8 motor in a modified Tuatara chassis (the Tuatara was a very rare, fuel injected beast). Ergos were also adressed, with higher handlebars and a more comfortable seat welcoming the rider. In many ways, the YB10 was a bike that moved Bimota from "art and performance with no compromises" to "artful performance with polish."
This particular Dieci has over 10,000 miles on the odometer. That is not a lot of miles for a Yamaha FZR1000, but hand-built bikes from Rimini rarely rack up that high of a score. This really speaks to the rideability of the YB10 – great performance (145 HP), fantastic presence, and relative rarity with a reported 224 produced from 1991-1994. As the result of the mileage there is some minor damage reported, as noted by the seller in the photos.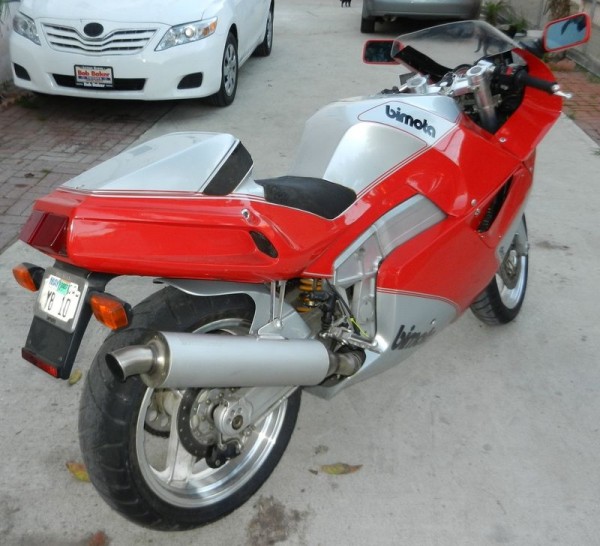 From the seller:
1991 Bimota YB 10.
Bimota factory uses Yamaha FZR 1000 motor in this model.
Looks good, some paint chips, strong runner.
Orig Paint.
Minor paint chips on bike as shown in pictures.
Still, pretty good shape for a 20 year old unrestored sport bike.
Back in 1991 a new YB10 Dieci would set you back approximately $24,000. That price has dropped considerably over the years, and nowadays a Dieci fetches between $6k-$10k depending on condition. This particular bike, with higher mileage and some damage is not likely to top out that scale, but the seller is realistic and has set the BIN number at a reasonable $8,000.
The bidding is currently up to $6,400 on this bike, with a fairly high number of interested parties. The bike appears to be in honest condition (apart from the zip tie hanging off the rear brake master), but as always we recommend that readers contact the seller for more information about any rare and collectable bike. There is no reason to believe that over time this bike will not hold its value – if not go up slightly – and with easily sourced FZR1000 parts the maintenance on the non-Bimota pieces should not scare anyone away. To check out all of the details or get in on the action, click the link and jump over to the auction!
MI