A recent influx of  Honda VFR400R NC30s means they're in danger of not being nearly such rare sportbikes as they used to be… But relatively few were made for all markets, so there's no real chance of them ever being a common sight, especially here in the US where they've only recently become legal to import. Basically, a smaller version of the Honda's homologation superbike RC30, the NC30 used the same formula, only with less weight and displacement.
The NC30 used stiff, lightweight aluminum beam frame to suspend the heart of the bike, a 399cc V4 with gear-driven cams and a six-speed gearbox. Fully-faired, endurance-racing style bodywork with twin round headlamps helped support the family resemblance, as does the distinctive, single-sided ProArm swingarm out back, something that wasn't all that much use in World Superbike competition, but was handy for endurance racing. Plus, it obviously looked cool enough that the nobody's-idea-of-a-long-distance-anything Ducati 916 used a single-sided swinger just because.
So why build a smaller RC30? Well the NC30 was intended to form the basis for machines that would be used to compete in the hotly-contested 400cc class that was pretty popular everywhere but, you guessed it, here in the USA. With just 59hp, it's obviously no powerhouse, but the bike's 313lb dry weight means a respectable 130mph top speed, more than enough for a road bike or a shorter, tighter track. It's a bike that obviously stressed handling over power, and the "big bang" V4 has a wide powerband, making it easy to be in the right gear, and makes a distinctive drone.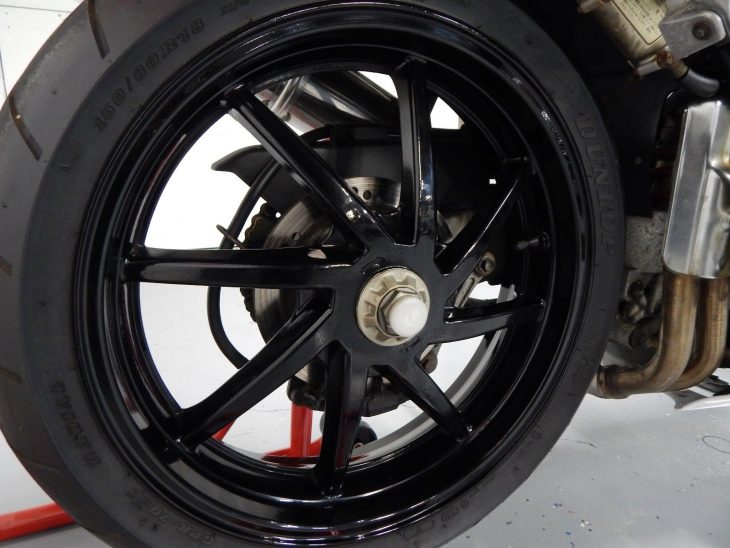 From the original eBay listing: 1991 Honda VFR400R NC30 for Sale
Honda VFR400R NC30. NO RESERVE 11,035 Miles (17,758 Kilometers) Completely original and unrestored. Mechanically Sorted. Cosmetically does have touchup paint and some cracks and scratches. Some pitting on the aluminum especially at the swingarm. Please see images. All fluids are fresh.  Shifts and revs to redline perfectly.  Starts effortlessly every time. Very Honest OEM Bike.  Fuel tank is Rust Free. Bike has Vin Matching State of Ohio Title.  NC30-1101*** Buyer is responsible for their own State Requirements. Imported into the States through all legal channels. Sold as is. Buyer responsible for shipping. Thanks for looking.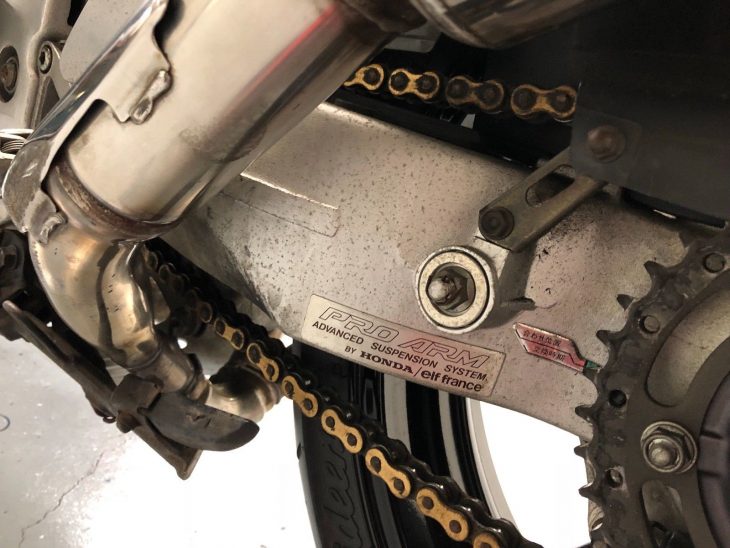 As with many of Deftone Cycle's offerings, it isn't museum quality, but is complete, clean, and mechanically sound, with fresh fluids. In addition, a short video of the bike starting and running is included. Bidding is up to $4,500 with a couple days left on the auction, although I'd expect it will go higher. How much higher? Well recent examples of this mini-endurance racing replica have sold for somewhere between $7,000 and $8,000 so we'll see where this ends up.
-tad