From down the block the VFR400R looks every bit an RC30, and though disappointment might flash when you see it's the 400, the careful way it's put together is a joy.  Today's NC30 is an Ontario resident and in super nice original shape.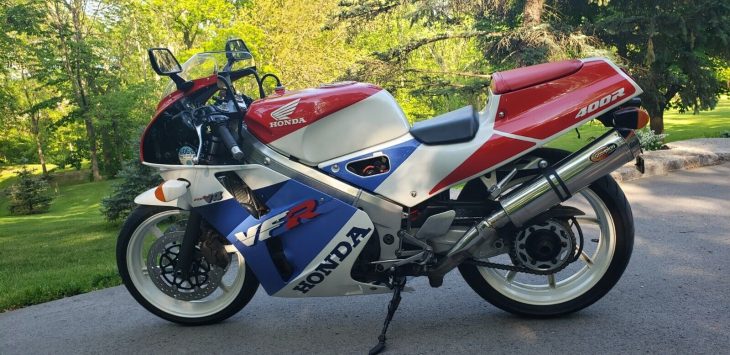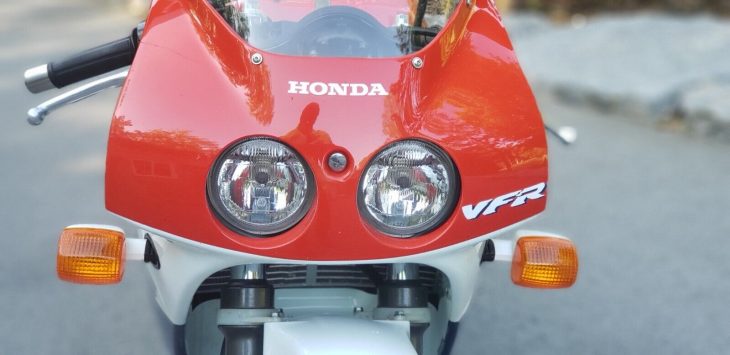 Honda had several years of VFR construction in their memory banks, and gave buyers just what they needed.  The four gear-driven cams sing their song, and 59 hp are delivered smoothly with the power band beginning at 7,000 revs.  TRAC anti-dive was on earlier VFR400's, but less unsprung weight was more desirable.  Likewise a hydraulic clutch was saved for another bike – can't beat a cable for feel or simplicity.  The full but diminutive fairing with twin headlights had the RC30's likeable expression.  Honda deemed race-bike geometry really wasn't in their customers' best interest and the NC30 reviewed as the most approachable of the class.  To show off the ELF designed single-sided swingarm with its 18-inch wheel, the single muffler was moved to the near side.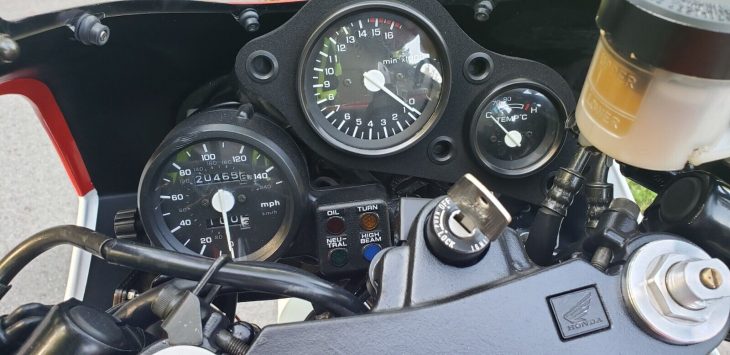 For 30 years and 20.5K miles, this VFR is a special survivor.  Seeming to be a UK transplant, it has an MPH speedo ( with a rogue scrape on the bezel ) and the ginormous blinkers.  But that's the only mark to be found, even the heel guards look like they haven't seen a boot.  Workshop photos from a valve adjustment show the beauty is more than skin deep.  Comments from the eBay auction:
AS YOU CAN SEE FROM THE PICTURES IT HAS BEEN VERY WELL MAINTAINED AND RUNS EXCELLENT. 

NO EXPENSES SPARED, IF IT NEEDED SERVICE OR REPLACEMENT IT HAS BEEN DONE.

ALL ORIGINAL EXCEPT FOR THE SCORPION EXHAUST SYSTEM – THAT SOUNDS AMAZING WITH THE COMBINED GEAR DRIVEN CAMS. 

GENUINE HONDA FAIRINGS STILL INTACT AND IN EXCELLENT SHAPE. 

COMES WITH ORIGINAL OWNERS MANUAL AND SERVICE MANUAL. THESE BIKES ARE SUPER RARE IN THIS CONDITION AND ARE IN A COMPLETELY DIFFERENT CATEGORY COMPARED TO THE GREY IMPORTS.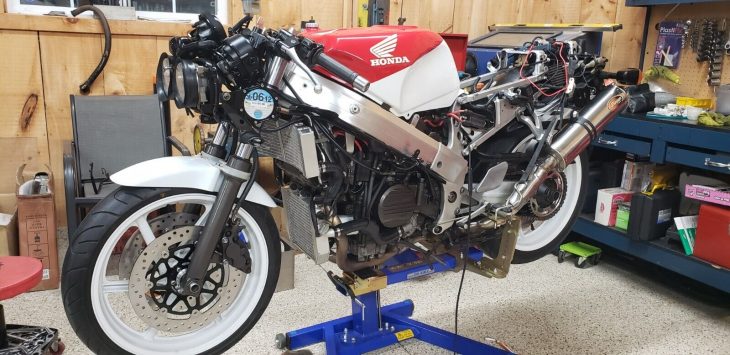 Rare to see any street bike in this kind of shape after 30 years, and extraordinary considering it was intended for more junior riders.  Still no free lunch, and the heady starting bid might be keeping those mouse buttons from clicking.  European models were spared the speed governor, though it's unclear how far past 110 mph a NC30 might go in real life.  Too rare for a steady series of comparable sales, this owner seems to have picked a good year and even time of year make a move.
-donn