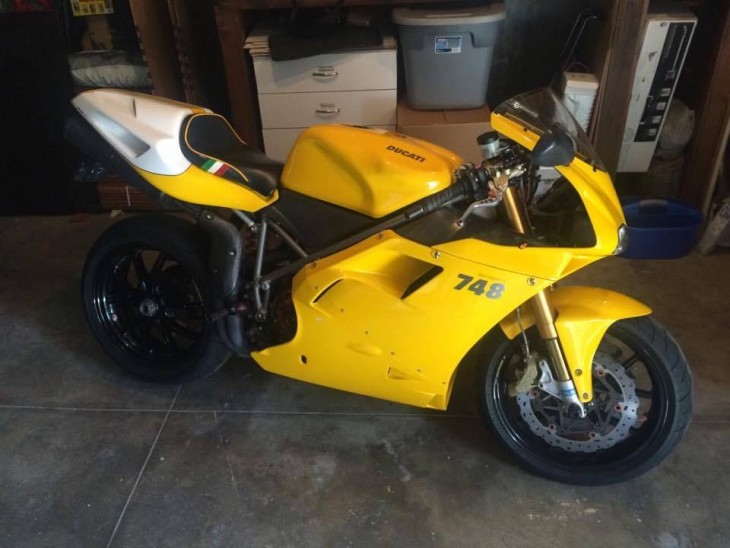 Nobody would blame you for overlooking this one.  I almost did.  Just another guy who thinks his Ducati is worth way more than it really is, right?  Maybe not.  It turns out this is a very rare Ducati 748R.  I happen to have a good friend who is a serious Ducati collector and this is one he told me to be on the lookout for.  The 748R is a legitimately hopped up homologation special with quite a few upgrades designed to make it a serious contender on the SuperSport racing scene.  There were approximately 2000 of them made and only 100 of them were designated for import into the U.S.
The 748R had a slightly different frame to accommodate a larger carbon fiber airbox, different injectors, titanium rods and valves as well as top notch Ohlins suspension both front and rear.  I believe it also featured a slipper clutch as well as a taller first gear, similar to the Honda RC30/45 and the ZX7R homologation models.  So, street riding might be a bit of a chore.  But I wouldn't complain!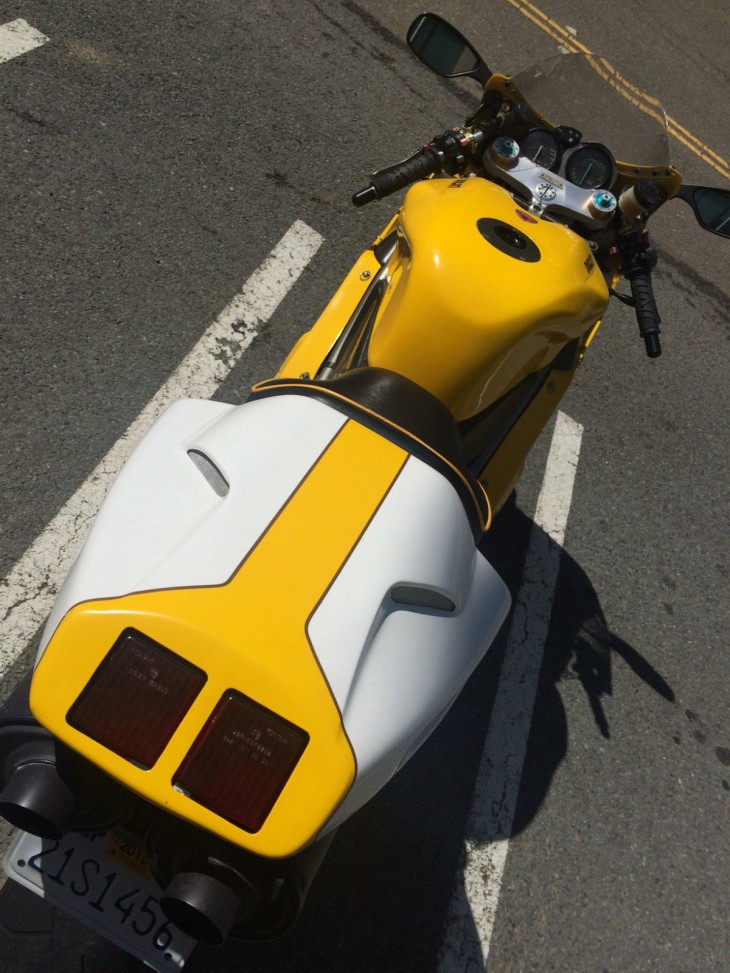 This one appears well cared for with a number of expected modifications as well as some legitimate engine work.  Whether that's a positive or a negative is up to you.  The seller gives some more details about the Duc's condition below or you can read about them as well as the list of modifications on his eBay auction seen here: 2001 Ducati 748R for sale
Time to make some room in my garage so I'm going to part with this rare beast. Its an original 2001 Ducati 748R.  No. 711. Not many of these around anymore and this one's good some nice goodies. it has 11k miles (I do ride it here and there so there may be some more)

I am the second owner and the previous owner did all of the upgrades. The bike is in very good shape, not mint there are a couple light scratches on the tank, a small scuff mark on the right fairing and the foam around the instrument panel is a bit melted from the sun. (I think this was due in party to the double bubble windscreen magnifying it). The paint is in amazing shape. It has much more power than a regular 748 and the R has a more unique sound due to the differences in the motors. Maintained at Munroe Motors Ducati in San Francisco. Head were checked at 10,000 miles and rockers/valves had no signs of issues.