In a rare marketing maneuver, Ducati brought the 900 SS/SP to our shores only, a limited edition with adjustable suspension and carbon eye candy.  This example has been been maintained internally and externally, and looks ready to rumble.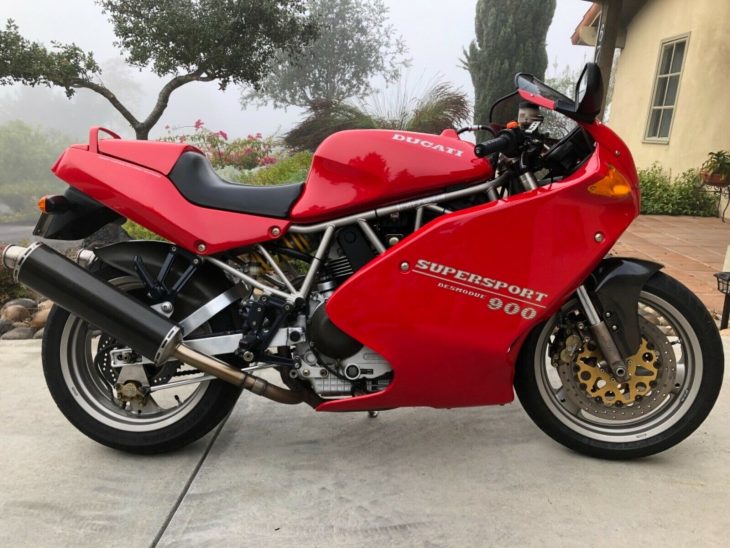 The trellis frame which was light and economical to manufacture back then is now a classic Ducati feature, in some years gold or white, but silver for 1995 which goes well with the SP's aluminum swingarm.  Ditto the air-cooled desmodue, a good air-cooled performer with 84 carbureted ponies, and though the future brought fuel injection and dual plugs, it's a classically flexible powerplant.  Showa suspension was the big upgrade for the SP, along with carbon mudguards.  The cockpit has occasionally been described as "everything you need, and nothing you don't", and it's the perfect layout for an afternoon on the back roads.
Seeming to be in much better shape than nearly 33K miles would allow, I'd presume a refinishing if not restoration.  The pictures are not super high fidelity, but show no apparent trauma.  A lot of carefully chosen niceties such as factory open airbox, Remus carbon mufflers, new lithium-iron battery – even new footpeg and shift rubbers !  Heads and cylinders were overhauled a few years back making this SP more ready for the long term.  Just a snippet of the comments from the eBay auction:
This motorcycle has been preserved exactly as one would want. Period. I have gone to great lengths to minimize any unnecessary changes that would otherwise compromise what Ducati intended this bike to be. Obviously a blood-red Italian work of art needs nothing in the way of cosmetics, so let well enough alone.

I felt the best use of any improvements would be more of personal expressions such as un- restricting the exhaust to allow the bike to actually sound like a Ducati should with a set of Remus canisters. These match the factory equipped carbon fiber components much better than any others in my opinion. To facilitate the most from the exhaust, I perfectly jetted the carburetors. No flat spots, nor burning eyes, and of course the results are impressive for the torque curve of an already excellent engine.

To welcome more fresh air into the carburetors, I added the Genuine Ducati air-box cover. I'm sure others with hole saws and hack-saw blades get the same results, but I chose OEM whenever possible. As far as the Slave Cylinder, the stock one seemed to lack feel and a clean return. Off it went and was promptly replaced by the excellent unit from Pro Italia. Regarding the braking system, it is what it is. Nobody was impressed when new, the same remains today. I added Ferodo pads at both ends and have felt these are aggressive enough for a spirited run through the curves.

The Supersports served as Ducati's all-rounder before the Monster came along, and went to work, touring, and to the track without complaint.  This seminal Duc has done some miles but carefully, and been maintained as though it would be in the stable forever.  The ask for a high-mileage machine can always be debated, but at least the "make offer" button is available.
-donn