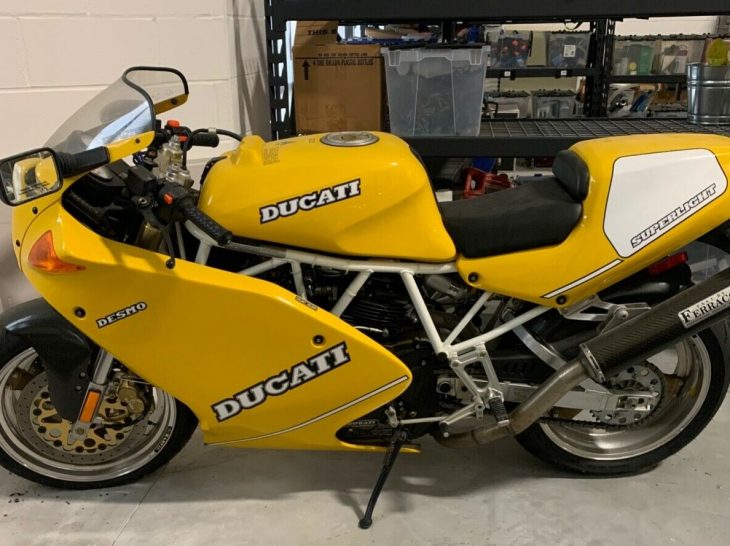 The Ducati Superlight is a far-cry from today's "limited edition" superbikes like the Superleggera that have a performance envelope well beyond most owners' ability to fully exploit. The Superlight isn't a particularly fast bike, but it is very collectible, and rewarding to ride at speeds normal humans can enjoy without risking license, limb, or achieving escape velocity… Basically, the Superlight is a 900SS/SP with lightweight Marvic composite wheels with a polished aluminum rim and magnesium spokes, some carbon bits, upswept exhausts, and a solo tail. Combined, the upgrades saved about 15lbs compared to the regular 900SS. So the Superlight wasn't super light, unless Ducati was referring to your wallet: considering the minimal performance improvements, it was priced significantly higher than a regular Supersport. You did get a nice numbered plaque, though.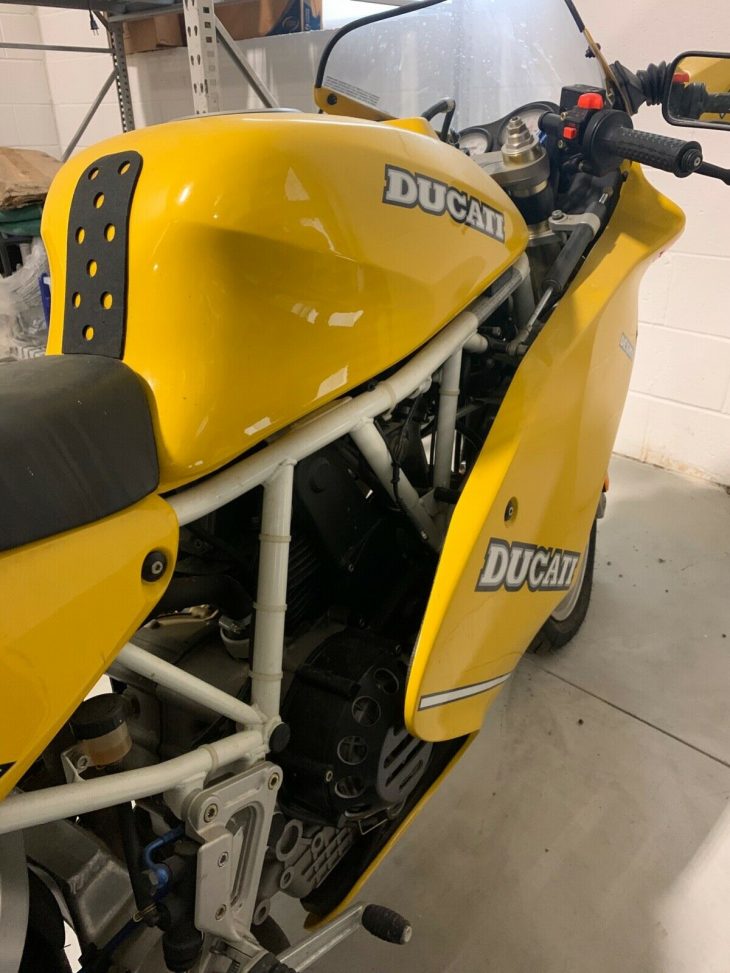 They still sold like hotcakes, and Ducati increased production to meet demand far in excess of the original planned 500 bike run. Part of that is down to the usual Ducati mystique, but the basic package has long been viewed as much more than the sum of its parts. On paper, the air/oil-cooled, two-valve 904cc Desmo looks pretty anemic, but a good Desmodue makes around 75 horses at the rear wheel, which really is plenty to have fun with on the road. It's also relatively simple to maintain, surprisingly durable, and even gets good gas mileage. Fully-adjustable Showa suspension at both ends and a stiff trellis frame meant handling was very good then and still competent now, while very reasonable ergonomics [for a sportbike anyway] means even… ahem, older gentlemen can enjoy all-day rides. It was available in the vivid yellow seen here, although some markets got red instead. Considering how few bikes look good in yellow, I think it's a great choice, and makes the bike feel more exotic.
The carbon-fiber Ferracci cans seen here are an almost mandatory option for any air-cooled Ducati, since the stock components make the bike sound strangled, and would likely be drowned out by the unfiltered rattle of the dry clutch. Ferracci didn't make their own exhausts to my knowledge, but that's not necessarily a bad thing: at various points, they rebadged SilMoto and Arrow parts, so quality should be high.
From the original eBay listing: 1992 Ducati Superlight for Sale
1993 Ducati Superbike, bought new and stayed in same ownership since.

I am happy to answer any questions about the bike via messaging.

Thanks!
So is it a 1992 or a 1993? It's also odd that the seller calls it a "Superbike" when it says "Superlight" right there on the fairing. They may not know exactly what they have here, since a 300-mile Superlight would normally go for well north of the $9,000 the seller is asking. Although in this uncertain market, maybe it's just priced to sell? From the pictures, it looks a little dusty, but otherwise as nice as you'd expect a bike with such low miles to be. It's hard to tell from the images just how nice this bike is.
-tad