The Ducati Superlight I posted up a few days ago was a classic barn-find, with an incredible 300 miles on the odometer and all the dust and neglect you might expect from a bike that has barely turned a wheel in nearly 30 years. The first of today's two Ducatis is nearly the exact opposite, a Superlight with many more miles and a shedload of upgrades and modifications that suggest passionately enthusiastic ownership. The components that went into its construction are clearly well thought out and complimentary, much more go than show. Which is fine because the blinding yellow paint, gleaming white frame, and half-fairing have all the bling you'll ever need.
From the original eBay listing: 1993 Ducati Superlight for Sale
1993 Ducati 900 Superlight #771 25193 original miles. All original carbon fiber is in perfect condition. As she sits: custom Ducati Kamna ¼ fairings. Termignoni carbon fiber mufflers with Rob North narrowed and flowed OEM header pipe. Ducati Kamna alloy exhaust rings. Lidless airbox mod. Original Marvic/Akront magnesium/alloy 2-piece wheels. Pro-Italia billet rearsets. 11.2:1 JE/Pro-Italia pistonsHeads ported and matched by Pro-Italia. Keihin 39mm FCR carburetors. Ducati Kamna alloy clutch basket. Ducati Performance gold alloy pressure plate. Barnett kevlar-alloy clutch. Galfer stainless brake and clutch hoses. Ferodo CP911 brake pads. Original cast iron rotors. Ohlins 46PRCL fully adjustable shock. Peterson PPS revalved forks. Brembo goldline clutch and brake master cylinders (from a Ducati 996). Pro-Italia seat support. Dr. Desmo alloy clip-ons. MagKnight tank bra. Corbin seat. K&N air filter. Pro-Italia billet oil cooler relocation valve cover. Fast by Ferracci alloy sprocket cover. DID ERVX gold chain/AFAM alloy 39-tooth rear sprocket. Shorai lithium battery. Nichols jewelry (alloy fairing buttons, billet "Flying D" timing cover). Also included: Storz steering damper. Stock rear shock. Stock exhaust header. Stock mufflers. Original full fairings. Stock rearsets. Stock carburetors. Original Ducati tool kit. Spare belt covers. Spare belts from California Cycleworks. Spare ignition coils from California Cycleworks and NGK spark plugs. Evoluzione billet clutch slave cylinder. Assorted spare small parts/hardware/etc. Original owner's manual. Lots of documentation including service records, receipts, manuals, valve adjustment instructions, etc.
Obviously, this is not completely original and purists may turn up their noses, but the finished result is absolutely true to the Superlight's spirit, and the upgrades are of high-quality. This is the Superlight I'd want to build. The stock parts are included, including the full fairings, but I'd just put those in a box and ride it as-is. The second bike is a teeny bit scruffier from a cosmetic standpoint, but is more of a Ducati hot-rod. It's also much more red.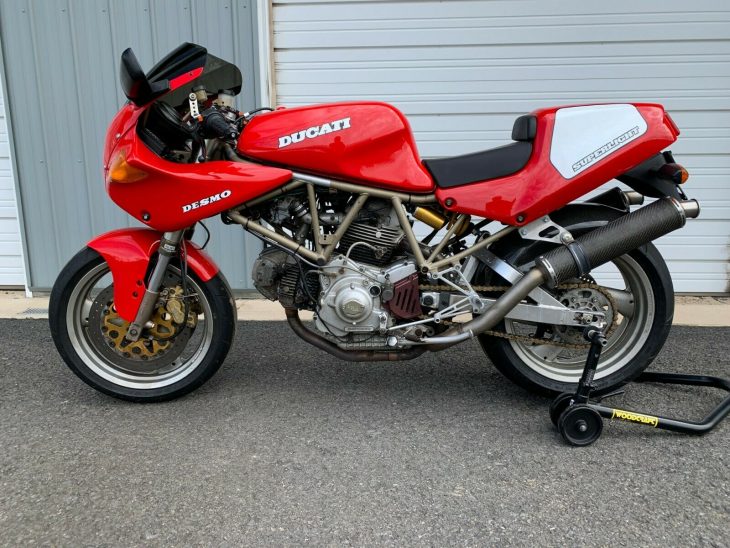 From the original eBay listing: 1996 Ducati 900SS/SP for Sale
1996 Ducati 900 SS/SPI took ownership of the bike in 2017 with the intention of keeping it for a daily driver. I now have two kids, multiple Ducatis and no time to ride. This preloved has been under my ownership since 2017. Never rode it extensively, I put approximately 900 mi on it since purchase. Current mileage is at 22,345 mi. The Dunlop Q3's were new upon my acquisition. Frame and swingarm are perfect, no cracks. Moving beyond the normal stuff, this isn't a run of the mill, ordinary 900 SS/SP. The following improvements have been made to the bike: 944 pistons. Keihin 41mm FCRs. Ducati cast iron rotors. Termignoni high mount CF pipes and flowed header. Ohlins 46PRCL rear shock. Ohlins 20mm cartridge kit into the stock Showa adjustable forks. Ducati Racing magnesium engine cover – clutch side. CA Cycleworks coils. Dr. Desmo alloy clip-ons. Steel braided brake lines. Ducati Superlight solo seat with correct seat supports from the '98 FE. Pro Italia rearsets. Kamna ¼ fairings. Dyno'd (10/13/2011 – at 21,410 miles) at Ferracci at 91.97hp. The suspension was redone by Markbilt Racing in 9/2011. This included rebuilding of the Ohlins rear shock and installation of the Ohlins 20mm cartridge kit into the stock Showa adjustable forks. The oil cooler has been relocated to under the headlight for better cooling. I had the bike professionally repainted, as the fairings were unpainted, to the tune of $1500. Stunning example of a true classic. No accident damage or history of damage.
It doesn't look like it's an original Superlight, in spite of the graphics on the tail. It's still a worthy replica, considering the performance on tap. There's some surface corrosion on the heads and barrels, but the bodywork is very clean and this thing should go like a stabbed rat: 92 whp is pretty impressive for an air-cooled, two-valve Desmo engine intended for street use. The 944cc mill should have an impressive midrange and launch out of corners with impressive urge and an even more impressive bellow…
Bidding is active on both bikes, with a couple days left on the auctions and the Reserve Not Met. If air-cooled Ducatis leave you cold, the seller also has a nice 888 SPO available for sale currently.
-tad