For Sale: 1995 Ducati Supersport 900 SS/SP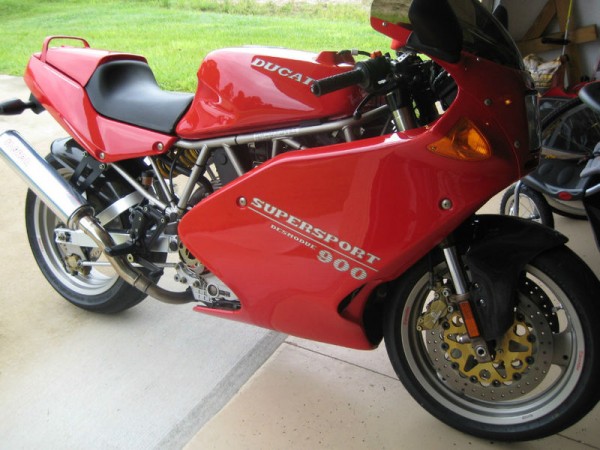 Posted today is a not-too-rare Ducati that still pushes all of the right buttons for me. The mid 1990s 900 SS/SP (Sports Production) is essentially the evolution of the Superlight from a few years earlier. Ducati introduced a lower-spec 900 SS/CR (Cafe Racer) in that year, at a bargain basement price. The SP was special, however. Consising of the full fairing from the pre-CR days, it added a new swingarm, carbon fiber fender and mudguard, and upgraded (and adustable!) front and rear suspension.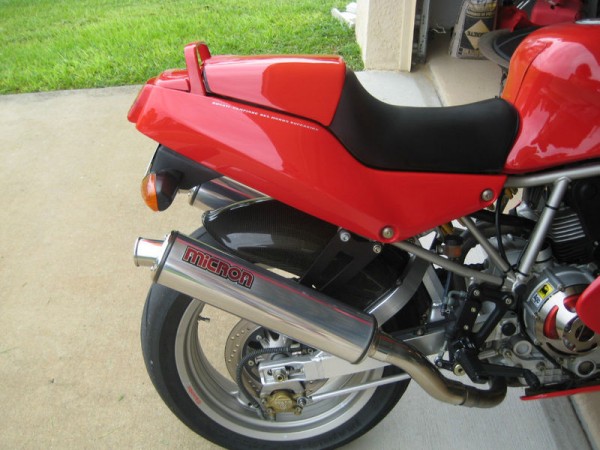 If you have been lusting after a Superlight but can live without the yellow color, white frame, and product number plate rivited to the top of the trees, a 900 SS/SP will provide you with the same or better performance for a whole lot less cash. The two valve air cooled motor is legendary for torque and longenvity (don't forget to change those belts every 6k or 2 years!), and the Supersport platform is a solid, capable, and forgiving mount for spirited riding. Throw in the adjustable suspension and seller add-ons and you have a real winner here.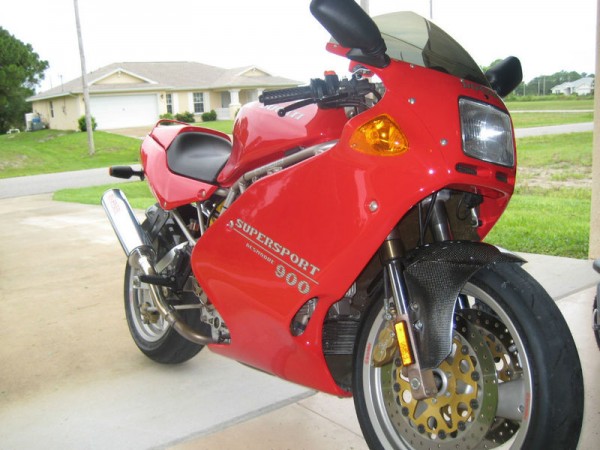 From the seller:
This 1995 Ducati 900 SS SP Rides and Looks stunning for it's age. Pampered all it's life, with full service records and clear title in hand.If you ever quested to ride or purchase a Ducati, these models are known to be a true classic.

It has a few upgrades: smoke windscreen, racetech springs and front end serviced by Mellilimoto ducati, DID gold chain, anodized red clutch pressure plate, ducati performance open clutch cover, upgraded clutch slave, K&N air filter with open airbox conversion, microtech exhaust, carbs rejetted by Mellilimoto for the K&N, new belts and plugs and valves checked 2500 miles ago. Carbon Fiber front fender and rear hugger, Perelli Tires have 2K on them and tread rubber looks like new. It has never been raced and the oil and filter was changed 50 miles ago, always used synthetic. email me with questions. Bike has 13K on the odometer, very slight touch up paint on the gas tank and under belly of the bike, the paint is all original so I wanted to keep the going as best as I can.
There are so many subtle nuances about this listing that just seem right to me. For example: Look at the picture of the clutch cover (right side, 3/4 rear view). Sure the cover looks natty, but its the breather above the case and behind the rear cylinder that caught my eye. Anyone who owns one of these wonderous L-twin powered beasts knows this area gets dirty very quickly. Sure – this bike was cleaned up prior to putting it up for sale, but this was not a one-time wash-n-wax; this bike was taken care of.
Superlight performance, great looks and fantastic value – that is what any collector is looking for. And with the SP variant being more rare and more sought after by knowing riders, this looks to be a good deal in the making. The current ask for this bike is $4,995, with zero bids. That might be a bit high for your average Supersport, but for a clean, well-loved SP that will take care of you for the next several decades, wise men might reconsider. Check out the auction and let us know what you think!
MI